RCL Unveils Financial Impact from Oasis of the Seas Incident
A crane incident involving the cruise ship Oasis of the Seas in the Grand Bahama Shipyard would impact Royal Caribbean Cruises' 2019 earnings.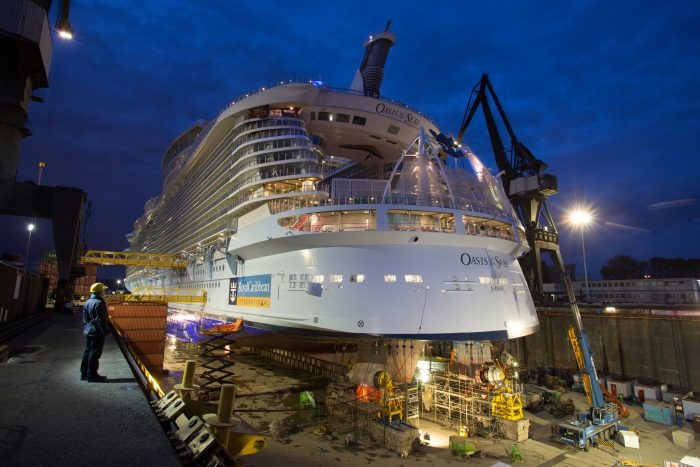 The Miami-based cruise major has updated its full year adjusted EPS guidance to a range of USD 9.65 to USD 9.85 per share, which includes negative impacts of USD 0.25 related to the incident and around USD 0.25 as a result of a stronger dollar and higher fuel prices versus the January guidance.
The company unveiled the expected impact as part of its first quarter of 2019 financial report, adding that its net income for the quarter increased to USD 249.7 million from a net income of USD 218.7 million reported a year earlier. The improvement was mainly driven by increased revenue from the company's global brands.
"We are very pleased to report another record-breaking quarter and to be driving towards record earnings for the year," Jason T. Liberty, executive vice president and CFO, said.
Gross yields were up 10.8% and net yields increased by 9.3% in constant-currency, higher than the January guidance due to better than anticipated demand for onboard experiential products and activities as well as strong close in demand.
"Net revenue yields in the first quarter beat our previous guidance and are expected to do so for the rest of the year as well. Overall, the company's booked position remains at a record level in both rate and volume," the company said.
Additionally, better than expected performance below the line, mainly due to better than expected performance from the company's joint ventures, contributed to the first quarter's positive performance.
To remind, Royal Caribbean's Oasis of the Seas was undergoing maintenance at the Grand Bahama Shipyard when the accident involving the drydock caused two construction cranes to collapse on the stern of the ship on April 1, 2019.
"The damage to the ship was extensive and the ship had to go to a dock in Europe for repairs. As a result, the ship was taken out of service for almost a month and is expected to return back to service for its normally scheduled May 5, 2019 sailing," Royal Caribbean said.