Refinitiv: Johan Sverdrup crude game-changer for North Sea and global oil market
First oil cargo from the giant Johan Sverdrup field in the North Sea started loading onto tankers on Thursday following its arrival from the offshore field to the Mongstad plant north of Bergen earlier this week.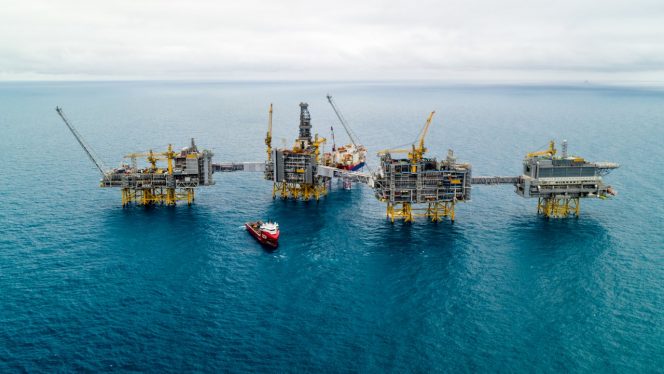 The Equinor-operated Johan Sverdrup field started production on October 5 and the first oil from the field arrived at the Mongstad plant north of Bergen early this week.
Equinor said last Monday that the first cargo was expected to leave for customers in Asia this week. It contains one million barrels with a market value of around $60 million, or more than half a billion NOK at the current oil price. Future cargoes are expected to contain between 600,000 and 2 million barrels.
London-based Refinitiv, a provider of financial markets data and infrastructure, said on Thursday that the Johan Sverdrup oil begen loading onto tankers today.
Ehsan Ul-Haq, Lead Oil Research Analyst at Refinitiv, commented: "This is a game-changer for the North Sea and the global oil market. The expected yield is likely to be popular with complex refiners and has already attracted avid interest from Asian buyers especially from China and India."
According to Refinitiv, Johan Sverdrup is expected to have an API gravity of around 28, very similar to the Norwegian grade Grane. Its sulphur content is at around 0.8%, comparable to Forties. At the start of production, its quality is likely to be unstable, as is the case with other crudes when they come onstream.
Based on its quality, it is expected to trade at values very near to Urals, although it may fetch some introductory discounts for its first shipments. While Urals has much higher sulphur contents than Johan Sverdrup, it is lighter than the Russian grade. According to reports, the crude has already traded at discounts of $0.50/bbl-$1.50/bbl to Dated Brent on FOB basis, compared to a discount of $2.10/bbl to Dated for Urals CIF Rotterdam.
Refinitiv stated that Johan Sverdrup is expected to be popular with complex refiners, although it could also be blended with some sweeter crudes to produce IMO 2020 compliant bunker fuel. Its residual part is expected to have a sulphur content of more than 1.3%. It is worth mentioning that initial reports indicate avid interest from Asian buyers especially from China and India, although US refiners could buy it to replace Venezuelan barrels.
Similarly, Mediterranean refiners with coking units are expected to lift the Norwegian crude. A UAE company, which has installed some crude distillation capacity to produce very low sulphur fuel oil (VLSFO), has reportedly shown interest in the crude.
Refiners' interest in Johan Sverdrup is in line with its yields. Its five-cut yields, which are generally used to find out the proportion of refined products the crude can produce in a simple distillation unit, shows a crude rich in middle distillates and fuel oil. The Norwegian crude is capable of yielding at least 13% of jet/kerosene, 26% of gas oil and 47% of fuel oil. Complex refiners in the US are likely to find the grade of interest due to its high vacuum gas oil (VGO) content, which they can process further to maximize gasoline output.
The Johan Sverdrup oilfield was discovered by Sweden's Lundin Petroleum in 2010 and lies around 140 km west of Stavanger. A 283-km long pipeline has connected the oilfield to the export port of Mongstad. At present Equinor holds 42.6% of its hare, while Lundin Petroleum, state-owned Petoro, Aker BP, and French Total have 20%, 17.36%, 11.57% and 8.44%, respectively.
The first phase of Johan Sverdrup resulted in total costs of 83 billion Norwegian Krona ($9.05 billion as of today's exchange rate). It is expected to produce more than 200,000 bpd in the next few weeks before reaching the peak of 440,000 bpd. It second phase is expected to add 220,000 bpd of additional oil in 2022. As a result, it will become the largest North Sea crude grade soon. At present, Forties is the largest oil stream and produces around 400,000 bpd.
According to Norwegian Petroleum Directorate (NPD), it took more than 50 years in the area around the Johan Sverdrup before oil was discovered. Its Director General Bente Nyland adds that it is a proof that "looking at old available data with fresh new eyes and testing new ideas yields results".
However, most new discoveries in the North Sea are resulting in finding heavier and more sulphurous crudes.
For example, the UK's new start Mariner has an API gravity of 15.2 and sulphur content of 1.10%. This has implications for North Sea crude price-reporting agencies. The BFOE benchmark comprises five grades at present: Brent, Forties, Oseberg, Ekofisk and Troll, all light crudes, although Forties might occasionally have sulphur content of more than 0.8%. In the end, all will depend on regional refiners. If they are happy with a heavier marker, the North Sea benchmark has to adopt accordingly.
---
Spotted a typo? Have something more to add to the story? Maybe a nice photo? Contact our editorial team via email.
Also, if you're interested in showcasing your company, product or technology on Offshore Energy Today, please contact us via our advertising form where you can also see our media kit.