Report: Oil prices rise over U.S. – Iran tensions after U.S. drone shot down
Oil price rose Friday over tensions between the U.S. and Iran, following reports on Thursday that Tehran had shot down a U.S. drone in what the U.S. said was international airspace. Tehran claims the drone violated Iran's airspace.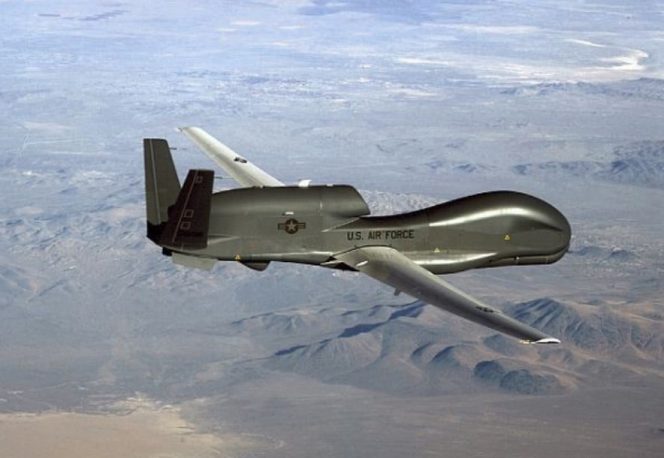 The U.S. Central Command said that "a U.S. Navy Broad Area Maritime Surveillance (or BAMS-D) ISR aircraft was shot down by an Iranian surface-to-air missile system while operating in international airspace over the Strait of Hormuz at approximately 11:35 p.m. GMT on June 19, 2019.
"Iranian reports that the aircraft was over Iran are false. This was an unprovoked attack on a U.S. surveillance asset in international airspace," it said on Thursday.
The drone incident follows last week's attack on two oil tankers near Iran's coast for which the U.S. has blamed Iran, and which Iran has denied.
The tankers were attacked near the Strait of Hormuz, through which a fifth of the globally consumed oil is shipped, and which the U.S. Energy Information Administration on Thursday labeled as the "world's most important oil transit chokepoint."
Reuters on Friday reported that Brent Crude had risen to over $65 a barrel over the tensions and potential conflict, with the news agency citing Iranian sources who claim that U.S. president Donald Trump had sent them a warning of an imminent U.S. attack on Iran. The news agency also cited a New York Times report in which it has been claimed that Trump had approved military strikes but then pulled back from launching them.
Following the reports of a U.S. drone being struck down, Trump tweeted: "Iran made a very big mistake."
However, Trump then on Friday in a series of Tweets confirmed the U.S. was "cocked and loaded to retaliate," but he stopped the strike "10 minutes before" as he had been informed 150 people would die, which he felt was "not proportionate to shooting down an unmanned drone."
….proportionate to shooting down an unmanned drone. I am in no hurry, our Military is rebuilt, new, and ready to go, by far the best in the world. Sanctions are biting & more added last night. Iran can NEVER have Nuclear Weapons, not against the USA, and not against the WORLD!

— Donald J. Trump (@realDonaldTrump) June 21, 2019
Responding to claims that Iran had shot down the U.S. drone in international waters, Iran's Foreign minister Javad Zarif said on Thursday via twitter: "At 00:14 US drone took off from UAE in stealth mode & violated Iranian airspace. It was targeted at 04:05 at the coordinates (25°59'43″N 57°02'25″E) near Kouh-e Mobarak. We've retrieved sections of the US military drone in OUR territorial waters where it was shot down."
At 00:14 US drone took off from UAE in stealth mode & violated Iranian airspace. It was targeted at 04:05 at the coordinates (25°59'43″N 57°02'25″E) near Kouh-e Mobarak.

We've retrieved sections of the US military drone in OUR territorial waters where it was shot down. pic.twitter.com/pJ34Tysmsg

— Javad Zarif (@JZarif) June 20, 2019
"The US wages #EconomicTerrorism on Iran, has conducted covert action against us & now encroaches on our territory. We don't seek war, but will zealously defend our skies, land & waters. We'll take this new aggression to #UN & show that the US is lying about international waters," Zarif said.
By economic terrorism, Zarif means the U.S. Economic Sanctions which Trump reimposed on Iran after he had in May 2018 terminated the U.S. participation in the Iran nuclear agreement devised in 2015 to curb Iran's nuclear weapons development capacity, labeling it "one of the worst and most one-sided transactions the United States has ever entered into," much to a dismay of the international community, as Iran had stuck to its part of the agreement.
The sanctions on Iran's oil sector, which kicked in November 2018, have targeted the Iranian crude oil sales, and also countries who buying Iranian oil with the aim reportedly to bring Iran's production to zero, with Trump saying that anyone doing business in Iran "will NOT be doing business with the United States."
Pressure on buyers
Credit rating agency Fitch late in May said that the pressure on buyers of Iranian oil had intensified and the country was likely to reduce exports.
"This is due to the US not renewing waivers to continue to purchase crude from Tehran for China, India, Italy, Greece, Japan, South Korea, Taiwan and Turkey. This is likely to reduce spare capacity elsewhere in the market and has already caused price volatility. It also increases the chances of oil prices rising in the short term."
---
---
"We believe it is unlikely that Iran's exports will fall to zero as some countries, notably China, continue to buy oil from it despite the removal of waivers. However, we assume export volumes could halve, compared to around 1 million barrels per day (MMbpd) at the beginning of the year, as Italy, Greece and Turkey have stopped buying Iranian crude," Fitch said in a report on May 24.
U.S. Energy Information Administration estimates that 76% of the crude oil and condensate that moved through the Strait of Hormuz went to Asian markets in 2018.
"China, India, Japan, South Korea, and Singapore were the largest destinations for crude oil moving through the Strait of Hormuz to Asia, accounting for 65% of all Hormuz crude oil and condensate flows in 2018," the EIA said on Thursday.
World's most important oil transit chokepoint
As said earlier, the U.S. Energy Information Administration on Thursday released a report in which it said that the Strait of Hormuz was "the world's most important oil transit chokepoint"
"The Strait of Hormuz, located between Oman and Iran, connects the Persian Gulf with the Gulf of Oman and the Arabian Sea. The Strait of Hormuz is the world's most important oil chokepoint because of the large volumes of oil that flow through the strait. In 2018, its daily oil flow averaged 21 million barrels per day (b/d), or the equivalent of about 21% of global petroleum liquids consumption," U.S. EIA said, warning that the inability of oil to transit a major chokepoint, even temporarily, can lead to substantial supply delays and higher shipping costs, resulting in higher world energy prices.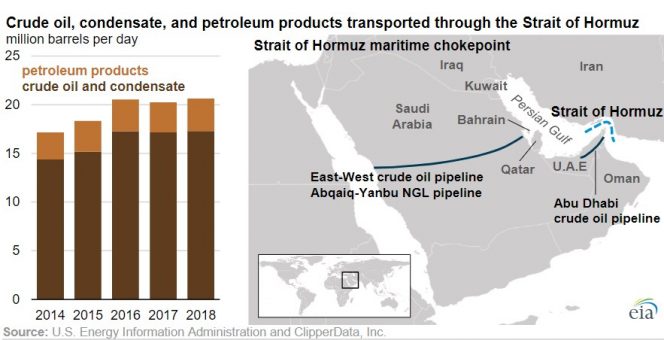 The EIA said that while most chokepoints can be circumvented by using other routes that add significantly to transit time, "some chokepoints have no practical alternatives."
"There are limited options to bypass the Strait of Hormuz. Only Saudi Arabia and the United Arab Emirates have pipelines that can ship crude oil outside the Persian Gulf and have the additional pipeline capacity to circumvent the Strait of Hormuz. At the end of 2018, the total available crude oil pipeline capacity from the two countries combined was estimated at 6.5 million b/d. In that year, 2.7 million b/d of crude oil moved through the pipelines, leaving about 3.8 million b/d of unused capacity that could have bypassed the strait," EIA said.
Fitch sees Brent averaging $65 in 2019
In a report on Monday – so, before the drone incident – Fitch said that increased geopolitical tensions and economic uncertainty are likely to contribute to oil price volatility, but its year-average base-case expectations remained unchanged.
Fitch said in the report: "The toughened sanctions against Iran, production declines in Venezuela and the conflict in Libya contributed to Brent price recovery to around USD75/bbl by end-April from USD50/bbl at end-2018. However, the price fell to USD60/bbl in early June due to deteriorating expectations for global economic growth and increased trade war risks. We expect the global economy to decelerate from 3.2% in 2018 to 2.8% in 2019 and 2.7% in 2020. 
Nevertheless, we expect OPEC+ to continue to manage supply to avoid large supply-demand imbalances. We believe that the OPEC+ deal will be extended until at least the end of this year, though its parameters could change. As a result, we expect the market to stay broadly in balance, and assume annual average prices will remain in line with our existing base-case assumptions. Year-to-date average prices (Brent: USD66/bbl) are consistent with our assumption of USD65/bbl for 2019.
Many large Middle Eastern producers (such as the UAE and Kuwait) should be able to balance their budgets comfortably under Fitch's base case assumptions for 2019-2020, except Saudi Arabia, the "swing" producer. Saudi Arabia requires Brent to be priced above USD80/bbl, hence its decision to produce below its OPEC+ quota, putting upward pressure on crude prices.
In the longer term we assume average prices to moderate to USD57.5/bbl for Brent and USD55/bbl for WTI as OPEC+ policies may become less efficient over time. The differential between Brent and WTI will narrow as transportation constraints gradually ease. We expect US upstream companies to remain profitable at these price levels, assuming the current cost base and achieved efficiency gains. We expect production growth in the US to meet most of the additional global demand in the next few years as it does now. At the same time the responsiveness of US shale to current prices makes the scenario of oil prices falling consistently below USD50/bbl significantly less likely."
Offshore Energy Today Staff
---
Spotted a typo? Have something more to add to the story? Maybe a nice photo? Contact our editorial team via email.
Offshore Energy Today, established in 2010, is read by over 10,000 industry professionals daily. We had nearly 9 million page views in 2018, with 2.4 million new users. This makes us one of the world's most attractive online platforms in the space of offshore oil and gas and allows our partners to get maximum exposure for their online campaigns. 
If you're interested in showcasing your company, product or technology on Offshore Energy Today contact our marketing manager Mirza Duran for advertising options.