Rystad Energy: Offshore O&G has tremendous room for growth
Offshore oil and gas industry will continue to thrive and has much to offer in the future despite oil price downturns and the shale revolution, according to Norwegian oil and gas intelligence firm Rystad Energy.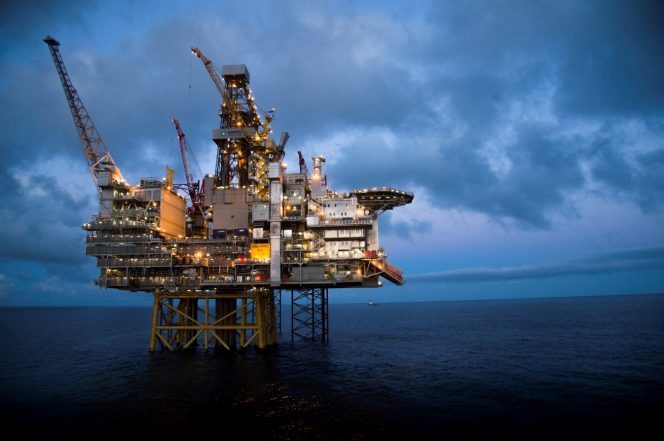 ---
For the 50th anniversary of world's largest offshore industry event, OTC in Houston, Rystad Energy asked the following question: "What will the next 50 years hold for the offshore market?"
To answer its own question, the energy intelligence firm analyzed the historic investments and oilfield service purchases of the world's 50,000 oil and gas fields. While the forecast is uncertain, Rystad says its analysis paints a picture of how offshore could contribute to the future of the service industry.
Rystad's expectations of future spending are based on yet-to-find potential, unsanctioned discoveries, the expected lifetime of existing fields, and decommissioning obligations.
Audun Martinsen, head of oilfield services research at Rystad Energy, said: "Total greenfield project sanctioning, summed up to the present day, only accounts for 40% of estimated volumes of offshore projects ever being sanctioned.
"Likewise, the brownfield market has only begun, with total historical expenditures accounting for only about 20% of estimated brownfield spend over the projects lifetime, leaving 80% of brownfield spending to the future. And the decommissioning market is still in its nascent form."
---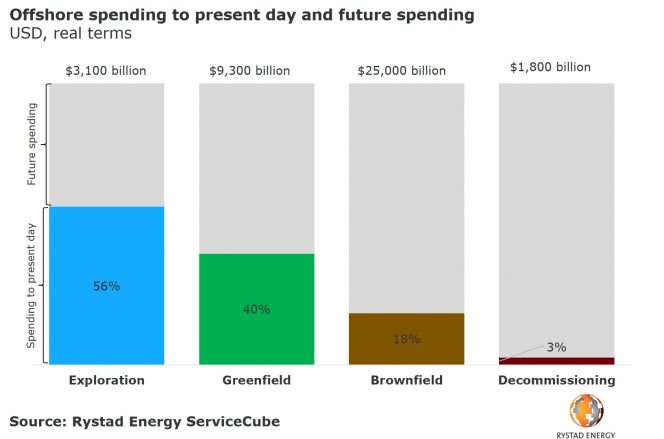 ---
800 billion barrels yet to be found
Rystad estimates that around 800 billion undiscovered barrels of oil and gas equivalents exist globally, hinting that exploration will still be in business in the next 50 years.
"However, we expect offshore's appetite for exploration to continue to weaken long term as more potential resources are discovered. Exploration will likely be forced into deeper and more remote waters, which could be too expensive to develop given the availability of other competitive sources of supply," Martinsen said.
Greenfield projects are new developments of new oil and gas fields. Historically, sanctioned greenfield projects have racked up total investments of about $3,700 billion in real dollars worldwide. In total, greenfield sanctioning has likely only achieved 40% of its potential with reference to total global reserves. The company noted that greenfield projects have tremendous room for growth.
Brownfield
Brownfield projects are expansions or upgrades of existing oil and gas fields. Of the 3,000 oil and gas fields producing today, 50% could still be producing in 2030 due to improved depletion rates through the use of advanced technology.
Also, upcoming projects already under development or expected to be sanctioned represent an additional 2,500 oil and gas fields.
"Assuming that oil and gas will still be consumed for petrochemical use and power production through 2100, we expect to spend five to six times as much on brownfield services as what has been spent as of today," Martinsen added.
Decommissioning
The most immature market in the upstream oil and gas market is decommissioning. Rystad estimates that only 3% of necessary decom expenditures have already been spent, which entails the cost of removing, plugging, and abandoning existing and to-be-developed oil fields.
According to the company, decommissioning represents an interesting market for service companies but in terms of size is a relatively small $1,800 billion market.
Maintenance and operations
Rystad said that the maintenance and operations service segment was naturally the market with the most volume of work ahead, with 58% of the market to be spent in the future representing $20,500 billion in expenditures.
"Well services and commodities, drilling contractors, EPCI, and subsea are equally large markets which we expect will make significant contributions to the service sector in the next 50 years," Martinsen stated.
Commenting on the overall findings, Martinsen said: "Despite oil price downturns, the shale revolution and OPEC market share wars, offshore continues to thrive and has much to offer the future."
---
Spotted a typo? Have something more to add to the story? Maybe a nice photo? Contact our editorial team via email. Offshore Energy Today, established in 2010, is read by more than 10.000 industry professionals daily.
We had almost 9 million page views in 2018, with 2.4 million new users. This makes us one of the world's most attractive online platforms in the space of offshore oil and gas.
These stats allow our partners advertising on Offshore Energy Today to get maximum exposure to their online campaigns. If you're interested in showcasing your company, product or technology on Offshore Energy Today contact our marketing manager Mirza Duran for advertising options.