Smulders, ENGIE start working on Hollande Kust Noord offshore substation
The joint venture between ENGIE Solutions and Iemants, a subsidiary of Smulders, has cut the first steel for the topside of the offshore transformer station for the Hollandse Kust Noord wind farm zone in the Netherlands.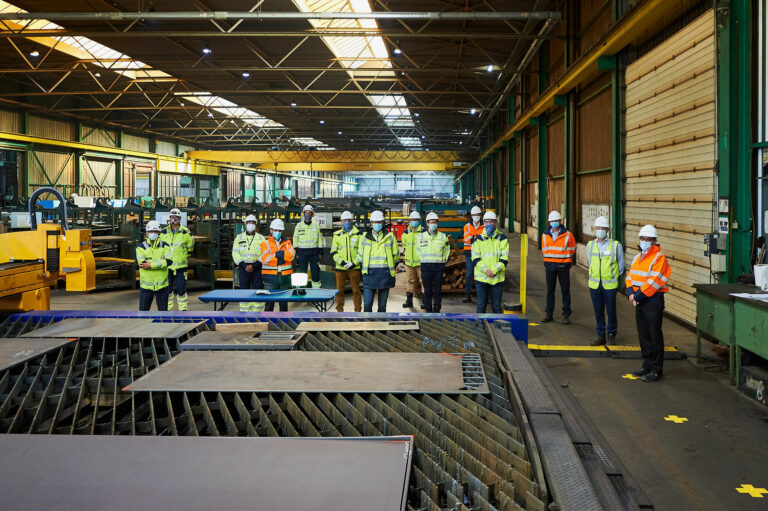 The joint venture partners, together with TenneT representatives, officially marked the beginning of works at a steel cutting ceremony at Iemants' facility in Arendonk on 24 September.
Earlier this year, TenneT selected the ENGIE Fabricom – Iemants joint venture to construct the offshore substation for the Hollandse Kust Noord wind farm in the Dutch North Sea through a European tender procedure.
The joint venture is also the preferred contractor for TenneT's Hollandse Kust West Alpha and the Hollandse Kust West Beta platforms.
The pieces that were now cut for the Hollandse Kust Noord topside are nodes and PRSs, which are the first building blocks for the topside. Steel fabrication will now continue at the Smulders' facilities in Arendonk and Balen in Belgium.
The fabrication of the jacket foundation will start in November.
Assembly of the topside will start in October and then it will be transported to the ENGIE Solutions yard in Hoboken for final assembly in February 2021.
The outfitting, commissioning and testing of the topside will take place from June 2021 until May 2022.
Offshore installation of the jacket foundation is scheduled to take place in October 2021, while the topside will be installed offshore in mid-2022.
The Hollande Kust Noord offshore wind project will be built by the CrossWind consortium between Shell and Eneco, which won the tender in July.
The wind farm will feature 69 Siemens Gamesa 11 MW wind turbines and is set to become fully operational in 2023.