Spectrum of the Seas Delivered to Royal Caribbean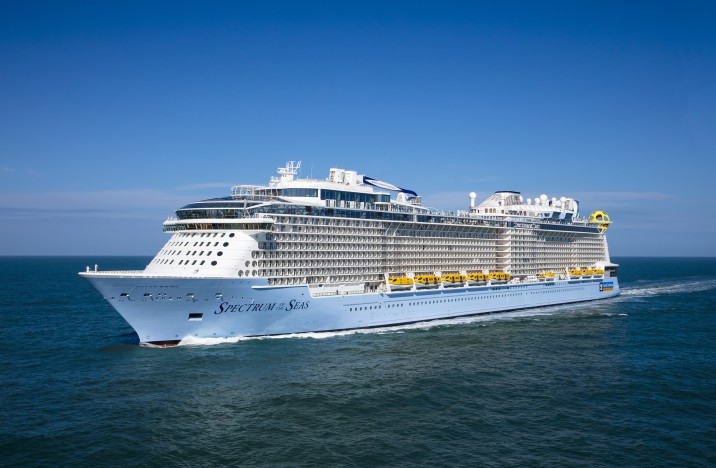 German shipbuilder Meyer Werft has handed over Spectrum of the Seas, the first cruise ship in the Quantum-Ultra class, to cruise line Royal Caribbean International.
The 169,000 gross ton newbuild — designed specifically for the Chinese market — was delivered to its owner in Bremerhaven on April 11, 2019.
"We are excited to welcome Spectrum of the Seas, our first Quantum Ultra class ship to the Royal Caribbean family," Michael Bayley, President and CEO, Royal Caribbean International, commented during the delivery ceremony in Germany.
The giant cruise ship features a length of 347.1 meters and a width of 41.4 meters. The Bahamas-flagged vessel altogether has 18 decks and can accommodate 4,246 passengers and 1,551 crew members.
Spectrum of the Seas is the fourth ship in the class, apart from its three sister ships, Quantum of the Seas, Anthem of the Seas and Ovation of the Seas, and the first vessel in the Quantum-Ultra class. In addition, it is the 26th ship in Royal Caribbean's fleet.
As a further development of Quantum-Class, Spectrum of the Seas like its sister ships is fitted with emission control systems such as the hybrid scrubber.
After being handed over to the cruise line, Spectrum of the Seas left Bremerhaven later on April 11. Watch the vessel's departure in the video below shared by Unimedien:
The maiden voyage to Asia is scheduled to begin in Barcelona on April 18, 2019.
The new cruise ship will homeport from Shanghai starting from June 2019. In winter 2019, the ship will reposition to Hong Kong, according to Royal Caribbean.
Image Courtesy: Meyer Werft; Video Courtesy: Unimedien.