Technology de-risking at NUI Galway set to usher in new age for marine renewables
Over the past 12 months, a research team in the SFI MaREI Centre at NUI Galway has made a significant contribution to technology development in the marine energy sector, by delivering three full-scale structural testing programmes to de-risk blade components to allow for commercial and operational trials in Alaska and Scotland.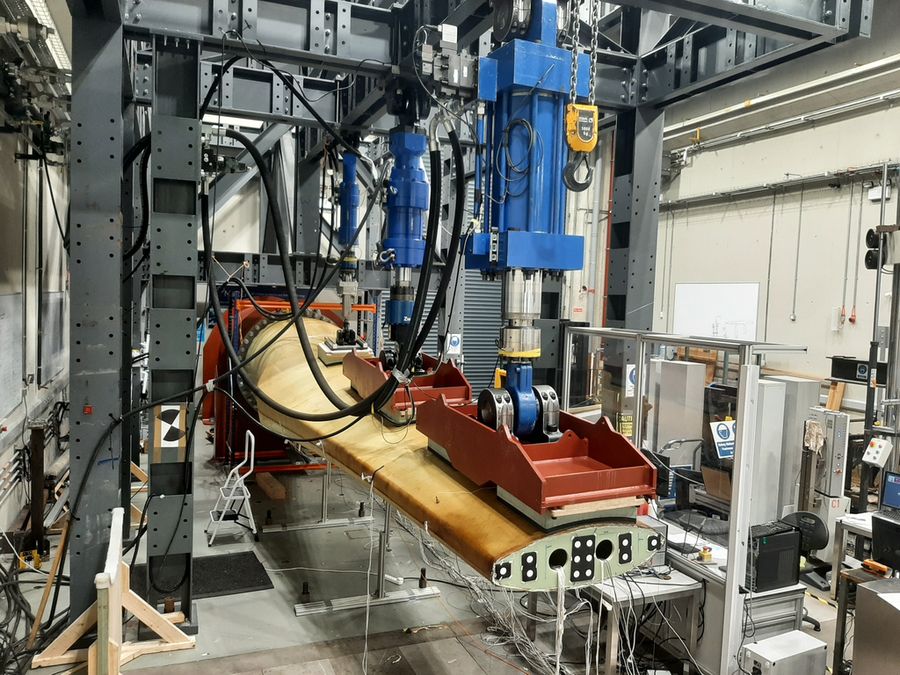 The research team worked with industry partners Suzlon Energy (wind energy developer), Ocean Renewable Power Company (tidal energy developer), Orbital Marine Power (tidal energy developer) and ÉireComposites (wind/tidal original equipment manufacturer).
Tomás Flanagan, CEO of Éirecomposites, said: "Our research collaborations with the MaREI Centre at NUI Galway has resulted in moving our blade technology from technology readiness level (TRL) 6 to 9 and the company has attracted commercial contracts for manufacturing tidal turbine blades, and securing these jobs over the long term.
"For example, at the start of 2020, we worked on a testing programme with Ocean Renewable Power Company (ORPC) and NUI Galway to de-risk the turbine blade components for the ORPC RivGen Turbine that we were manufacturing in our facilities in Galway. Due to the successful completion of the structural testing of the turbine in NUI Galway, RivGen has since been installed in Igiugig, Alaska, where it provides clean, predictable electricity for a remote community, which previously relied solely on energy generation from diesel generators".
Testing to prove tidal blade's twenty-year design life is a world first
In 2020, ÉireComposites also built what's said to be 'the world's strongest tidal blade', which has been tested in the large structures testing laboratory in the MaREI Centre at NUI Galway.
Through the SEAI funded SEABLADE and Horizon 2020 MaRINET2 testing programmes in NUI Galway, a static load of 1,004kN (over 100 tonnes or equivalent to 10 double decker buses) was applied to a tidal turbine blade – the highest load to be reported ever in the world.
Following this, the blade was subjected to fatigue testing to prove the blade's 20-year design life, which is a hugely important step forward in the certification of tidal turbine blades required for full commercialisation.
This achievement has had a major impact on the tidal energy sector, while demonstrating the advanced capabilities of the project partners, according to NUI Galway researchers.
To date, the testing has validated the models used to design the blade and the manufacturing process, paving the way for Orbital Marine Power's O2-2000 device to be deployed in 2021, where it will become the largest tidal turbine in the world.
Finlay Wallace, Blades Manager at Orbital Marine Power, said: "Collaborating with the MaREI Centre at NUI Galway and ÉireComposites to develop composite tidal turbine blade technology as part of the EU Horizon 2020 Flotec project opened up opportunities to prove the static and fatigue strength of a full sized composite tidal turbine blade structure through the Marinet2 and Ocean Era Net programmes".
"We took on a close collaborative approach, working with the project partners during planning and execution of the test program. We were thrilled to successfully demonstrate the blade static and fatigue strength, validating our design approach for composite blades. This represents a critical step in de-risking the path for larger more powerful turbine blades with lower cost of energy".
Development of a component for preventing leading-edge erosion on offshore wind turbine blades
In 2020, the MaREI team in the Ryan Institute and School of Engineering at NUI Galway also completed the EASME-funded €1.5 million LEAPWind Project, which was in response to Suzlon Energy's need to develop a component for preventing leading-edge erosion on offshore wind turbine blades.
New components developed at ÉireComposites are now undertaking full-scale operational trials on wind turbines in Scotland, which may result in the new component being used on all future Suzlon blades, where they currently have an installed capacity of over 18,800MW worldwide, according to NUI Galway.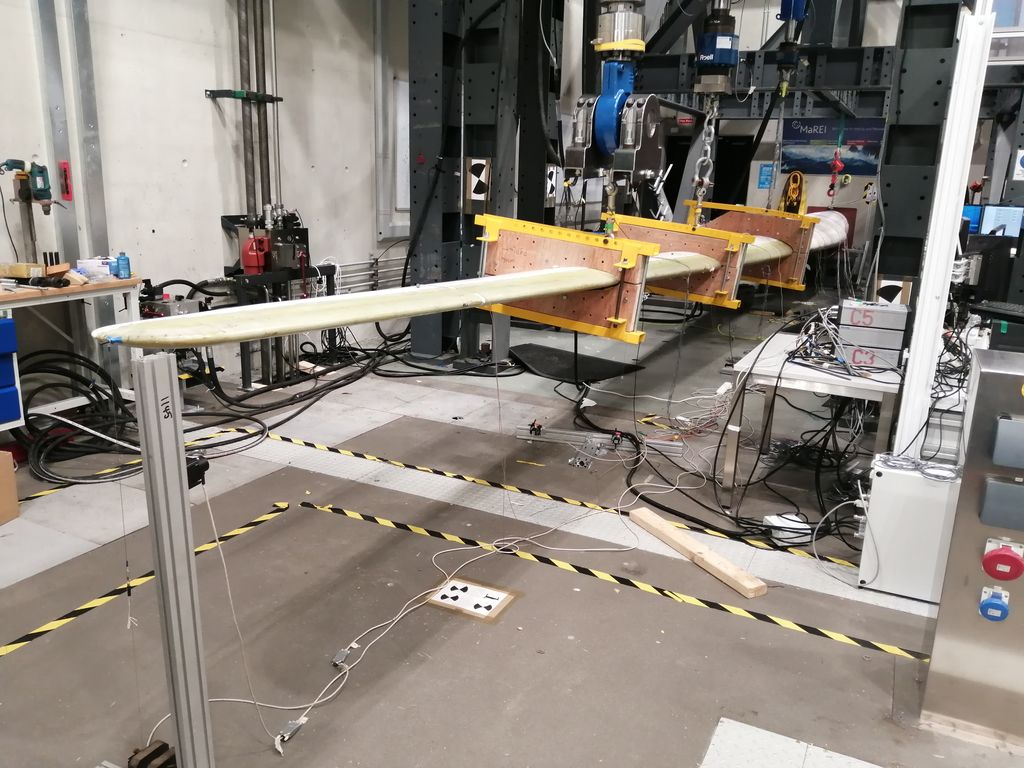 That installed capacity is, on average, enough to supply the electrical needs of over 8 million households. Structural testing of components for preventing leading-edge erosion on wind turbine blades was completed at NUI Galway, including static and fatigue testing of representative sections of full-scale blades.
According to Sandro Di Noi, Innovation and Strategic Research Manager at Suzlon Energy Blades Technology, the cooperation and the results achieved within the innovative LEAPWind project increased the SE Blades Technology (knowledge about wind blades leading edge protection technology in an off-shore environment.
"The successful static and fatigue testing of the leading edge protection component (known as LEP) on a representative full-scale blade performed at NUI-Galway delivered a professional and "ready to use" report. The results allows us to move forward with the thermoplastic LEP solution developed by ÉireComposites", said Di Noi.
Local social impact in the West of Ireland
"The collaboration with the team based in the SFI MaREI Centre at NUI Galway has helped secure ÉireComposites' long term viability and safeguard jobs in the Connemara Gaeltacht. This is as a result of a long number of years of working closely in partnership with researchers and academics in NUI Galway to foster an innovative ecosystem for lightweight high-performance large-scale fibre-reinforced composite structures across a range of applications, including aviation, space, marine and renewable energy – wind, tidal and river-current", Flanagan noted.
Professor Jamie Goggins, Principal Investigator in the SFI MaREI Centre and Director of Research and Innovation in the School of Engineering at NUI Galway, said: "Despite the restrictions in place due to COVID-19 in 2020, together with our project partners we have made significant contributions to the marine energy industry, in particular through our collaborations with ÉireComposites, ORPC, Orbital Marine Power and Suzlon Energy.
"Having already secured new collaborative research projects to develop and test the next generation blades for tidal and river-current turbines we're hopeful for another successful year in 2021. We are very grateful for the support of Science Foundation Ireland, Sustainable Energy Authority of Ireland and the European Commission through the H2020 and EASME-funded programmes. This has helped secure the reputation of the MaREI Centre as a world leader in design, modelling and testing of tidal turbine blades and blade components".
---
Source: NUI Galway