TORM swoops in to buy three fuel-efficient MR product tankers
Danish shipping company TORM has inked a deal to acquire three 2013-built MR eco product tankers, pushing its fleet to 88 vessels.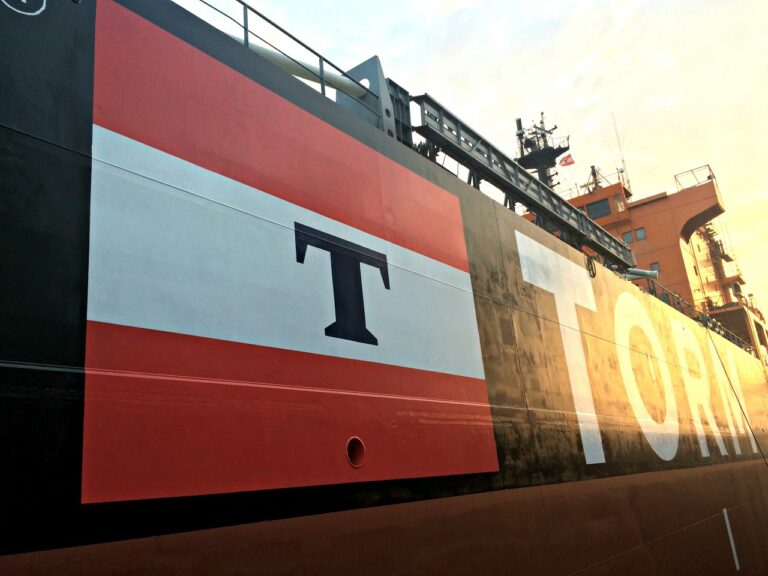 The company said the tankers will be bought for a total cash consideration of $48.5 million and the issuance of 1.42 million shares.
As informed, the three vessels are all built at a tier 1 Korean yard and have fuel-efficient eco-vessel specifications. They are expected to be delivered no later than 31 May 2023.
"The cash element of the transaction is expected to be financed through traditional bank financing, and in connection with each of the three deliveries TORM will issue one-third of the total share issuance, corresponding to 50% of the total consideration," TORM said.
Since the beginning of 2023, the company has acquired seven 2011-2013 built LR1 vessels spending $233 million. The last of the seven vessels is slated for delivery by the end of April 2023, and they are all expected to be financed by sale and leaseback agreements with an undisclosed Chinese financial institution.
As part of the company's ongoing fleet renewal, last year TORM sold three LR2 vessels, two MR vessels from 2003 and 2004, and exited the Handysize vessel class by selling two Handysize vessels that were built in 2005 and 2009. During the year, one LR2 vessel built in 2016 was acquired as well.
In a separate announcement, TORM revealed that it had secured a commitment for refinancing of $433 million bank and leasing agreements with two new bank facilities, thereby extending debt maturities until 2028 and with a possibility to extend most of the debt expiration to 2029.
The shipowner has also obtained a commitment for financing additional second-hand vessels for up to $123 million with the same expiration terms.
Under the agreement, the refinanced debt will be structured as a syndicated facilities agreement with six to nine banks of up to $322 million, which will refinance 21 vessels built between 2009 and 2020, and a bilateral facilities agreement with HCOB of up to $111 million, which will refinance 26 vessels built between 2003 and 2008.
"I am very pleased with the process we have had with our group of relationship banks and the new banks in our syndicate in order to obtain commitment for a refinancing. Together with this strong group of banks, we have secured a refinancing on very attractive terms, and I feel confident that we have set the group of banks for the years to come that can assist us in growing TORM's business," says CFO Kim Balle.
TORM said that the closing of the agreements is subject to documentation and is expected during the second quarter of 2023.
For the full year 2022, TORM realized a record-high EBITDA of $743 million (2021: $137m). The profit before tax amounted to $557 million, reversing from a loss in 2021 of $41 million.