TotalEnergies enriches its carbon storage portfolio with another project in North Sea
France-headquartered energy giant TotalEnergies has put the wheels into motion to expand its carbon storage footprint in the North Sea by penning an agreement with CapeOmega Carbon Storage, a wholly owned subsidiary of CapeOmega, to acquire its stake in a CO2 storage exploration license offshore Norway.

Thanks to the signing of this deal, TotalEnergies will get its hands on CapeOmega's 40 per cent participating interest in the CO2 storage exploration license ExL004 related to the Luna project, which is located 120 km offshore Bergen in 200 m water depth. The transaction is subject to the satisfaction of customary conditions, including final approvals from relevant government authorities.
The license, operated by Wintershall Dea with a 60 per cent interest, covers an area of 453 km2 and is adjacent to the license where the Northern Lights CO2 storage project – in which TotalEnergies holds a 33 per cent stake – is under development, with a first phase due to start in 2024.
Arnaud Le Foll, Senior Vice-President New Business – Carbon Neutrality at TotalEnergies, commented: "This transaction is an important milestone to grow our CO2 storage offering: subject to successful exploration, this area could enable the storage of several hundred million tons of CO2 from hard-to-abate industries in Europe.
"With the Northern Lights start-up in 2024 and other projects under development in the Netherlands, Denmark, and the UK, TotalEnergies is building a world-class carbon storage portfolio across the North Sea. Norway will play a leading role in this portfolio thanks to its large geological storages and supportive government policies."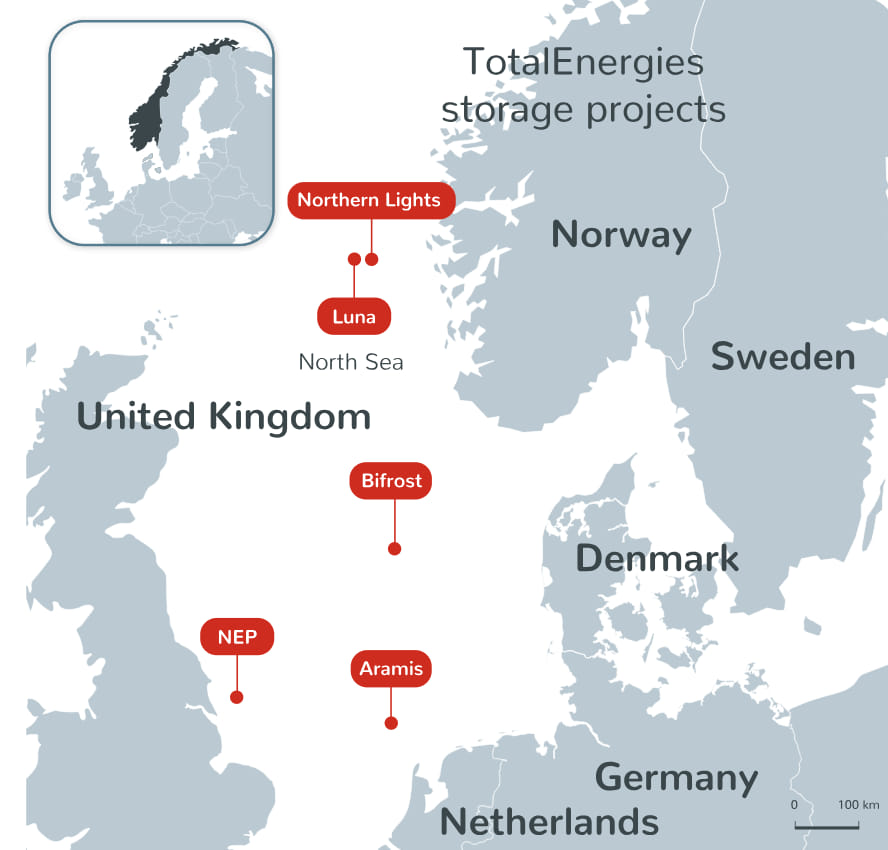 Based on Westwood's data, Europe has an estimated 500 GT of theoretical capacity for CO₂ storage in both saline aquifers and depleted hydrocarbon fields, with a significant portion of this offshore UK and Norway. While Norway continues to offer acreage, the UK recently announced preliminary results of its first carbon storage licensing round with the offer of 20 carbon storage licences to 12 companies.
There is a growing interest in carbon capture and storage on the Norwegian Continental Shelf (NCS), with two areas announced by July 2023 while the authorities have awarded two exploitation licences for CO2 storage. Norway is also settings things in motion to further strengthen ties with Europe and break down barriers to CO₂ transport.
To this end, the EU and Norway established its Green Alliance in April 2023, to strengthen their joint climate commitments and cooperation on the clean energy transition. In addition, Belgium and Norway recently started formal negotiations for cross-border transport and storage of CO₂.
TotalEnergies is one of the energy giants, which have recognised the usefulness of CCS in curbing emissions. As a result, the French player is on track to enable the decarbonisation of European businesses through projects such as Northern Lights in Norway, Aramis in the Netherlands, and Bifrost in Denmark.
The oil major is also pursuing more hydrocarbons, with a greater focus on gas, as shown by a recent agreement, which will enable the company and Inpex to acquire PTTEP's 100 per cent interest in a permit, encompassing two gas fields in the Timor Sea, offshore Australia.