Tower Resources sets Cameroon well spud date as it works to secure funding
AIM-listed, London-based, oil firm Tower Resources hopes to spud its NJOM 3 well offshore Cameroon in the last week of May. The company is in the meantime working on securing the funds both for the well and for the Njonji field development.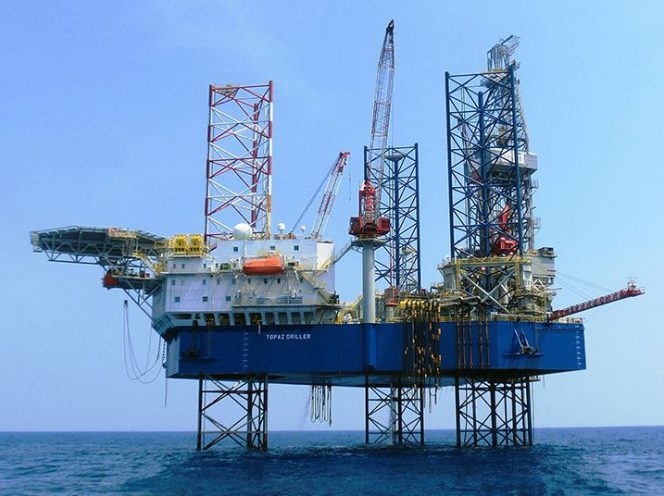 The NJOM 3 well in the Thali offshore block will be drilled by the Topaz Driller jack-up rig, currently in on a contract with Total in Gabon. The rig is owned by Vantage Drilling.
"Tower is in the final stages of planning the NJOM3 well, which will be drilled to a total depth of 1,100 meters intersecting at least three reservoir zones already identified by the NJOM1B and NJOM2 discovery wells drilled on the Njonji structure by the previous operator Total," Tower Resources said.
"The Topaz Driller…is currently expecting to complete operations for its current charterer in Gabon in mid-May, which should make it possible to spud the NJOM3 well in the last week in May 2019," Tower said, adding that the timeline might still be pushed, depending on the operations of the current rig charterer.
Tower was awarded the Production Sharing Contract for the block in September 2015, and has recently been granted an extension to the Initial Exploration Period to September 15, 2019.
Tower has said that the NJONJI-3 well is designed to confirm the greater reservoir thicknesses observed on the reprocessed 3D seismic in the up-dip area of the structure and also evaluate additional reservoirs that were not present in the areas where Total's wells are located.
"The NJOM3 well is designed to supplement Total's well data with a suite of measurement and logging tools and drill stem test ("DST") flows to surface," Tower said.
Tower then plans to suspend the well, with a view to subsequent completion as one of four initial production wells on the structure.
"This first phase of development […] aiming to exploit the 2C contingent resources (Pmean 18 million barrels oil, gross) already identified in the structure, aims to provide significant production to Tower in 2020."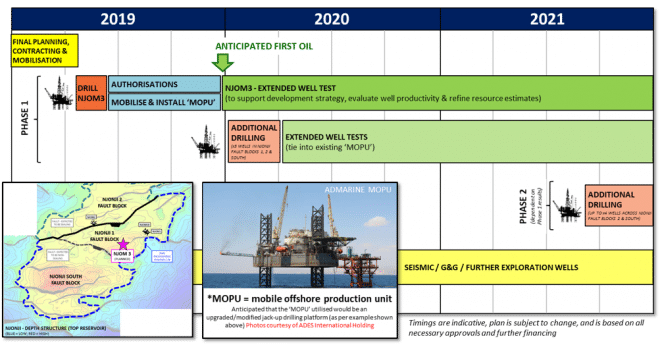 In previous updates Tower had said that it was going to lease a mobile offshore production unit – a modified jack-up rig – and a shuttle tanker to develop Cameroon resources.
The company in October 2018 said the first oil was targeted for the end of 2019.
Funding yet to be secured, Bridging Loan agreed
In its update on Tuesday, Tower said the well cost remained in previously disclosed ranges of around $10 million dry hole cost and around $14 million including well planning and testing.
The company is planning to use a combination of bank financing and own or partner equity to fund the first phase of development at Njonji, including the proposed NJOM3 well.
Tower has said it has been, for several months, discussing a loan facility with "a prominent African bank," for the Njonji development of $15 million which could be extended to  $50 million, and the company "is still hopeful that such a facility may be in place by mid-May."
"With or without such a facility, the Company has also been holding discussions with several possible partners for the Thali license, which the Company also hopes may be concluded in that time frame. Any one of these options, or a combination of them, could provide the additional funds required to complete the current well," Tower said.
In a subsequent statement on Tuesday, Tower said it has successfully agreed a Bridging Loan Facility of US$750,000 with a single lender. The terms of the Bridging Loan include the issue of 90 million of attached five-year 1.0 pence warrants. The purpose of the Bridging Loan is to cover working capital while the Company seeks to finalize funding arrangements for the drilling of the NJOM3 well on the Thali license in late May 2019.  
Tower has agreed a short term senior secured funding facility of US$750,000 with Pegasus Petroleum Ltd, a company beneficially owned by the Tower Resources' Chairman Jeremy Asher.
The material terms of the facility comprise fees of 2%, interest of 1% per month accrued and paid on repayment, a fixed and floating charge over the company's assets, and the issue of 90 million 5-year warrants priced at 1.0 pence per share, which is a premium of 38% over Tower Resources' closing mid-market share price on April 15 2019. The Bridging Loan will be due for repayment on or before June 30, 2019 and will have a preferential right of repayment from any future financing secured by Tower Resources.
Peter Taylor, Non-Executive Director, said: "This funding facility provides additional working capital which we need to complete the well financing process. Our Chairman's participation reflects his continuing confidence in the Company and in our Cameroon project."
Offshore Energy Today Staff
---
Spotted a typo? Have something more to add to the story? Maybe a nice photo? Contact our editorial team via email.
Offshore Energy Today, established in 2010, is read by over 10,000 industry professionals daily. We had nearly 9 million page views in 2018, with 2.4 million new users. This makes us one of the world's most attractive online platforms in the space of offshore oil and gas and allows our partners to get maximum exposure for their online campaigns. 
If you're interested in showcasing your company, product or technology on Offshore Energy Today contact our marketing manager Mirza Duran for advertising options.