Tullow, Eco shares nosedive as Guyana discoveries 'heavy oil'
Shares of Tullow Oil and Eco Atlantic fell sharply Wednesday morning after the two companies announced the two discoveries recently struck offshore Guyana contained heavy oil with high sulfur percentage.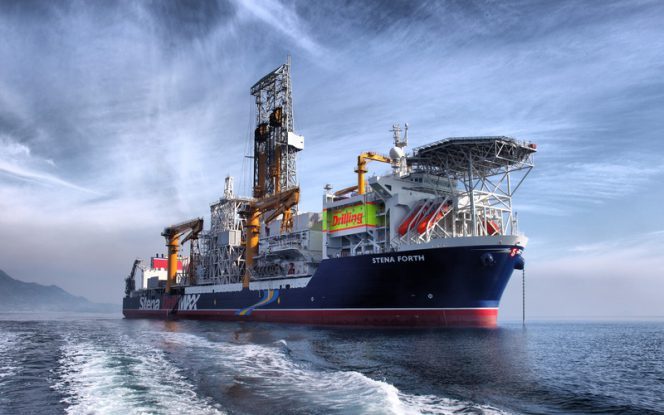 Tullow announced the two discoveries – Jethro 1 and the Joe-1 in its Orinduik block in August and September, respectively.
As previously reported, the Jethro-1 well hit 55 meters of net pay in high-quality sandstone reservoir in the Lower Tertiary and Joe-1 encountered 14 meters of net pay, opening a new play in the Upper Tertiary.
However, Tullow on Wednesday said that the laboratory analysis of the Joe and Jethro oil samples indicated the oil struck is heavy crude, with high sulfur content.
"Tullow and the Joint Venture Partners are assessing the commercial viability of these discoveries considering the quality of the oil, alongside the high-quality reservoir sands and strong overpressure," Tullow said.
Tullow shares were down 21,5 percent, and its partner Eco's shares were down 49,9 percent at quarter to noon (CET) on Wednesday.
Eco said Wednesday that the complete fluid analysis had not yet been received however, initial results suggest that the samples recovered to date from Jethro-1 and Joe-1 are mobile heavy crudes, "not dissimilar to the commercial heavy crudes in the North Sea, Gulf of Mexico, the Campos Basin in Brazil, Venezuela, and Angola, with high sulfur content."
According to Eco, the partners have sought third party consultant with heavy oil development expertise to answer technical queries and provide an initial assessment of several potential development drilling and production scenarios.
Eco said that the Jethro-1 discovery had the advantage of 8,500 PSI reservoir (2,600 PSI Overpressure), which increases drive efficiency; high reservoir temperature of 94 degrees Celsius; and an estimated flowing wellhead temperature of 90 degrees, which both increases oil mobility and provides an advantage at the floating production facility.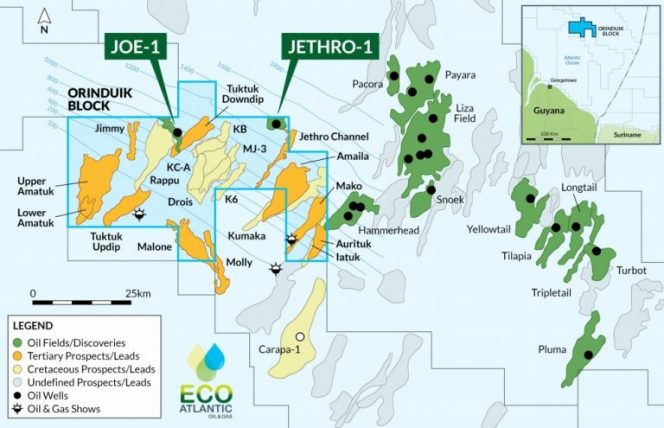 Eco still optimistic
Eco said it remained optimistic in considering the development scenarios and that it would define further information on plans and timing as the project progresses.
Colin Kinley, Co‐Founder and Chief Operating Officer for Eco, said: "Having spent three decades working within the heavy oil industry, we are very encouraged by the initial analysis of these wells and good parameters that define potential pathways to recovery. The fact that the oil is already hot in the reservoir, and mobile, and has high quality porous sand to travel through, helps to eliminate a great part of the conventional heavy oil challenge.
"Having 8500 PSI in the porous warm formation is an added advantage to drive the oil to the well. Horizontal well technology can allow excellent access to these thick fields and generally reduces the need for multiple additional wells, leading to lower development cost per barrel," he said.
"We look forward to keeping the market appraised of our progress towards potential commercial production, further drilling in 2020 within the block and remain extremely confident about the future."
Gil Holzman, Co‐Founder and Chief Executive Officer for Eco, said: "This is obviously just the beginning of our journey to unlock the block's full potential, which, following these initial discoveries, we hope to demonstrate through an updated CPR in the coming weeks. To date, ExxonMobil have drilled 16 wells in just over four years with 14 discoveries. Eco and its partners have drilled two wells, with two discoveries, and our interpretation and understanding of the block is an exciting work in progress as we continue to analyze and improve our understanding of the plays."
Guyana preparing for first oil
As for Exxon, the company is gearing up to make Guyana an oil-producing country by bringing online the first phase of the Liza oil discovery development in the nearby Stabroek block.
The company will use the Liza Destiny FPSO which reached Guyana in August. Production is expected to start in December, ahead of the original 1Q 2020 plan.
Exxon has also ordered the FPSO from SBM Offshore for the second phase of the Liza Development – the Liza Unity FPSO – to be supplied by SBM.
China's Waigaoqiao Shipbuilding launched the Liza Unity FPSO hull in June. This will be the first FPSO built under SBM Offshore's Fast4Ward program – a standardized FPSO designed to systematize the FPSO construction and delivery process, thus reducing cost and speeding up the time to the market.
The discoveries offshore Guyana so far have established the potential for at least five FPSO vessels producing more than 750,000 barrels of oil per day by 2025.
ExxonMobil last week awarded SBM Offshore has been awarded contracts by ExxonMobil to perform front end engineering and design (FEED) for what will be its third FPSO in Guyana – the Prosperity. This FPSO will be used to develop the Payara discovery, also located in the Stabroek block.
The FPSO will be designed to produce 220,000 barrels of oil per day, will have associated gas treatment capacity of 400 million cubic feet per day, and water injection capacity of 250,000 barrels per day.
---
Offshore Energy Today Staff
Spotted a typo? Have something more to add to the story? Maybe a nice photo? Contact our editorial team via email.
Also, if you're interested in showcasing your company, product, or technology on Offshore Energy Today, please contact us via our advertising form, where you can also see our media kit.
Related news
List of related news articles