UN chief's recipe to avert climate disaster: Beefing up renewables while cutting off investment in coal, oil & gas
Amid heightened concerns about global energy security, countries around the world have been using all the means at their disposal to strengthen and diversify their energy mix. While this has paved the way for a more accelerated pivot towards green and low-carbon sources, bringing the world closer to curbing emissions, many, including the UN chief, believe this is not enough and want to see explicit roadmaps and strategies in place to phase out fossil fuels while ramping up renewable energy.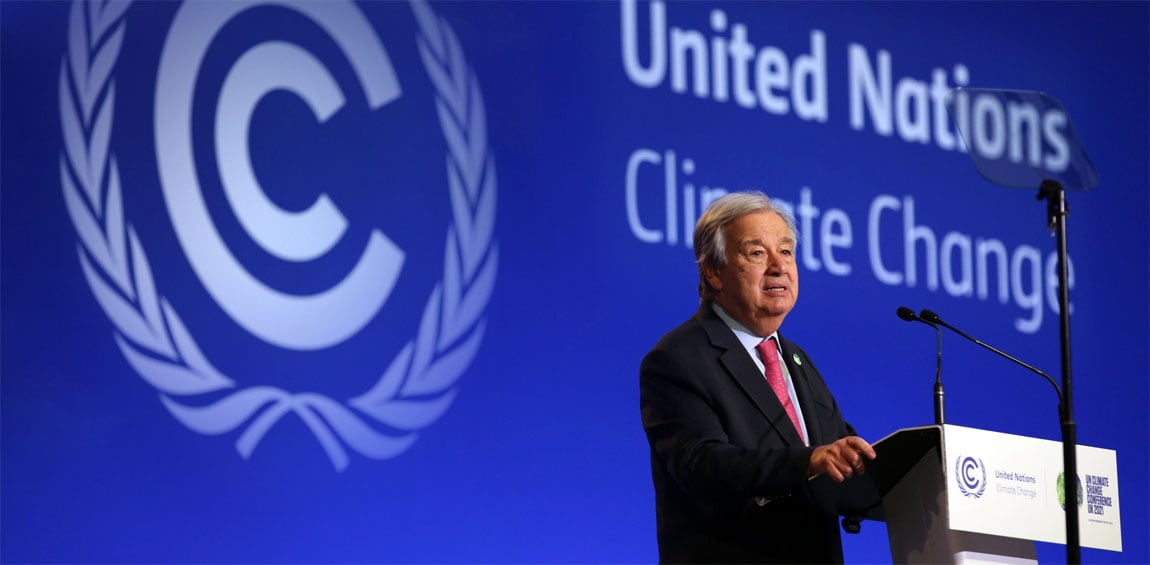 Ever since the Ukraine crisis started, the global energy landscape found itself embroidered in increasingly greater turmoil. As a result, energy security concerns shot straight to the top of the priority list. However, this also put stronger wind in clean energy's sails, as illustrated by the International Energy Agency's recent report, which indicated that about $2.8 trillion was set to be invested globally in energy by year-end with the global investment in clean energy technologies on course to rise to $1.7 trillion in 2023.
With solar set to eclipse oil production for the first time while slightly more than $1 trillion is expected to go to coal, gas, and oil, the IEA believes that the world's demand for oil is set to slow almost to a halt in the coming years, with the high prices and security of supply concerns highlighted by the global energy crisis hastening the shift towards cleaner energy technologies and enabling peak oil demand to come into view.
As global upstream investments in oil and gas exploration, extraction and production are on course to reach their highest levels since 2015, growing to $528 billion this year, the IEA claims that if this level of investment is sustained, it will exceed the amount needed in a world that gets on track for net-zero emissions.
In line with this, António Guterres, UN Secretary-General, warned that countries need to phase out coal and other fossil fuels to avert a climate catastrophe and called for detailed plans from financial institutions to encourage the global energy transformation, while speaking at UN Headquarters in New York on Thursday, 15 June 2023.
According to the UN chief, these plans should include an explicit strategy to progressively strip out fossil fuel assets from financial institutions' portfolios to ensure alignment with the net-zero goal while all lobbying and policy engagement should also be disclosed.
"Financial institutions everywhere must end lending, underwriting, and investments in coal anywhere – including new coal infrastructure, power plants, and mines. And they must commit to end financing and investment in exploration for new oil and gas fields, and expansion of oil and gas reserves – investing instead in the just transition in the developing world," highlighted Guterres.
The UN chief is of the opinion that limiting global temperature rise to 1.5 degrees Celsius is still possible since it requires a 45 per cent reduction in carbon emissions by 2030. As Guterres thinks the current policies will lead to a 2.8°C temperature rise by the end of the century, he called for immediate global action toward net-zero emissions, which "must start with the polluted heart of the climate crisis: the fossil fuel industry."
The UN Secretary-General is adamant that countries need to progressively phase out fossil fuels, "moving to leave oil, coal and gas in the ground where they belong," and massively boost investment in renewable energy, as "we are hurtling towards disaster, eyes wide open," thus, "it's time to wake up and step up."
Paying attention to the record "$4 trillion windfall" in income last year, Guterres emphasises that "the fossil fuel industry and its enablers have a special responsibility. Yet for every dollar it spends on oil and gas drilling and exploration, only four cents went to clean energy and carbon capture combined. Trading the future for 30 pieces of silver is immoral."
Previously, the UN chief proposed establishing a Climate Solidarity Pact under which rich nations would support emerging economies with measures aimed at cutting emissions while another proposal for an Acceleration Agenda calls on governments to phase out coal by 2040, end public and private international coal funding, and shift subsidies from fossil fuels to renewables, among other measures.
Furthermore, Guterres stressed that the fossil fuel industry should apply its massive resources "to drive, not obstruct" the global transition to renewable energy, as the industry "is not even reaching the very low operational emissions reductions targets it has set for itself."
In addition, the UN chief called on fossil fuel companies to present "credible, comprehensive and detailed" new transition plans that include reducing emissions "up and down the value chain" – from production through to refining, distribution, and use. These plans need to also establish clear, near-term targets towards the transition to the much-anticipated green energy.
"Fossil fuel companies must also cease and desist influence peddling and legal threats designed to kneecap progress. I am thinking particularly of recent attempts to subvert net-zero alliances, invoking anti-trust legislation. Governments are pivotal in setting the record straight. They must help by providing clear reassurance. Collective climate action does not violate anti-trust – it upholds the public trust," underscored Guterres.