USA: Oil industry welcomes release of revised Well Control Rule
U.S. Interior Department is rolling back offshore well control rules in what it says is a push to reduce regulatory burden. The oil and gas industry groups have welcomed the rollback, while the environmental groups feel the move is a "hand out" to oil companies and will jeopardize offshore safety.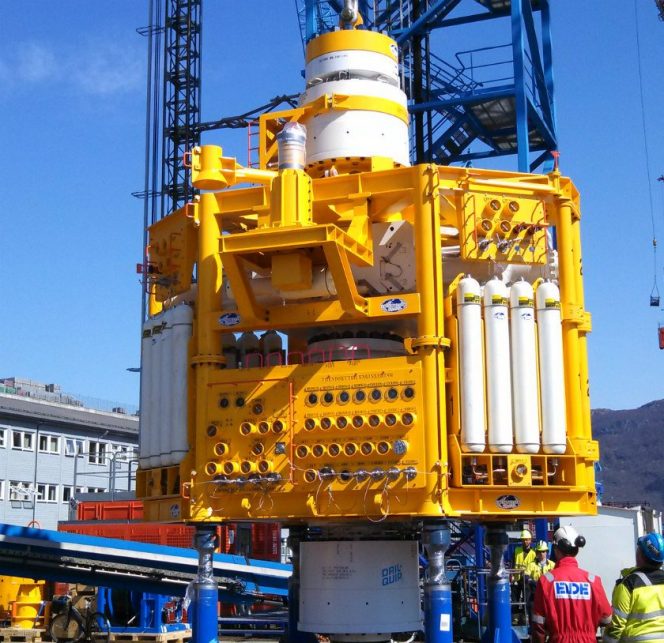 The U.S. Department of the Interior's (DOI) Bureau of Safety and Environmental Enforcement (BSEE) on Thursday released what it said were "the final improved Blowout Preventer Systems and Well Control regulations"
Per BSEE, the final Well Control Rule, "removes unnecessary regulatory burdens to responsible offshore development while maintaining safety and environmental protection."
"Today's final rule puts safety first, both public and environmental safety, in a common-sense way," said U.S. Secretary of the Interior David Bernhardt. "Incorporating the best available science, best practices and technological innovations of the past decade, the rule eliminates unnecessary regulatory burdens while maintaining safety and environmental protection offshore. Under President Trump's leadership, America is a leader on energy resulting in greater security and economic prosperity."
According to BSEE, the final revised rule leaves 274 out of the Obama-era 342 original Well Control Rule provisions – approximately 80 percent – unchanged. Sixty-eight provisions were identified as appropriate for revision, and 33 provisions were added to improve operations on the OCS, BSEE said.
Among the changes is the reduced testing frequency of Blowout Preventers (BOPs), devices sitting on the sea bottom designed to prevent well blowouts.
To remind, the blowout preventer (BOP) that was meant to shut off the flow of high-pressure oil and gas from the Macondo well in the Gulf of Mexico during the disaster on the Deepwater Horizon drilling rig on April 20, 2010, failed to seal the well because drill pipe buckled preventing BOP's blind shear ram – an emergency hydraulic device with two sharp cutting blades, intended to seal an out-of-control well – from functioning properly.
The Obama-era WCR called for a 14-day BOP testing frequency. This has now been revised to 21-day frequency, "if an operator meets certain criteria and if BSEE approves an operator's 21-day BOP testing frequency request. "
BSEE has cited industry concerns related to the benefits of 14-days pressure and function testing of subsea BOPs when compared to the costs and potential operational issues associated with such testing, including wear and tear. It has also acknowledged there were comments calling for a 7-day testing, and also those citing a lack of data to support the change of testing interval to 21-days.
"To address the concerns raised by commenters regarding the availability of data that demonstrates the impact on reliability due to testing frequency, the final rule requires any operator seeking to change testing frequency to develop a BOP health monitoring plan that includes condition monitoring tools that provide continuous surveillance of sensor readings from the BOP control system, real-time condition analysis and displays, functional pressure signal analysis, and trending capabilities of the sensor data," BSEE said.
"This approach offers a path for operators to avoid the identified cost and operational concerns associated with more frequent testing, while at the same time requiring that adequate and proven
tools for ensuring safety and environmental protection are in place before testing frequency is changed to a 21-day interval," BSEE said.
Some of the improvements to BOP and design testing, BSEE says, include limiting the number of connection points to the BOP, reducing the number of potential failure points; Equipping each BOP with a high-flow receptacle to ensure faster delivery of fluid to perform the function from a Remotely Operated Vehicle (ROV); Requiring an array of rams, which are steel covers designed to close rapidly around and over a drill pipe to stop the flow of hydrocarbons, with specific capabilities, allowing the most effective use of each ram type and maximizing functionality.
They also require improving the expected lifespan of a critical BOP component by specifying a testing methodology that provides a readiness check without putting unnecessary wear and tear on the component.
IPAA CEO: Obama-era rules 'overly prescriptive'
Oil industry lobbying group American Petroleum Institute says the revisions were "a part of an ongoing effort that has strengthened industry's actions on safe operations and a regulatory framework that promotes updated, modern, and safe technologies, industry best practices, and operations."
"This revised well control rule will help to further manage risks and better protect workers and the environment," said API's Vice President of Upstream and Industry Operations Erik Milito. "The revision strengthens the rule and enhances a robust regulatory framework to ensure updated, modern, and safe technologies, best practices, and operations."
"The safety of our workers, our operations and our communities, along with protection of the environment, is the oil and natural gas industry's number one priority. Offshore production delivers billions of dollars to the federal trea¬sury and has created thousands upon thousands of jobs throughout the Gulf Coast as well as in states far removed from production activities, where American families and state budgets depend on reliable and abundant energy sources to meet consumer demand and to drive the economy."
"The BSEE revisions to the Obama-era well control rule are common sense and will go far to increase the safety of all those who work in the offshore."
Independent Petroleum Association of America (IPAA) President and CEO Barry Russell said: "The BSEE revisions to the Obama-era well control rule are common sense and will go far to increase the safety of all those who work in the offshore. Over the past several years, IPAA and the broader oil and natural gas industry have worked closely with the U.S. Department of the Interior to support the effective and thorough regulation of America's offshore sector, standards, and safety programs.
He said: "Offshore producers highlighted how the Obama-era rule was overly prescriptive and bound companies with a one-size-fits-all approach at the expense of safety by constraining quick decision-making. The changes in the new rule allow for producers to be nimbler, with more adaptive guidelines based on the most up-to-date insights and innovative technology in the offshore exploration and development field. IPAA supports BSEE's efforts to modernize regulations for an ever-improving offshore industry that places the protection of its workers, the environment, and coastal communities first."
Earthjustice: Another Deepwater Horizon in the making
While the industry claims the new rules will better protect workers and environment, environmental groups disagree and feel the move might lead to yet another Deepwater Horizon-like disaster.
Earthjustice said: "The Well Control and Blowout Preventer Rule, finalized under the Obama administration, requires real-time oversight of risky drilling operations and precautionary failsafe measures to stop a spill when things go wrong. Interior officials began re-writing the rule after President Trump issued an executive order in 2017 calling for offshore drilling controls – regarded as a 'burden' by the fossil fuel industry – to be rolled back."
"The changes represent a favor to the oil industry and a threat to "workers, waters, and wildlife" 
Earthjustice Oceans Attorney Chris Eaton said: "'The Trump administration is rolling back mechanisms and technology designed to protect rig workers and prevent another disaster offshore. These rollbacks are a hand out to oil company CEOs at the cost of endangering the lives of their workers and heightening the risk for another environmental catastrophe off America's coastlines. We will use every tool we have to prevent these rollbacks.'
NRDC: Threat to workers, waters, and wildlife
Environmental advocacy group NRDC said the Trump administration's move weakened "crucial offshore drilling safety standards that were put in place after the 2010 BP Deepwater Horizon oil disaster, which killed 11 people and covered the seas with millions of barrels of oil."
"The well control rule was one of the most important actions we took, as a nation, in response to the BP-style disaster at sea," said Bob Deans, director of strategic engagement at NRDC. "The rule draws directly from lessons learned from that debacle. It creates tools to help reduce the risk of these dangerous industrial operations at sea."
"The agency is walking back components of the well control rule, such as removing requirements for real-time backup monitoring by onshore experts and annual certification of the blowout preventer's integrity by an approved third-party expert. Blowout preventers will now be allowed to simply close, instead of achieving an effective seal, which mirrors standards set by the American Petroleum Institute. (A malfunction of a blowout preventer is what caused the 2010 disaster.) Together, the changes represent a favor to the oil industry and a threat to "workers, waters, and wildlife," Deans said.
The final rule will become effective 60 days after date of publication in the federal register, which is expected to happen next week.
Click here to read the full text, 289 pages (PDF), of the final Well Control Rule.
Offshore Energy Today Staff
---
Spotted a typo? Have something more to add to the story? Maybe a nice photo? Contact our editorial team via email.
Offshore Energy Today, established in 2010, is read by over 10,000 industry professionals daily. We had nearly 9 million page views in 2018, with 2.4 million new users. This makes us one of the world's most attractive online platforms in the space of offshore oil and gas and allows our partners to get maximum exposure for their online campaigns. 
If you're interested in showcasing your company, product or technology on Offshore Energy Today contact our marketing manager Mirza Duran for advertising options.
Related news
List of related news articles