Venture Global asks to start pre-filing for its fourth LNG project
U.S. LNG export project developer Venture Global LNG is looking to start the pre-filing process with FERC for a proposed CP2 LNG project in Cameron Parish, Louisiana.
Venture Global LNG's units, Venture Global CP2 LNG and Venture Global CP Express have requested approval from the Federal Energy Regulatory Commission staff to initiate the National Environmental Policy Act (NEPA) pre-filing review process.
As part of the project, CP2 LNG proposes to build, own, and operate an LNG facility with a nameplate liquefaction capacity of 20 million tonnes per annum (mtpa) of LNG and a peak capacity of approximately 24 mtpa.
It has to be stressed that the project would be developed next to Venture Global's 10 mtpa Calcasieu Pass LNG project currently under construction.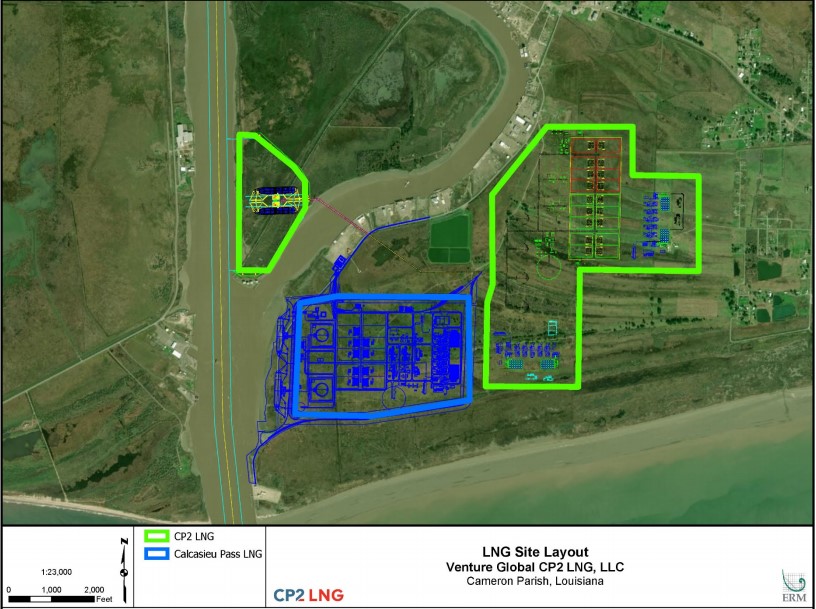 Also as part of the project, CP Express proposes to build, own, and operate a new, 48-inch diameter pipeline approximately 87.5 miles in length and a new, 24-inch diameter lateral pipeline approximately 5.5-mile in length, connecting the CP2 LNG terminal to the existing natural gas pipeline grid in east Texas and southwest Louisiana. Thus, the CP Express pipeline will be located in Texas and Louisiana.
CP2 LNG will liquefy domestic natural gas transported on the new CP Express pipeline and store and deliver LNG as needed to LNG carriers for export overseas.
The CP2 LNG facilities will include 18 liquefaction blocks, each with a nameplate capacity of approximately 1.1 mtpa, four LNG full containment storage tanks, two marine loading berths for ocean-going vessels, with LNG carrying capacity between 120,000 and 185,000 cubic meters, and an on-site 1,440-megawatt power generation facility.
CP2 LNG will construct the project in two phases, with each phase to have 10 mtpa of nameplate capacity, with phase one constructing nine trains, two tanks, a 720-megawatt power plant, two marine berths, and ancillary facilities to support all of the foregoing.
The project targets the start of Phase one construction activities in the second quarter of 2023 with the first deliveries planned for the second quarter of 2025. Full commercial operations are expected to be achieved by mid-2026.
Construction of the remaining terminal facilities will be built in the second phase. however, the construction and operational timelines for Phase 2 will depend on the market conditions.
To remind, the Calcasieu Pass LNG facility located at the intersection of the Calcasieu Ship Channel and the Gulf of Mexico.
Venture Global LNG is developing two additional 20 mtpa LNG projects, the Plaquemines LNG facility south of New Orleans on the Mississippi River and the Delta LNG project, adjacent to Plaquemines.