WATCH: Hull works are a wrap on Asia's first cylindrical FPSO destined for deepwater oil & gas project
The construction of the main hull structure for – what is deemed to be – Asia's first cylindrical floating production storage and unloading (FPSO) vessel has been completed in Qingdao, east China's Shandong Province. This marks a new breakthrough in the R&D and manufacturing technical capabilities of China's deepwater super-large offshore oil and gas equipment, according to China National Offshore Oil Corporation (CNOOC).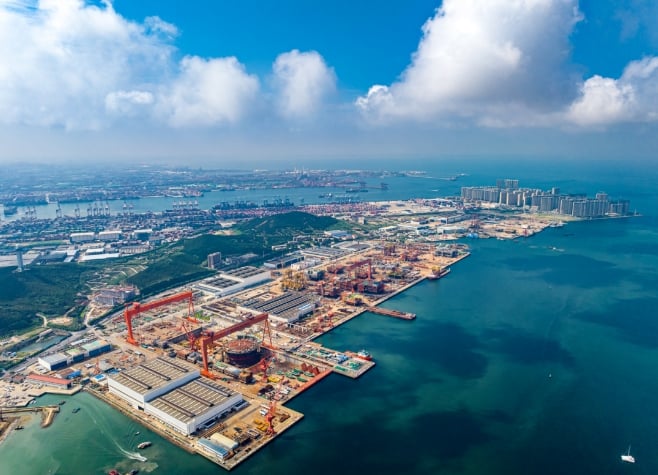 With a maximum diameter of about 90 meters, the cylindrical FPSO, which has been named Haiyang Shiyou 122, also known as Offshore Oil 122, can operate in deepwater and harsh environments. The vessel's main deck area is equivalent to 13 standard basketball courts. This FPSO has a maximum displacement of 100,000 tonnes, a maximum storage capacity of 60,000 tonnes of oil, and the ability to operate continuously for 15 years without returning to the dock.
While talking about the vessel, Nie Jiaqiang, construction manager for CNOOC's Haiyang Shiyou 122 project, told China Media Group: "The Haiyang Shiyou 122 adopts a new cylindrical structure design, that saves steel consumption and has good overall stability and the strong ability to withstand severe sea conditions, which can reduce engineering investment and effectively improve economic applicability."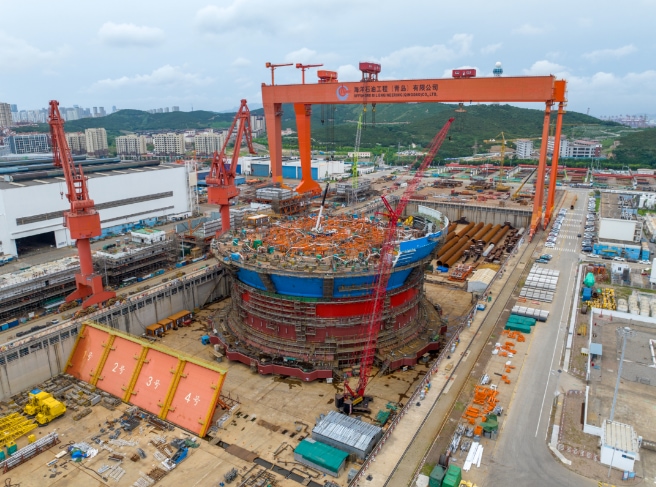 Shu Wei, head of the general contracting for CNOOC's Haiyang Shiyou 122, explains that the project team overcame a series of problems such as the design and high-precision construction of floating production equipment systems for typhoon sea conditions, mastered construction technologies, and adopted digital means such as 3D simulation to reach the international advanced level of precision with a dimensional tolerance of less than 6 millimetres.
The FPSO, which has now entered a final assembly and integration stage, will be jointly commissioned with Asia's first deepwater jacket platform, Haiji, after completion next year. The vessel will become a key secondary development project for a deepwater oilfield near the Pearl River Mouth Basin. Based on Chinese media, it will be deployed in the Liuhua 16-2 oilfield in the South China Sea.