WATCH: Saipem's recently named jack-up rig leaves shipyard ahead of new gig
A 300-ft jack-up drilling rig built by CIMC Raffles has joined the fleet of Italy's contractor Saipem, following a naming ceremony in China ahead of a five-year contract in the Middle East.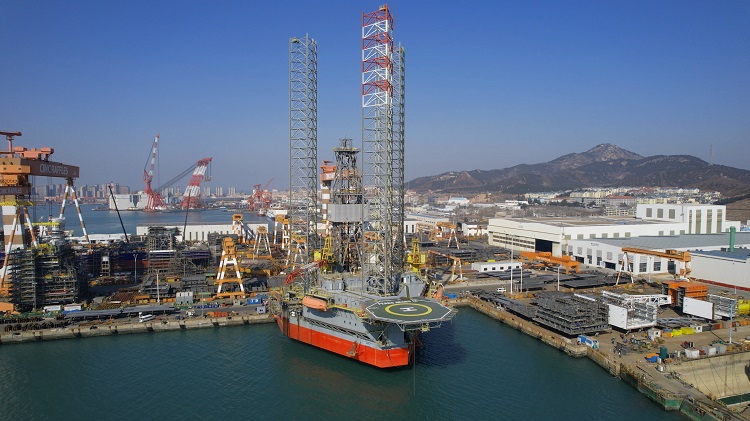 Saipem recently reported that the new jack-up Perro Negro 12 was officially christened, thus, it became a part of its offshore drilling fleet. At the end of February 2023, the naming and departure ceremony for the jack-up rig was held at the CIMC Raffles shipyard. This was managed by Ocean Challenger, the asset management company of China's EPC contractor CIMC Raffles.
The ceremony was attended by Saipem's team, representatives of the ABS Classification Society, CIMC Raffles project team, CIMC Offshore assets team and other parties. The rig was named by Chiara Perotti, Project Manager of Saipem. The Perro Negro 12 rig is of FNG SUPER M2 design.
According to Ocean Challenger, this rig is one of the greatest achievers among the CIMC 300 feet Gulf Driller rig series. After the departure in early March, the rig is expected to complete its upgrading works in the Middle East, where it will start its drilling and workover operations for Saudi Aramco, following upgrades.
Furthermore, Ocean Challenger claims that the Perro Negro 12 rig marks the continuation of another successful cooperation with Saipem, after a previous collaboration on Perro Negro 11 in July 2022, whereby both parties "once again joined hands to overcome all challenges during the project execution phrases at different work areas and time zones."
With the current boom in the oil and gas industry, the company believes that there are great opportunities for enhanced strategic cooperation between CIMC and Saipem. Ocean Challenger underscores that Perro Negro 12 will be the new platform for both CIMC and Saipem to deepen the relationship and cooperation to capitalise on advantages in the market.
Moreover, CIMC and Saipem have a long history of cooperation, which can be traced back to projects such as Scarabeo 9, Castorone, Perro Negro 11 and now Perro Negro 12. Both players will uphold and consolidate a strong partnership to embrace all future business opportunities together, underlines Ocean Challenger.
While wishing "safe sailing" to Perro Negro 12, Saipem points out that the newly named jack-up drilling rig, which left the shipyard in China for the Middle East, will complete its upgrading works before starting drilling and workover activities in the third quarter of 2023.
Watch the rig's departure from the Chinese shipyard
With a high drilling efficiency, Perro Negro 12 is a self-elevating mobile unit with independent legs, able to drill up to a depth of 30,000 feet/9,100 m while operating in shallow water (300 feet/91 m water depth). The Italian giant highlights that this rig is in compliance with the highest environmental regulations and meets the latest industry and client standards.
As a reminder, Saipem revealed two contracts in the Middle East for two high-specification jack-up drilling rigs – Perro Negro 12 and Perro Negro 13 – in November 2022. The deal for the first rig was secured for five years and entails two optional years.