Jack-up rig joins Saipem fleet ahead of five-year gig
A 400-ft jack-up drilling rig built by CIMC Raffles has joined the fleet of Italy's contractor Saipem following a naming ceremony in China ahead of a five-year contract in the Middle East.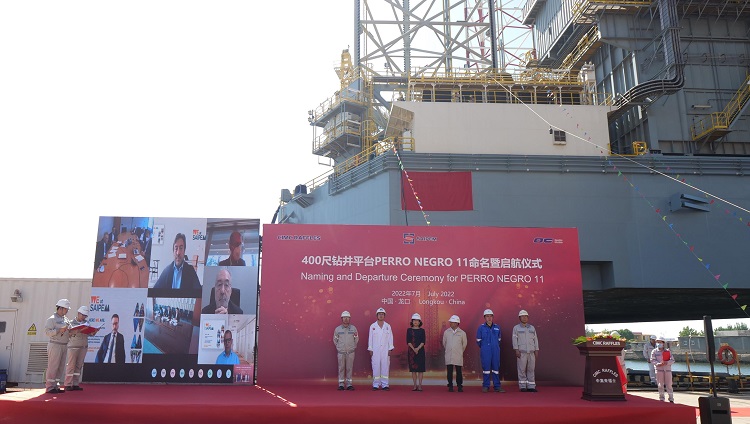 As informed by Saipem on Monday, the new jack-up Perro Negro 11 has been officially christened and it became part of its offshore drilling fleet. The ceremony was held on 8 July 2022 in CIMC shipyard in Longkou (China) with the participation of CIMC Raffles, Ocean Challenger, and Saipem. The rig is based on the F&G 2000E design and built by CIMC Raffles.
Offshore Energy reported about a month ago that Ocean Challenger, the asset management company of China's EPC contractor CIMC Raffles, had entered into a charter contract with Saipem for a 400-ft jack-up drilling rig. The rig was formerly known as Gulf Driller VII and has now been renamed Perro Negro 11.
Saipem now confirmed that, in line with its "asset-light" strategy, the jack-up is chartered on a bareboat basis and is already committed to a five years contract – with an option for two additional years – in the Middle East. The rig will be working for Saudi Aramco.
In addition, during the naming ceremony, a Memorandum of Understanding has been signed by CIMC Raffles and Saipem looking for future business opportunities in the segments of Offshore drilling, Offshore construction, and New Energies.
Saipem's latest addition to the fleet is equipped with MH Wirth drilling equipment. The rig is 70 meters long, and 76 meters wide, and the total length of the trussed leg is 167 meters with a maximum operational water depth of 120 meters. The maximum drilling depth could reach 10,668 meters. The rig has ABS Class, and suits for drilling operations in harsh environment waters worldwide.