Webinar on Digital Representation of Standard Data Formats
DTOceanPlus and ETIP Ocean are hosting a webinar on digital representation of standard data formats for ocean energy systems.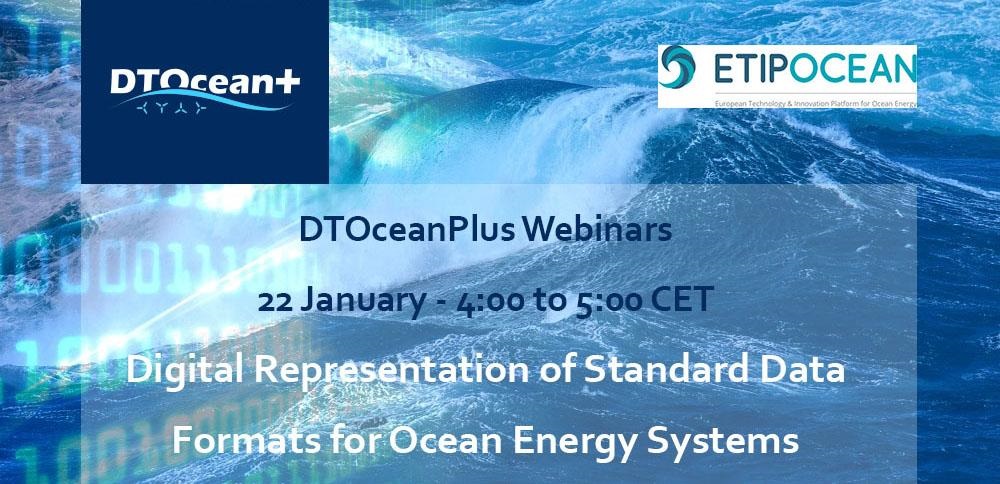 There is currently no standard method of describing the key characteristics and attributes of ocean energy technologies. Without such a standard, it can be difficult, if not impossible, to objectively analyse innovative technologies and compare competing technologies.
The H2020 funded DTOceanPlus project is developing a new framework for the standard representation of data formats for ocean energy systems.
The so called digital representation aims at:
Providing a common language and architecture for storing project information;
Facilitating data and information exchange among different stakeholders;
Enabling objective comparisons between various technologies;
Enhancing the ability of sector stakeholders to work collaboratively.
The webinar is taking place on January 22, 2020 – 4:00 PM to 5:00 PM CET with presenters Pablo Ruiz-Minguela and Vincenzo Nava from Tecnalia Offshore Renewable Energy.
The aim of the DTOceanPlus project is to develop and demonstrate a suite of second generation advanced design tools for the selection, development and deployment of ocean energy systems, including sub-systems, energy capture devices and arrays.