Western Gas' Equus LNG project on track for first gas in 2024
---
Western Gas' $3.5 billion Equus project is currently on track for first gas in 2024 following the completion of the Upstream to LNG Development Plan and the start of project financing and partnering activities.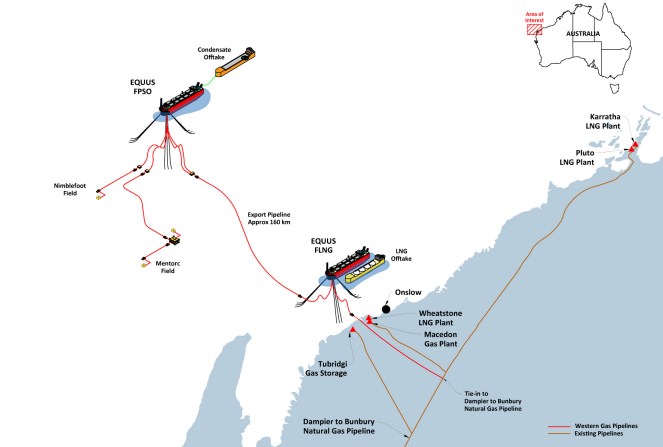 The company will develop the field using a 2 mtpa FLNG facility, instead of feeding it into larger existing LNG facilities as was previously the project idea by the field's previous owner Hess.
The Equus gas project comprises 11 gas and condensate fields in the Carnarvon basin, some 200 kilometers north-west of Onslow in Western Australia.
Western Gas said on Wednesday that the Upstream to LNG Development Plan comprises three production wells tied back to an FPSO facility, a 160—kilometer dry gas export pipeline to a nearshore 2 mtpa FLNG facility and an onshore pipeline connection.
Western Gas executive director Andrew Leibovitch said: "Equus is at the right stage of development where the introduction of an experienced and financially capable partner can help progress the project to first gas and realize the value of the greater Equus area."
Western Gas added that engineering firms McDermott and Baker Hughes designed a globally competitive, mid-scale LNG development plan for Equus.
It is worth mentioning that Western Gas spokesman Tony Johnson told Reuters that the company had spoken to yet undisclosed parties about potentially taking a stake in the Equus project.
The firm also appointed Goldman Sachs as the company's financial adviser in connection with its partnering process.
Currently, with no joint venture misalignment, Western Gas has full control of project design, delivery, and partnering across the value chain.
---