Where next for jack-up rates?
By Terry Childs, Head of RigLogix, Westwood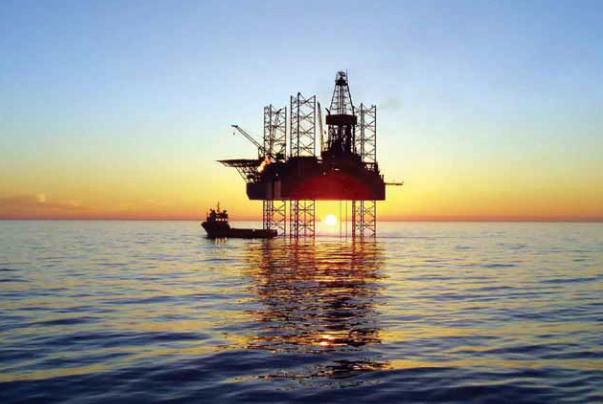 ---
Analysis of RigLogix data shows that recently, jack-up day rates around the world had risen to slightly above operating costs, allowing rig owners to finally make a little profit. That trend may not continue in all regions.
In 2017, jack-up day rates in the Middle East and Southeast Asia, although not much above operating costs, had begun to stabilize. However, that began to change in October 2017, oddly enough in India when state oil giant ONGC awarded new multi-year contracts for eight jack-ups at day rates around $26,000.
Given that the average jack-up fixture rate for India in 2016 was nearly $58,000, the rates established last year were puzzling, to say the least. In the first four months of 2018, there have been two new fixtures, neither by ONGC, and those rates were in much higher, in the $40,000-42,000 range, but still well below rates from a year ago. What impact are these trends having on the wider market?
In looking at those numbers, the question of "why bid such low rates?" has been asked and generally, in every instance there are two possible reasons. The first is opting for what loses the least amount of money; that is a rig owner would rather work a rig slightly below operating costs versus the much larger loss incurred by stacking the rig. The second scenario is to bid at a level that ensures a very slim margin of profit.
Either way, these bids are made to try and ensure work is secured, which ties up the rig and maintains the crew, in this instance for three-year terms.
Based on feedback to Westwood, it appears that one of these two scenarios likely was in play in these bids. However, regardless of what the reason was, the end numbers have had a negative impact on more than just India.
Contract signings in one area always influence future awards in other regions, and this time has been no exception.
Historically, contract signings in one area always influence future awards in other regions, and this time has been no exception. While it took a little time, the ultra-low India rates have impacted contract signings in the nearby Middle East (excluding Saudi Arabia) and even into Southeast Asia.
In the latter region, even though the average 2017 jack-up new contract rate was down from 2016, it was still just over $65,000. So far this year, however, the average has fallen to under $50,000. Partly responsible for the decline is at least one recent contract fixture at $39,000 with reports that several other rigs are being bid around $40,000.
In the Middle East (excluding Saudi Arabia), it has been a similar story to Southeast Asia. In 2017, the range for new contract awards (where rates were known) was $55,000-$63,000. However, current market speculation is that an upcoming contract award from ADNOC Offshore will see standard jack-up rates at just over $37,000, while high-pressure, high-temperature (HPHT) rates will be set around $45,000. The lower rate is said to have been bid by an India-based contractor.
When this rig tender was about to be issued in 2017, speculation was that rates would fall within the $50,000-$60,000 range, but then the ONGC rates became known and rig owners had to rethink their numbers.
One area not impacted by the India rates is the U.S. Gulf of Mexico, where the average jack-up fixture in the U.S. has risen in 2018 by about $4,000. Although the fleet here is much smaller, all but one of the 12 marketed units is contracted and several of those are booked through most of the year. With the high utilization and limited availability, rig owners have been able to bump their rates slightly the past several months.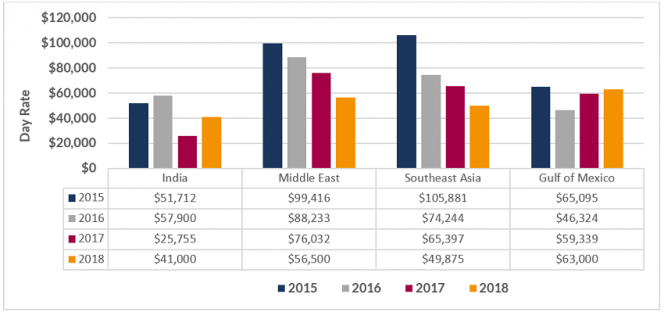 Figure 1 displays the annual average jack-up day rate fixtures for India, Southeast Asia, the Middle East and U.S. Gulf of Mexico from 2015 through April 2018 based on data from Westwood's RigLogix database.
Looking ahead, ONGC will issue a tender in the next few months for a nine-jack-up tender, most of which will be to extend currently-contracted units. Indications from some rig owners are that ONGC will expect rates similar to the 2017 fixtures, with any increase expected to be marginal at best.
Should this scenario occur, it will apply more downward pressure to already declining rates in the Middle East and Southeast Asia. Some reports say that in Saudi Arabia, where many rates are substantially higher than in other parts of the region, Saudi Aramco is starting to ask for lower rates.
The operator recently awarded multi-year contracts for nine high-specification jack-ups, with three of the rates fixed at just $60,000.
Although there is ample rig demand in all these regions, there are also several jack-ups that will roll off existing contracts this year. While Westwood does not foresee rates going significantly lower than the most recent fixtures, the recent downward trend in rates in some areas is not good news in a market that could use some.
---
Offshore Energy Today has shared the article above with permission from the author. You can read the original post at Westwood Energy.
The views and opinions expressed in this article are those of the author and do not necessarily reflect the official policy or position of Offshore Energy Today.