World's largest double-ended hybrid ferry named in UK
P&O Pioneer, the world's largest double-ended hybrid ferry, was officially named on Wednesday at a ceremony hosted by British ferry operator P&O Cruises in Dover, the UK.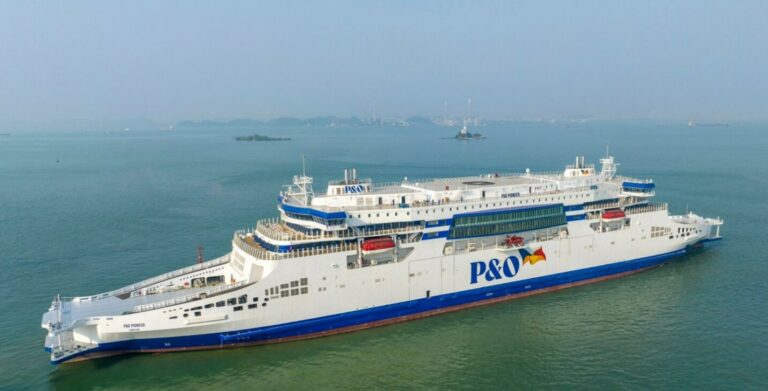 China's Guangzhou Shipyard International (GSI) delivered the vessel at the end of February. It is the first of two identical purpose-built "Fusion Class" sister-ships ordered for the Dover – Calais route, both of which have been registered in Cyprus.
The vessel is forecasted to deliver a 40% reduction in carbon emissions on the Dover-Calais route from its first day in service.
The second ship, P&O Liberte, is expected to join in service towards the end of 2023.
The Fusion Class vessel is propelled by a combination of fuel and battery power. The hybrid system allows Pioneer to operate from its Energy Storage System while manoeuvring or in port and is designed to have the capacity to become fully carbon neutral in the future.
The modular design of the ship allows for modifications to welcome developing technology and as more charging stations are brought in at ports, current generators on the vessel can be removed and replaced with batteries.
The ship is 230.5 meters long, 30.8 meters wide, and has a service speed of 20.8 knots. There are 4 battery rooms on board the ship, equipped with a total of 1,160 large-capacity batteries, and the battery shipment capacity reaches 8.8MWh.
There are two charging modes for the battery, one is to use the power supply on the dock to charge, that is, to complete the charging when the ship is docked at the dock for passenger and cargo loading; the other is to use the generator on the ship to charge while the ship is sailing.
When sailing, the excess electric energy can be recovered to the large-capacity battery on board, according to the company.