World's largest wind-assisted, LNG-fueled sailing ship unveiled
Orient Express, part of Paris-based hotel conglomerate Accor, has unveiled the world's largest wind-assisted sailing ship that will also run on liquified natural gas (LNG).
The project was developed in cooperation with compatriot shipbuilding company Chantiers de l'Atlantique and with the consultation of Hetland Maritime. Nantes-based design company Stirling Design International is in charge of the ship's exterior architecture.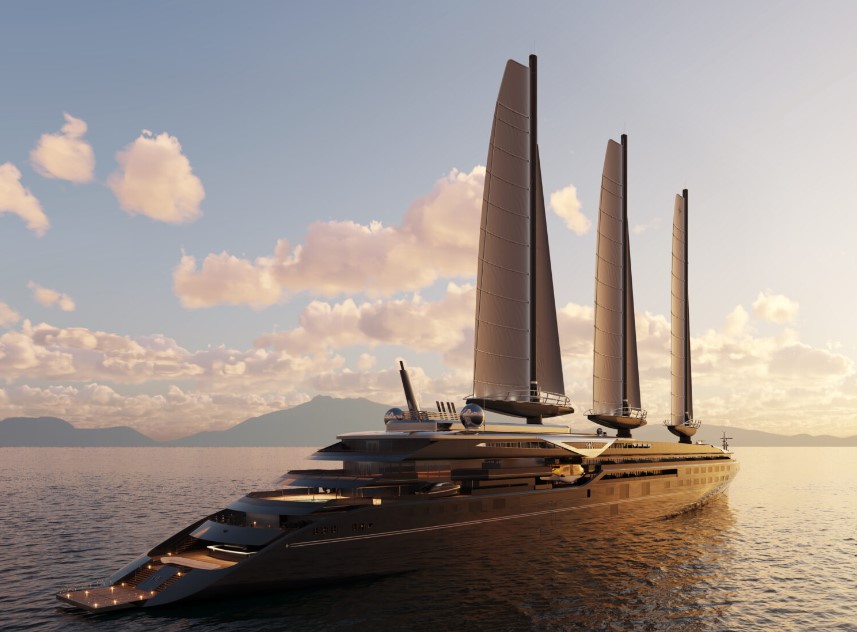 Orient Express Silenseas, a 220-meter-long sailing ship, will sail with SolidSail, a system developed by Chantiers de l'Atlantique. Three rigid sails with a surface area of 1,500 meters will be hoisted on a balestron rig, with three tilting masts reaching more than 100 meters high. 
Recently, the Saint Nazzaire-based shipyard completed the manufacturing of its first carbon-fiber mast along with project partners Lorima, Multiplast, Avel Robotics, CDK Technologies and SMM.
The ship's hybrid propulsion formula will combine wind power with an engine running on LNG. The vessel, which will be able to accommodate 120 passengers, is scheduled to set sail in 2026.
The shipbuilder signed a letter of intent with the company for two ships, with the second delivery scheduled for the first quarter of 2027.  
"With Orient Express Silenseas, we are beginning a new chapter in our history, taking the experience and excellence of luxury travel and transposing it onto the world's most beautiful seas," Sébastien Bazin, Chairman and CEO, Accor, commented.
"With a signed letter of intent to order two ships, Chantiers de l'Atlantique is proud to herald a new era in the shipbuilding industry with Silenseas…  In addition, the installation of three SolidSail rigs, a revolutionary 1,500-square-meter unit wind propulsion system, for which we have developed and tested a first prototype, will contribute significantly to the propulsion of the ship. Combined with a hybrid propulsion system running on liquefied natural gas (LNG), Silenseas will thus become the ship of reference in terms of environmentally-friendly operation and design," Laurent Castaing, Managing Director, Chantiers de l'Atlantique, said.
The entire project will be financed up to 70-80% by commercial banks, with the remainder provided by a consortium of equity partners in which Accor will have a minority stake.