3D Oil submits proposal for Dorrigo survey off Australia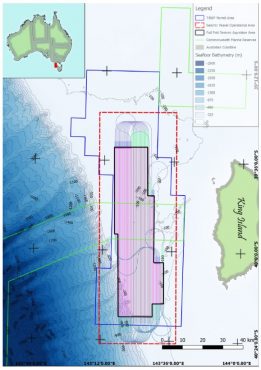 Oil company 3D Oil has submitted a proposal to Australia's offshore regulator, the National Offshore Petroleum Safety and Environmental Management Authority (NOPSEMA), for the Dorrigo 3D seismic survey.
NOPSEMA said that 3D Oil would undertake the Dorrigo 3D seismic survey in the waters of the Otway Basin in exploration permit T/49P which lies adjacent to Tasmania.
The survey will be conducted entirely within Commonwealth waters, approximately 18 kilometers west of King Island, Tasmania, and 56 kilometers south of Cape Otway, Victoria. Water depths in the survey area are between 80 and 1,420 meters with seismic data acquisition undertaken in water depths between 100 and 840 meters.
The survey is expected to take up to 35 days between September 1 and October 31, 2019. NOPSEMA will make its decision regarding the proposal on March 1, 2019.
The regulator added that the Dorrigo survey operational area is 4,350 square kilometers. The full-fold acquisition area where seismic airguns will be operational covers an area of 1,580 square kilometers within this larger area. Two additional vessels are planned to support the Dorrigo survey activities.
According to NOPSEMA, ten solid hydrophone streamers measuring approximately 6,000 meters in length and spaced up to 125 meters apart will be towed at a depth of 8 to 25 meters below the surface behind the survey vessel.
The seismic source will be discharged every 12.5 meters along a series of parallel north-south lines spaced between 500-720 meters apart.
Related news
List of related news articles