8 Injured, 137 Evacuated after Norwegian Frigate Collides with Oil Tanker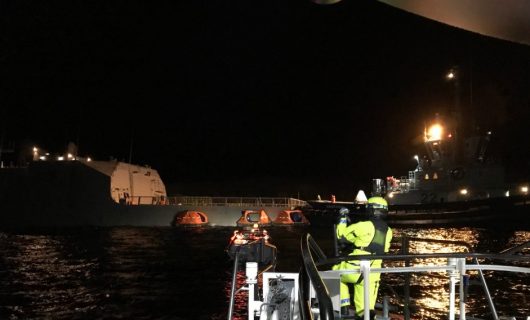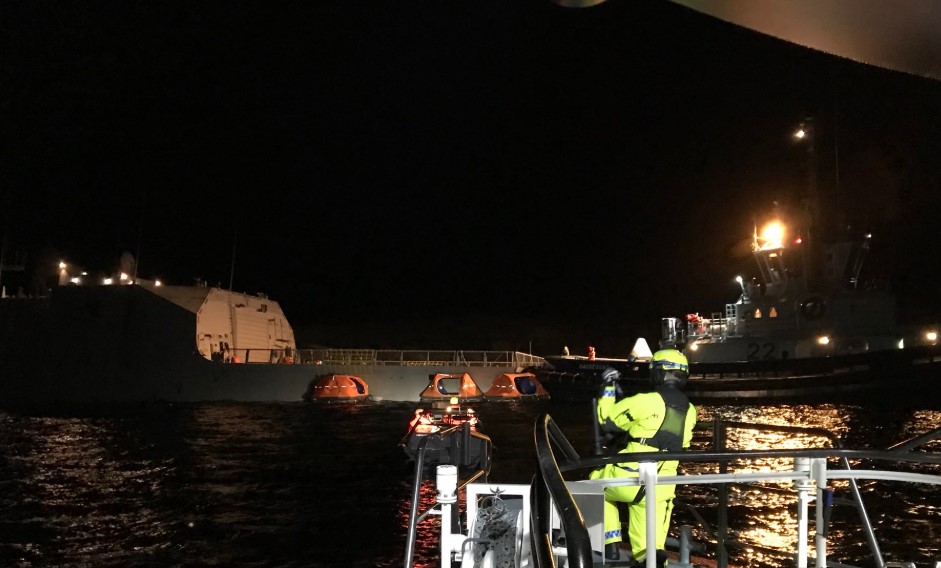 Eight people sustained minor injuries and 137 people have been evacuated from Norwegian frigate HNoMS Helge Ingstad, which collided with Sola TS oil tanker at the Sture terminal in Øygarden, Norway, on Thursday morning.
The Norwegian coast guard said that the frigate started taking on water as a result of the collision, triggering the evacuation procedure. As informed, all off the injured people have been provided with medical assistance.
The frigate just returned from Trident Juncture, a NATO-led military exercise, held in Norway.
"In connection with the collision between the frigate Helge Ingstad and the tanker TS Sola at the Sture terminal in Øygarden Equinor will gradually shut down operations at Sture," Equinor, the owner of the terminal said.
"Personnel at Sture without emergency tasks will also be evacuated. The shutdown and evacuation are performed as a precautionary measure."
Based on the available imagery the frigate sustained significant damage, however, details on the condition of the oil tanker, listed as part of Tsakos Energy Navigation's fleet, have not been disclosed yet.
Based on the data from Vesselsvalue, the Maltese-flagged Aframax tanker was built in 2017.
The Accident Investigation Board Norway, which has launched an investigation into the cause of the collision, said the oil tanker was being assisted by tug Tenax  in Øygarden outside of Bergen.
Data from Marine Traffic confirms the ship is underway using engine accompanied by Tenax.
#øygarden: #redningsskøyta Kristian Gerhard Jebsen II har deltatt i evakueringen av mannskapet fra #fregatten #helgeingstad etter at den kolliderte med tanksskip. Foto: REdningsskøyta K. G. Jebsen pic.twitter.com/vCMou36ozI

— redningsselskapet (@NSSR) November 8, 2018
Equinor added it was in a dialogue with Norwegian authorities and has mobilized emergency resources to assist the police and the Joint Rescue Coordination Centre.
"The AIBN will conduct the investigation in collaboration with the Defence Accident Investigation Board Norway (DAIBN). The Investigation Board will have crew on-site today to start investigations. The tanker Sola TS is Malta-registered and the Marine Safety Investigation Unit (MSIU) of Malta will also participate in the investigation," AIBN said.
World Maritime News Staff; Image and Video courtesy: Redningsselskapet