ADNOC dishes out award for construction of Ghasha artificial islands
The Abu Dhabi National Oil Company (ADNOC) has awarded a contract to the UAE's National Marine Dredging Company (NMDC) for the construction of artificial islands to develop, drill, and produce gas from the Ghasha offshore concession.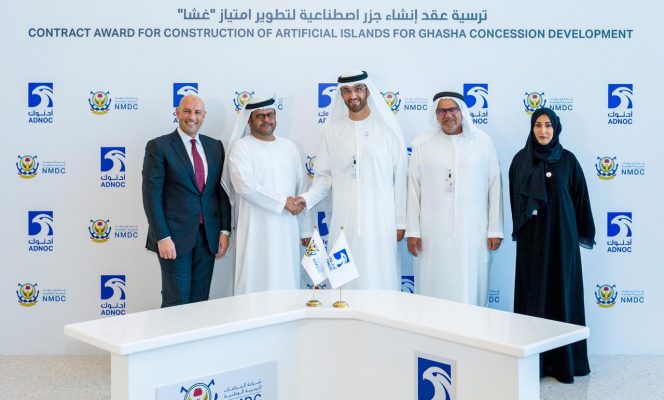 ---
The contract is estimated to be worth around AED 5 billion or about $1.4 billion.
The Ghasha Concession consists of the Hail, Ghasha, Dalma and other offshore sour gas fields including Nasr, SARB and Mubarraz.
ADNOC said on Wednesday that the new islands will accelerate the development of its Ghasha concession mega project and delivery of the company's gas strategy. The project involves building of ten new islands, two new causeways, and expanding an existing island.
Mohammed Al Rumaithi, Chairman of NMDC, commented: "We are proud of our partnership with ADNOC and to be awarded this exciting new mega-project. We are also very pleased with the positive impact this project will have on the UAE economy."
The Hail, Ghasha and Dalma ultra-sour gas project will tap into the Arab basin, which is estimated to hold multiple trillions of standard cubic feet of recoverable gas. The project is expected to produce more than 1.5 billion cubic feet of gas per day when it comes on stream around the middle of the next decade.
ADNOC's partners 
It is worth reminding that in mid-November 2018 ADNOC signed the first of a series of concession agreements with Italy's Eni, awarding it a 25 percent stake in its Ghasha offshore ultra-sour gas mega project. The concession has a term of 40 years.
Later that same month, ADNOC also added Wintershall to the Ghasha ultra-sour gas mega project with a 10 per cent stake. The agreement marked the first time a German oil and gas company had been awarded a stake in an Abu Dhabi concession area.
In addition, Austria's OMV and ADNOC in December signed an upstream concession agreement for a 5% stake in the Ghasha concession.
Once complete, the project will also produce over 120,000 barrels of oil and high value condensates per day.
According to ADNOC, artificial islands provide significant cost and environmental benefits, particularly in shallow water, by enabling the use of lower-cost land-drilling rigs instead of high-cost offshore jack-up drilling rigs. They also provide greater flexibility for extended reach drilling when compared to offshore rigs. The use of artificial islands will eliminate the need to dredge over 100 locations for wells and provide additional habitats for marine life.
The names of the new islands in the Ghasha Concession were drawn from pearl diving sites in the area and reflect the rich history and culture of the region. They are Ghanem, Sawalem, Chananiz, Mudaifena, Reeah, Seebeh, Seemeh, Shalhah, Jzool and Duroob.
Breaking_News: #ADNOC has awarded AED 5 Billion contract for the construction of the Ghasha concession artificial islands. pic.twitter.com/HJY9pmZMNg

— ADNOC Group (@AdnocGroup) February 6, 2019
Offshore Energy Today Staff
Related news
List of related news articles