ADNOC partners with French firm to design unmanned supply vessels
ADNOC Logistics & Services (ADNOC L&S), the shipping and maritime logistics arm of the Abu Dhabi-based oil company ADNOC, has signed an agreement with France's SeaOwl for the design of unmanned remotely operated vessels (ROVs) capable of transporting vehicles, equipment and supplies to and from offshore sites.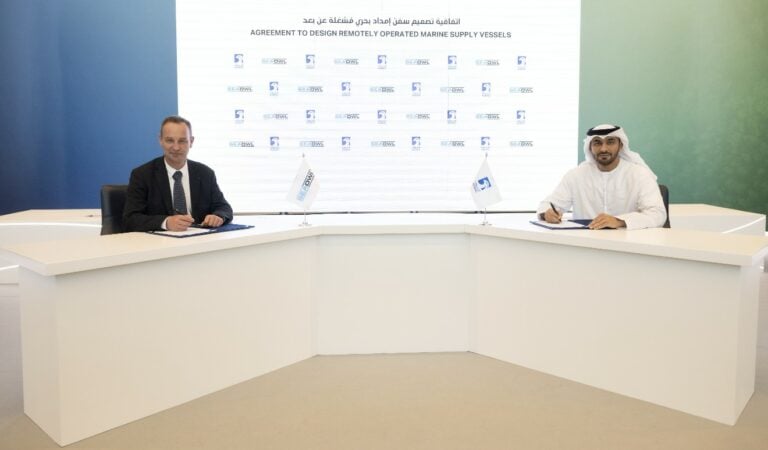 The ROV design is said to enable the reduction of carbon emissions by up to 30 per cent as the vessel will be lighter and smaller and as crew facilities are not required.
In addition, the smart automation systems will optimize routing and propulsion, further decarbonizing ADNOC L&S' offshore operations in support of the UAE's Net Zero by 2050 Strategic Initiative and ADNOC's 2030 Sustainability Agenda. 
SeaOwl will design the vessel, oversee its construction, and facilitate navigation permits. The French company will also partner with Bureau Veritas to facilitate obtaining the necessary navigation permits from the UAE maritime transportation affairs.
According to ADNOC L&S, the design for the 55 meters long ROV will allow the vessels to be operated from an onshore control room through a satellite link using automation and self-navigation technology. The design will utilize artificial intelligence systems to control propulsion, dynamic positioning, remote communication and cyber security.
The agreement was signed by Abdulkareem Al Masabi, CEO of ADNOC L&S, and Xavier Génin, CEO of SeaOwl, at the UAE Climate Tech Forum organized by the Ministry of Industry and Advanced Technology. 
"A strategic commitment to sustainability and innovation plays a crucial role in ADNOC L&S' ability to serve its customers," Al Masabi said. "The vessel is another example of this commitment as we leverage the latest technology to optimize our maritime operations, reduce our carbon footprint and improve safety while increasing efficiency."
At the forum, ADNOC also launched a global competition to find innovations that will reshape the global energy landscape. Ten finalists will be invited to present their ideas to a panel of judges in December and winners will receive up to $1 million in piloting opportunities with the UAE company, gaining access to research and innovation facilities in Abu Dhabi.
Scale-up companies specializing in carbon capture utilization and storage (CCUS), new energies, oil and gas emissions reduction, digital applications and advanced materials for decarbonization, and nature-based solutions are encouraged to apply. 
The Decarbonization Technology Challenge is being delivered in partnership with the Net Zero Technology Center and supported by AWS, bp and Hub71.
The deadline for submitting applications is 11 August.
Musabbeh Al Kaabi, Executive Director, Low Carbon Solutions and International Growth Directorate, ADNOC said: "ADNOC has earmarked $15 billion for landmark decarbonization projects by 2030, including carbon capture, electrification, new CO2 absorption technology and enhanced investments in hydrogen and renewables. We look forward to nurturing companies with the most promising innovations that can help transform, decarbonize, and future proof the global energy sector."