AIDA Cruises plugs two ships simultaneously to shore power in German port
German cruise line AIDA Cruises, part of Carnival Corporation, kick-started this cruise season with a double call in Rostock-Warnemünde, Germany, while two of its cruise ships, AIDAsol and AIDAmar, simultaneously connected to a shore power facility.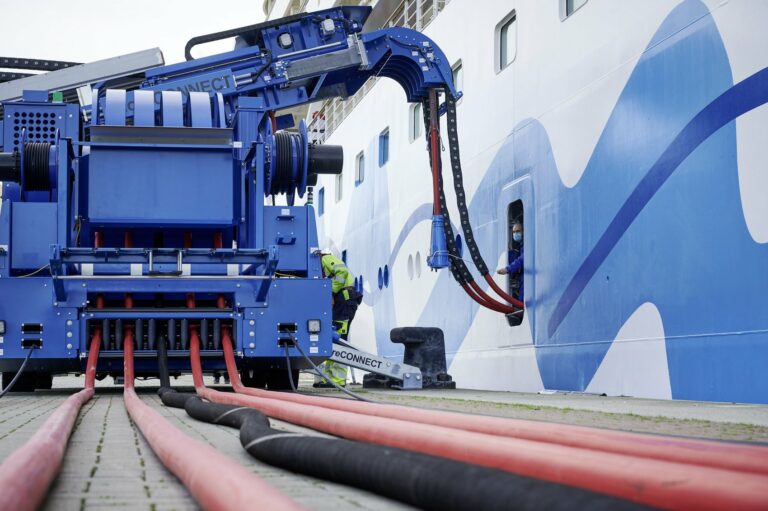 This is a first-of-its-kind achievement in Germany's cruise industry.
"Thanks to the opening of further shore power facilities in European ports, we will be able to expand our commitment this year. Our goal is to be able to use shore power in all ports in the future. We therefore welcome the decisions of other ports to develop a corresponding solution," says Felix Eichhorn, President AIDA Cruises.
Rostock-Warnemünde hosts Europe's largest shore power facilities. The plant was opened with one of AIDA Cruises' vessels, AIDAsol, in May 2021.
With an output of up to 20 megavolt amperes (MVA), two cruise ships can be supplied with electricity at the same time in Warnemünde at berths P7 and P8.
In addition to shore power, AIDA Cruises has also invested in the use of LNG as fuel on board its ships and it is also expanding the use of battery systems on its vessels.
In July 2022, AIDAprima became the first large scale cruise ship to use a blend of marine biofuel.
The cruise liner is working with various partners on solutions for the usage of regenerative or synthetic fuels.
AIDA Cruises aspires to achieve carbon-neutral ship operation for its fleet by 2050.