Aker BP to drill 15 exploration wells in 2019. Plans to triple output by 2025
Norwegian oil company Aker BP is raising its growth ambitions on the back of what it says is a strong performance in 2018.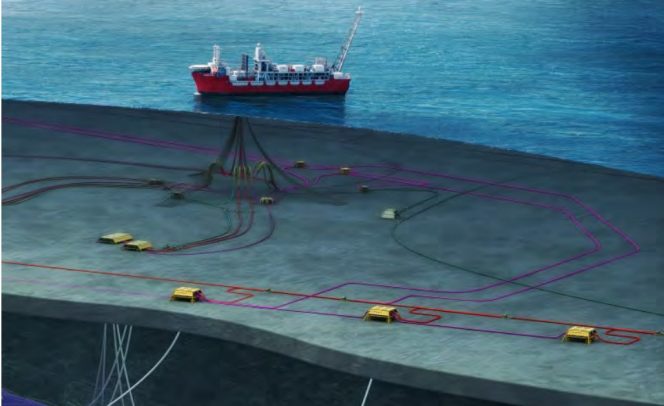 Aker BP on Friday said it plans to organically triple its production by 2025, to cut production costs from USD 12 to USD 7 per barrel by 2023, and to significantly increase the dividend payments to shareholders.
"The future of the E&P industry belongs to the most competitive and efficient oil companies," says Karl Johnny Hersvik, Chief Executive Officer of Aker BP.
Aker BP's production in 2018 was 155.7 mboepd. The guidance for 2019 has been set at 155-160 mboepd.
The company is planning what it describes as a high-potential 2019 exploration program with 15 prospects to be drilled, targeting net unrisked prospective resources of 500 million barrels of oil equivalents ("mmboe")
It is looking to spend around $500 million on exploratory works this year.
"This is a very exciting exploration program. We are investing to find profitable barrels around our hubs, test new plays and to generate new potential stand-alone development opportunities for Aker BP,"says Hersvik.
Capital spending in 2018 amounted to USD 1.2 billion, USD 100 million below plan, and all current field developments remain on track, the company said.
"We have delivered on the goals we set for 2018. Aker BP is well positioned to deliver on our high ambitions for the coming years," says Hersvik.
Aker BP increased its reserves to 917 mmboe in 2018, driven by conversion of resources to reserves, especially in the Valhall area. Through license acquisitions and discoveries, the company's contingent resources increased to 946 mmboe.
Production to get boost from existing portfolio
"The company has a large and robust opportunity set in its existing portfolio. These opportunities represent a potential to triple Aker BP's production by 2025," Aker BP said,
First oil from Johan Sverdrup field is planned for November 2019. At full production (Q4 2022) Johan Sverdrup will contribute more than 75 mboepd net to Aker BP.
Aker BP is targeting an area development of 550 mmboe at NOAKA. Full cycle project break-even for Aker BP's PQ concept is USD 35 per barrel
Also, the company says it continues to unlock the resource potential in the Valhall area in the North Sea.
Sanctioned and non-sanctioned projects will contribute to double the Valhall production compared to 2018, Aker BP has said.
Furthermore, the Ærfugl development will boost production from Skarv, and the production from Ivar Aasen field is expected to remain stable around current levels. Significant resource additions in the Alvheim area can increase production towards 2023, Aker BP said.
Also, Aker BP's ambition to rejuvenate Ula as an area hub includes increased oil recovery from the Ula reservoir, tie-ins of discoveries including King Lear, and exploration potential in the area.
As for the shareholders, the Board proposes dividends for 2019 of USD 750 million, up from USD 450 million in 2018, with an ambition to increase the dividend payments by USD 100 million per year to 2023.
"Aker BP's ambition is to return the value creation to the shareholders. The dividend ambition is a reflection of the company's growth, value creation and strong financial position, Hersvik says.
Offshore Energy Today Staff
Related news
List of related news articles