As drilling ops await govt nod, operator boosts its stake in block off South Africa
Canadian oil and gas company Africa Oil Corp. has set out to increase its interest in a block it operates in the Orange Basin off South Africa while awaiting a drilling permit to kick off offshore exploration activities on this block.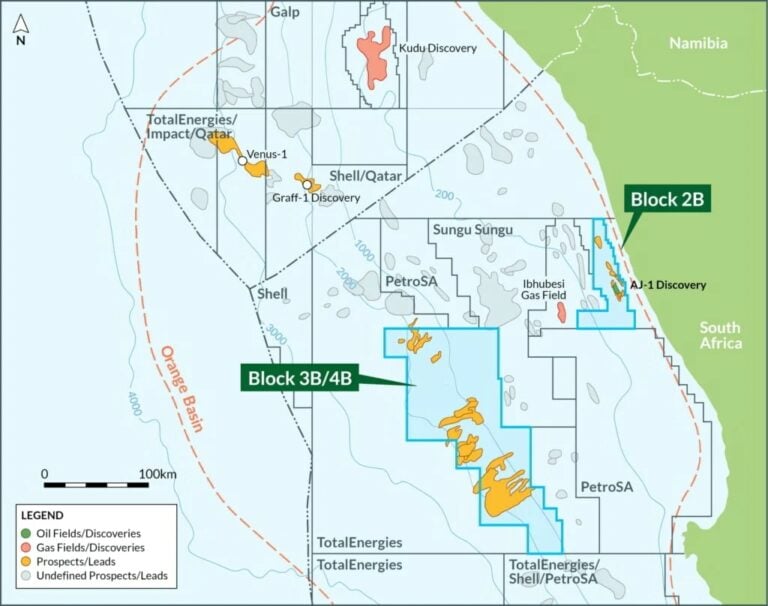 Africa Oil revealed on Tuesday, 11 July 2023, that it had entered into a legally binding letter of intent (LOI) with Azinam Limited, a wholly owned subsidiary of Eco (Atlantic) Oil & Gas, to increase its operated working interest in Block 3B/4B with an additional 6.25 per cent stake. This block, which is located in the Orange Basin offshore South Africa and covers an area of 17,581 square kilometres, is on-trend with TotalEnergies' Venus-1 and Shell's Graff-1, La Rona, and Jonker-1X oil discoveries.
These discoveries prove the existence of a working petroleum system for light oil, gas condensate, and gas in the geological play fairway. The proven reservoirs in Graff and Venus discoveries are similar to Cretaceous reservoirs and geological plays that would be targeted in Block 3B/4B.
The company will acquire the 6.25 per cent interest in this block for a total cash consideration of $10.5 million to be paid in tranches, including $2.5 million within 30 days after the signing of the LOI; $2.5 million upon the government's approval for the transfer of the 6.25 per cent interest; $4.0 million upon the completion of a farm-out deal to a third party; and $1.5 million upon the spudding of the first exploration well on the block.
Following this acquisition, Africa Oil will hold an operated interest of 26.25 per cent, subject to and, on the receipt of the government's approval for the transfer, with Azinam holding a 20 per cent stake and Ricocure (Proprietary) Limited holding the remaining 53.75 per cent interest.
An independent review of the prospective resources and probability of geological success of an inventory of exploration prospects within Block 3B/4B has reported total unrisked gross P50 prospective resources of approximately 4 billion barrels of oil equivalent. The probability of success ranges from 11 per cent to 39 per cent over the 24 prospects identified.
Furthermore, Africa Oil and its Block 3B/4B partners are progressing plans to conduct a two-well campaign on the block and are in discussions with various potential partners to farm out up to a 55 per cent gross working interest in the block. The application process for a permit to drill one well and one contingent well (and potentially up to five wells) within an area of interest in the north of Block 3B/4B remains underway.
In addition, they have selected a South African environmental consulting firm to conduct a comprehensive environmental and social impact assessment process in preparation for permitting and drilling activity on the block. EIMS has been appointed to undertake this.
 Gil Holzman, Co-Founder and Chief Executive Officer of Eco Atlantic, commented: "Since Africa Oil is already established as JV partner and operator on the block, receipt of the requisite regulatory approval for the transfer is expected to be straightforward. We look forward to continuing our work with the South African government and regulatory bodies in terms of our environmental authorisation process and in the active exploration of Block 3B/4B.
"The initial cash to be received from Africa Oil will enable Eco Atlantic to fund its growth opportunities elsewhere and with no shareholders dilution, while maintaining a strategic and considerable 20 per cent working interest in this highly prospective block (pre-farm out to a third party)."