Australia-Asia PowerLink gets Indonesian blessing (Video)
The Indonesian Government has confirmed the key facilitation measures for Sun Cable's Australia-Asia PowerLink (AAPowerLink), bringing the project a step closer to realization.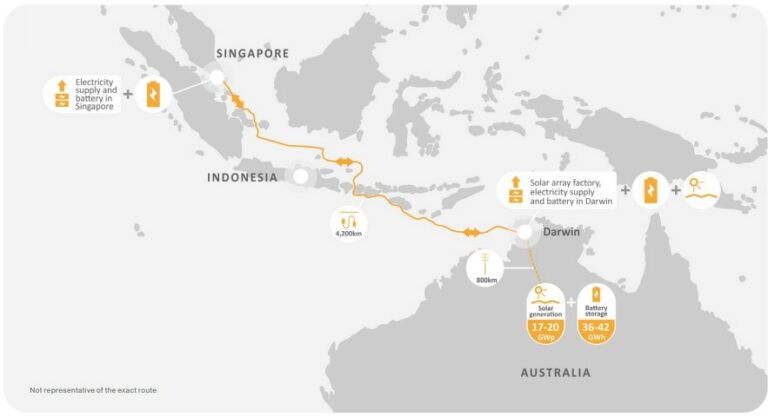 The Indonesian Government has recommended the route of the transmission cables through Indonesian waters, with the Ministry of Transportation granting for the route to be surveyed by early 2022.
The project will integrate a range of technologies and infrastructure, including one of the world's largest solar farms to be located in the Northern Territory, Australia, with a capacity of up to 20 GWp, the world's largest battery with up to 42 GWh, and the world's longest undersea high voltage direct current (HVDC) cable system with a length of 4,200 km from Darwin to Singapore.
Sun Cable stated it is developing the AAPowerLink to deliver a significant amount of renewable electricity to Darwin, to support the Northern Territory's ambition to develop an AUD 40 billion economy by 2030.
The project will also be capable of supplying up to 15% of Singapore's electricity needs. It is expected to reduce Singapore's emissions by 6 million tonnes per year, matching the entire climate abatement gap in the country's announced 2030 targets.
"We are developing the technology that integrates solar, storage and High Voltage Direct Current (HVDC) transmission technologies, to meet the large-scale demand for renewable energy," said David Griffin, Sun Cable CEO.
"There is a significant alignment with the Australian Government's Technology Roadmap and Lowering Emissions MOU signed with Singapore in October 2020. We want this world-leading project to create a step-change in the Indo-Pacific's capability to achieve net zero ambitions and economic growth sustained by renewable energy."
The AAPowerLink has Major Project Status with the Northern Territory and Australian Governments and the initiative is on Infrastructure Australia's Priority Listing.
Once all environmental approvals are issued, construction is expected to commence in 2024 and take up to four years. The project is expected to deliver total carbon emissions abatement estimated at 8.6 million tonnes of CO2e per year.
So far, the proprietary optimisation software for the entire AAPowerLink system has been developed, including the Singapore and Darwin electricity markets. In addition, 750 km of the Australian section of the subsea survey has been completed.
Video: Courtesy of Sun Cable