Australian regulator seeks public input on Inpex's two-well drilling campaign
Inpex Browse E&P, a subsidiary of Japan's oil and gas producer Inpex, has submitted an environment plan (EP) to the Australian regulator for exploration drilling in Commonwealth waters, offshore Western Australia.
The National Offshore Petroleum Safety and Environmental Management Authority (NOPSEMA) informed recently that it had received an environment plan for the drilling of two wells, which Inpex submitted on 4 May 2022.
The offshore regulator explained that Inpex is proposing to drill two exploration wells in the Browse Basin – one in exploration permit area WA-285-P and one in WA-343-P – located wholly within Commonwealth waters approximately 230 km from the Kimberley coastline in Western Australia.
The two permits are situated in water depths of approximately 290 metres and 350 metres, respectively. Inpex's scope of work entails a pre-drill site survey, drilling and evaluation of an exploration well in each of the permits.
While the permit WA-343-P is wholly owned by Inpex Browse E&P, the WA-285-P one is shared between Inpex Browse E&P (62.245 per cent interest) and its partners: TotalEnergies (30.00 per cent), CPC (2.625 per cent), Tokyo Gas (1.575 per cent), Osaka Gas (1.20 per cent), Kansai Electric Power (1.20 per cent), JERA (0.735 per cent) and Toho Gas (0.42 per cent).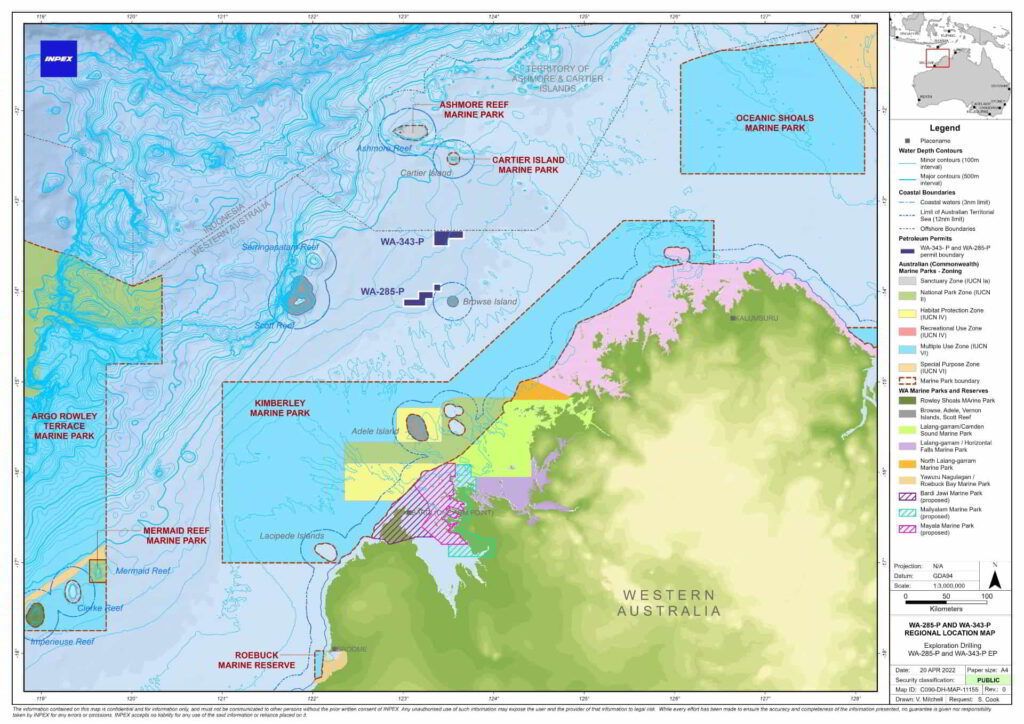 According to EP, the pre-drill site surveys are expected to be conducted in the first half of 2023 while the drilling is scheduled to start in the second half of 2023. However, Inpex's EP makes allowances for these activities to take place anytime between 2023 and 2025 to account for contingency purposes subject to MODU availability; operational efficiencies; weather; and analysis of geophysical data collected during the pre-drill site survey.
The company further explained within its EP that the pre-drill site surveys will be undertaken using a multi-purpose, dynamically positioned (DP) survey vessel running on marine diesel fuel. The surveys are expected to last approximately 10 days per permit while the scope of these surveys includes multibeam echo sounder, side-scan sonar, sub-bottom profiling and seabed grab sampling.
Based on the EP, drilling will be conducted using a semi-submersible mobile offshore drilling unit (MODU) following each pre-drill site survey. The MODU will be either physically anchored to the seabed or DP. In addition, two anchor handling supply vessels (AHSV) and one platform supply vessel will provide support for the drilling activity.
After the wells have been drilled to total depth, each well will undergo various evaluation techniques to assess reservoir parameters, including a drill stem test (DST) and a vertical seismic profile (VSP). Additionally, various other wireline formation evaluation techniques will also be completed.
Inpex elaborated within the EP that the drilling activities are expected to last for approximately 95 days at WA-285-P and 150 days at WA-343-P with operations occurring 24 hours a day.
Moreover, both wells will be permanently plugged and abandoned in accordance with the approved Well Operations Management Plan, at the end of the drilling and evaluation activities within each permit.
The regulator opened a public comment period on 12 May 2022 – scheduled to be closed on 11 June 2022 – to enable community members to have a say on the environmental management aspects of the proposed oil and gas activities.
When it comes to Inpex's other activities in the Browse Basin, it is worth reminding that the company exercised an option to extend its deal with Maersk Drilling for the provision of the ultra-deepwater semi-submersible Maersk Deliverer rig, which is expected to carry out drilling services at the Ichthys field.