Bassoe: You're not hunting him, he's hunting you – Awilco orders second harsh environment semisub
A little over a year ago, Awilco Drilling was just a company with two old North Sea semisubs. Now they're on the offensive.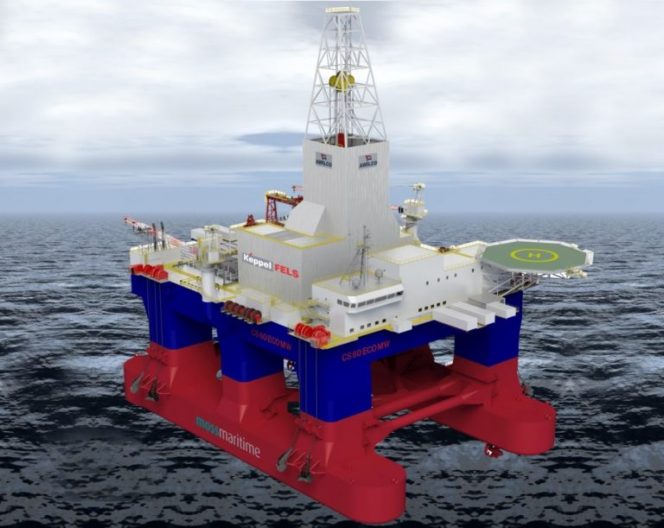 ---
By: David Carter Shinn, Bassoe Offshore
---
In 2010, Awilco acquired two early-80s-built F&G L-907 Enhanced Pacesetter harsh environment semisubs from Transocean. After some extensive upgrades at Remontowa in Poland, the rigs started working in the UK North Sea.
At the beginning of 2018, with the rig market still struggling to get back on its feet, Awilco had only one rig, the WilPhoenix, on contract. The other rig, WilHunter, was cold stacked. Not much has changed on that front today.
What has changed is that while everyone else's attention was on the four stranded CS-60 newbuilds which were acquired by Northern Drilling, Hayfin/Transocean, and Odfjell, Awilco went ahead and ordered a newbuild CS-60 ECO on spec from KeppelFELS.
We thought it was a great deal then and still believe that now.
And then last Friday they ordered a second newbuild from Keppel FELS. Suddenly, they've doubled their fleet and have two of the most modern rigs preparing to enter the market over the next three years.
It's not just Awilco who believes in the strength and potential for new, or upgraded, floating rigs for the North Sea market. As we've described before, there's a shortage of competitive rigs out there. That shortage will have to be addressed with newbuilds and extensive reactivation and upgrade projects on existing rigs.
But while more newbuilds are needed, Awilco's the only one taking advantage of the situation. Sure, you've got everyone and their grandmother looking at the GM-4Ds at CIMC Raffles, and you've heard rumors of other companies trying to sign newbuild contracts with shipyards. Yet nobody except Awilco has put money down on the table and done a deal.
Awilco's transforming into a new company. They're taking calculated risks, they're raising money, and they're moving up to a level of competition where the big players are (and where they couldn't be before).
You've got to applaud Awilco for saying whatever, we're ordering another one when nobody else would.
Awilco's not being hunted, they're hunting you.
Norway-compliant semisub backlog filling up
Look at the backlog for Norway-compliant rigs in Bassoe Analytics. Already 2020 and 2021 are filling up as exploration and production drilling in Norway is set to remain high at least through 2023, according to Norway's Oljedirektoratet.
There's not much available that's either not on contract or ready to work without significant investment.
They'll be some more rig upgrade projects coming, but newbuilds will find work (especially if Awilco's the only one ordering them). We've seen this already with the four previously-stranded CS-60s which all have contracts.
Awilco will probably not continue to be the sole orderer of new harsh environment rigs, but as long as they are, they're in a strong position.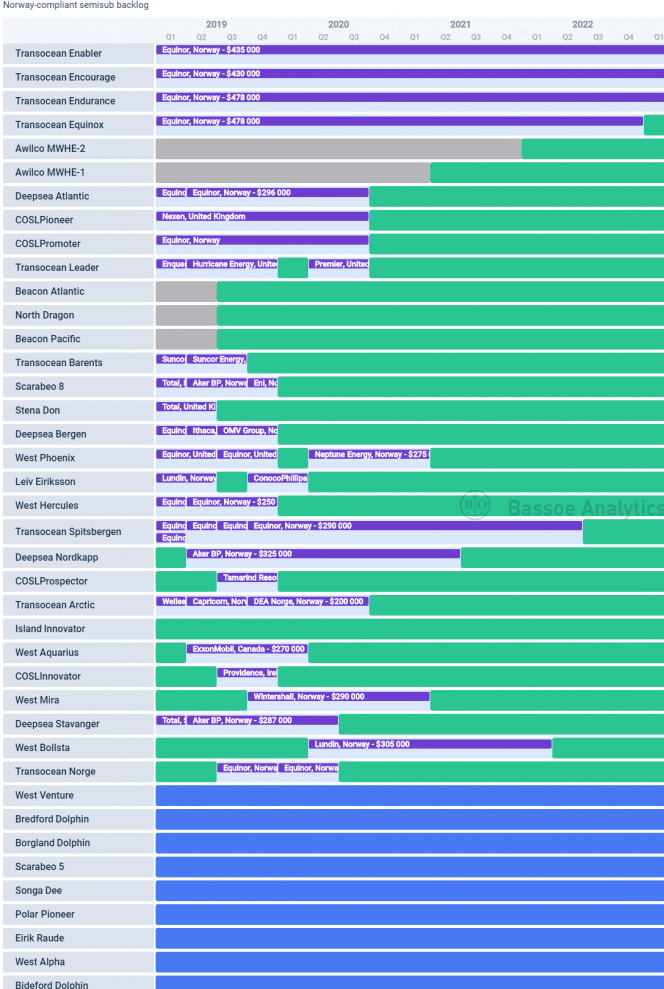 ---
Offshore Energy Today has shared the article above with permission from the author. You can read the original post at Bassoe.no.
The views and opinions expressed in this article are those of the author and do not necessarily reflect the official policy or position of Offshore Energy Today.