Benefit the win: Offshore Energy Awards 2019
Offshore Energy Exhibition & Conference has often advocated it is important to celebrate successes within the industry. Next to that, we want people, projects and innovations to take center stage and get the recognition they deserve.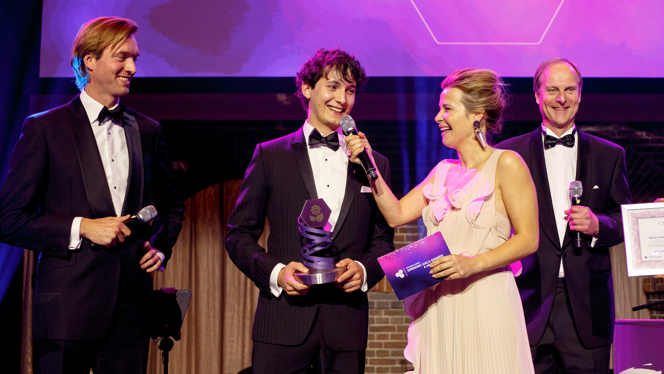 Winning an award offers industry recognition on the one hand and offers a podium in front of peers for the person or product on the other hand. "Our industry is very much a niche market", comments Reinier Nachtegaal, founder of ECE Offshore. In 2018 the company received the award for Best Innovation in Offshore Energy Award for their innovation OASYS. "So it's great to be recognized and awarded in front of 400 leading offshore energy professionals" As start-up, which in general are founded by young professionals, it can be difficult to get in touch with specific companies or people.
In this sense, receiving an award or in fact just being nominated also means you get the opportunity to present your product. Be it a technological innovation, a platform or yourself. It can open doors that would otherwise remain closed. In case of ECE Offshore, it provided these young entrepreneurs the opportunity to speak about their innovation and get in touch with people they would otherwise not be able to reach so efficiently. Nachtegaal: "We definitely got the opportunity to present our innovation to important people in the industry. People you do not meet every day. And we got to tell them more about the importance of our innovation."
Get more involved
Seriena Bal of the Buccaneer Delft, who won the Offshore Energy Best Public Outreach award in 2018, says she feels awards such as she won can contribute to getting more young blood into the offshore energy industry. "For an industry to become innovative, you need to get out there", Bal states. The platform we mentioned earlier works both ways as awards can showcase what an industry has to offer and how innovative it is. Which in turn attracts the younger generation to an industry.
Marius Ottolini, winner of the Offshore Energy Young Engineer Award, says that there is a lot being developed in the offshore energy industry. "Winning an award is a nice platform to be able to show that." Ottolini received his award for playing a leading role at Heerema in the development of silent foundations with the aim to reduce or eliminate piling noise.
What are you waiting for? Nominate!
For all those inspired to take their place on stage: the nominations for the Offshore Energy Awards are open. Head to https://www.offshore-energy.biz/ogd-awards-show to find out more on the awards, the esteemed juries and the criteria. Please note that your nomination is taken very seriously and the same level of dedication is expected from applicants. Should you or your product be selected, a pitch day held in the Netherlands is mandatory.
Related news
List of related news articles