BHP cleared to go ahead with infill drilling campaign off Australia
Australian energy player BHP has secured acceptance from the country's offshore regulator for its infill development drilling programme, which will be carried out at a field in Commonwealth waters, offshore Western Australia.

The National Offshore Petroleum Safety and Environmental Management Authority (NOPSEMA) informed on Tuesday that it had approved the Pyrenees phase 4 infill drilling programme, which BHP submitted on 13 December 2021, on behalf of the Pyrenees joint venture partners within production permit WA-42-L, comprising of BHP Petroleum and Santos.
The offshore regulator explained that BHP had proposed to undertake infill development drilling activities at the Crosby South Well Centre – Crosby-3H1 and Crosby-4H2 well locations – and at the Stickle Well Centre – tickle-4H1 well location – in Commonwealth waters, as part of the Pyrenees development, covering crude production from fields located in both WA-42-L and neighbouring WA-43-L.

Located approximately 13 km outside the northern boundary of the Ningaloo Marine Park, the proposed activities will be carried out in a water depth of approximately 200 metres. The activities proposed by BHP represent Phase 4 of the ongoing development of the Pyrenees field development programme.
Furthermore, the Australian player's planned scope of work entails well intervention for purposes of water shut-off at the Crosby-3H1 location, two horizontal side-track laterals at the Stickle-4H1 well location and potentially a contingent side-track lateral at the Crosby-4H2 well location. Therefore, the company's programme includes the drilling of up to two lateral wellbores from the Stickle-4H1 well centre, subsea well intervention on the Crosby-3H1 well, and a contingent single lateral side-track at the Crosby-4H2 well location.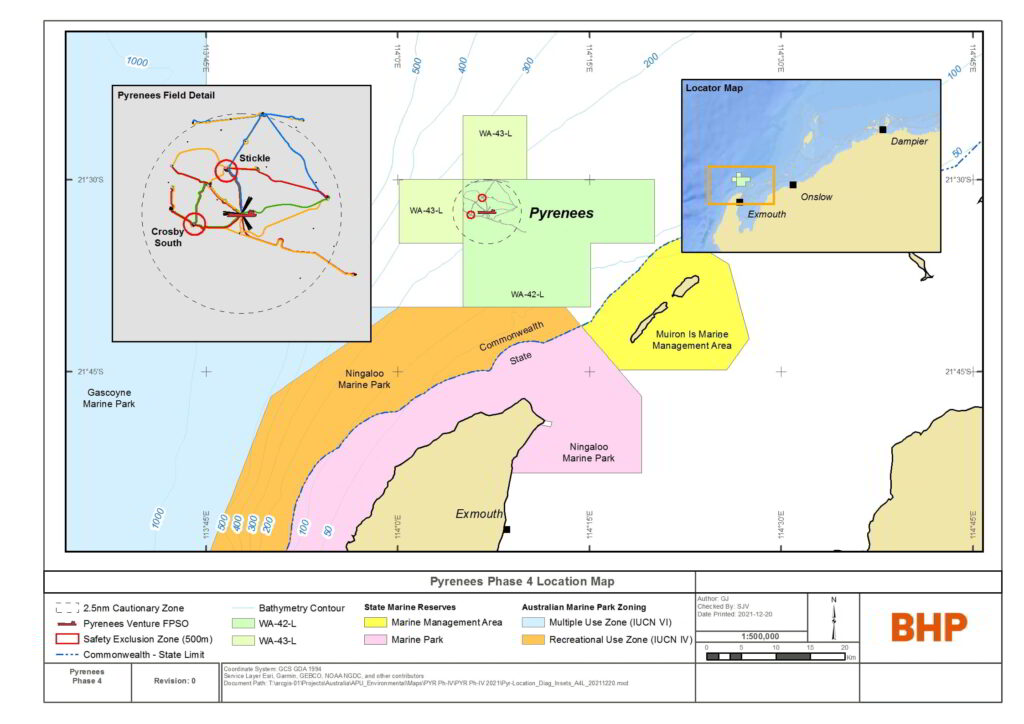 According to BHP, the Stickle-4H1 dual lateral re-entry has "the potential for the largest volume of released hydrocarbons" while the Crosby-4H2 single lateral well has the "potential to flow, but at a reduced rate and volume" compared with Stickle-4H1. On the other hand, Crosby-3H1 is a dual-lateral well which requires "artificial gas lift operation in order to produce from the well."
NOPSEMA outlines that BHP's operational area for these activities is a 2 km radius around each of the two well centres and the drilling will be undertaken using a semi-submersible mobile offshore drilling unit (MODU). Moreover, the Australian company says that both the well intervention for water shut-off at Crosby-3H1 and the two re-entry side-track laterals at the Stickle-4H1 well, and the potential contingent side-track lateral at Crosby-4H2 well will be short in duration.
Given the work scopes would be undertaken consecutively, contingent on weather conditions and unforeseen circumstances, the total campaign duration is estimated to take three to four months, including MODU mobilisation and positioning at each well centre. In addition, BHP states that the planned drilling activities will be undertaken 24 hours a day, seven days a week.
While the exact date for the infill drilling activities is yet to be confirmed, the earliest anticipated start of this campaign is expected in the second quarter of 2022. However, the environmental assessment allows for the drilling to take place at any time during 2022 and 2023 to account for contingency purposes due to MODU availability and weather constraints.
Based on BHP's records, the Pyrenees operation is made up of six offshore oil fields, which were co-developed with Apache Energy. The fields produce crude oil from six reservoirs via a single stand-alone floating, production, storage and offloading (FPSO) unit, located offshore in the Exmouth Sub-basin portion of the Carnarvon Basin, approximately 45 km northwest of Exmouth, Western Australia.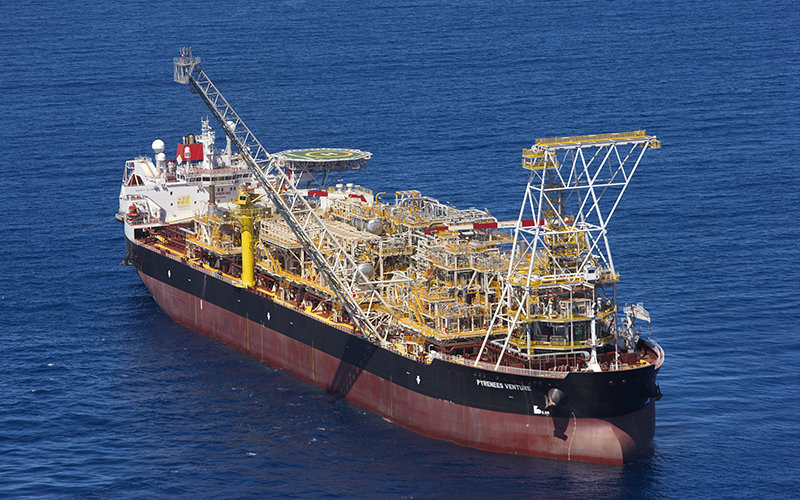 The FPSO Pyrenees Venture is split between production permit WA-42-L – BHP (71. 4 per cent ) and Santos (28.6 per cent) – and the adjacent permit WA-43-L, where BHP holds 40 per cent working interest, Santos 31.5 per cent and Inpex the remaining 28.5 per cent.
This FPSO, which is operated by MODEC, can process 96,000 barrels of oil per day and has a combined gas lift/re-injection capacity of 60 million cubic feet per day. In addition, it has an oil storage capacity of approximately 850,000 barrels.