Carbon storage project spreads its wings onshore positioning itself as 'one of the largest' in U.S.
A carbon capture and sequestration (CCS) project located along the Texas Gulf Coast, has expanded its carbon dioxide (CO2) storage footprint through the acquisition of nearly 100,000 acres onshore in Chambers and Jefferson Counties, Texas.

Houston-based oil and gas player Talos Energy disclosed on Monday, 6 February 2023, that the increased acreage positions Bayou Bend CCS to be one of the largest carbon storage projects in the United States.
Debbie Breaux, Winnie Area Chamber of Commerce Executive Director, underlined: "Southeast Texas is home to some of the state's most vital industries and we are excited about the opportunity to work with Chevron, Talos, and Carbonvert. Projects like Bayou Bend are directly linked to our mission of providing a desirable quality of life and economic environment, and we look forward to continued collaboration."
Combined with the previously announced approximately 40,000 acres offshore Beaumont and Port Arthur, Texas, the expanded Bayou Bend project now encompasses nearly 140,000 acres of pore space for permanent CO2 sequestration.
Robin Fielder, Executive Vice President – Low Carbon Strategy and Chief Sustainability Officer of Talos, commented: "We are excited about Bayou Bend and building the best regional carbon sequestration hub with the right storage infrastructure adjacent to two major Southeast Texas industrial corridors.
"Our partnership is committed to developing safe, reliable, cost-effective decarbonisation solutions while enabling continued economic growth in the region. Today's announcement solidifies Bayou Bend's position as Southeast Texas's leading carbon sequestration project."
According to Talos, the total acreage holds a gross storage capacity of more than one billion metric tons, positioning Bayou Bend to be a leading carbon transportation and storage solution for industrial emitters located in the Houston Ship Channel and Beaumont/Port Arthur region, one of the largest industrial corridors in the country.
Chris Powers, Vice President, CCUS, Chevron New Energies, remarked: "Delivering CCUS and other lower carbon solutions to harder-to-abate industries is fundamental to Chevron New Energies' mission. As a Southeast Texas native, I know how vital these industries are to our local communities and their economies. With this expansion, Bayou Bend is positioned to offer CCUS solutions across a broad region of the Gulf Coast, from Houston to Orange and into western Louisiana."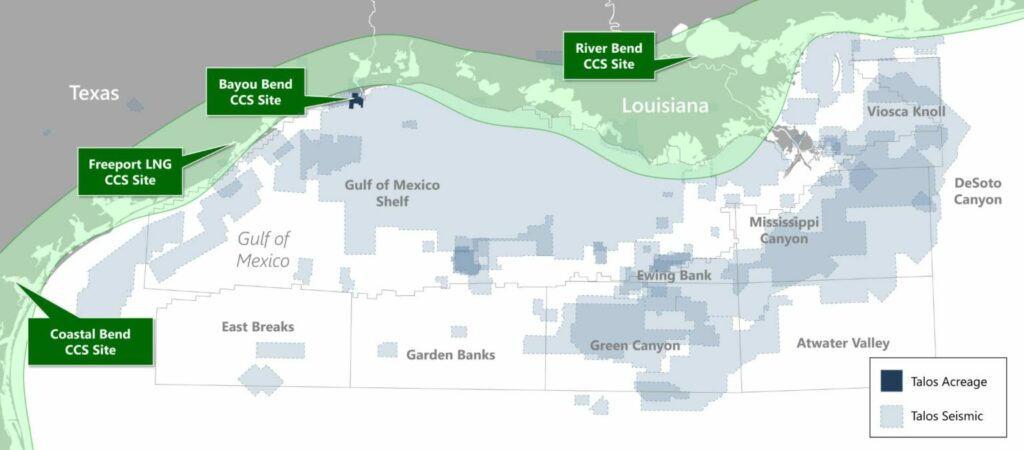 Bayou Bend is a joint venture between Chevron U.S.A. Inc. (Chevron), through its Chevron New Energies division, Talos Energy, through its Talos Low Carbon Solutions division, and Carbonvert. Chevron became the operator effective from 1 March 2023 and holds 50 per cent equity interest while Talos and Carbonvert hold a 25 per cent stake, respectively.
Alex Tiller, President and CEO of Carbonvert, said: "Expanding Bayou Bend, alongside our partners Chevron and Talos, is Carbonvert's next step to enabling critical large-scale carbon removal and reduction projects. This expansion sets us up well to achieve Carbonvert's goal of sequestering 100 million tonnes before 2032 and underscores our position as one of the leading independent, pure-play carbon capture and storage developers in the world."
As a reminder, a joint venture between Talos and Carbonvert – known as Bayou Bend CCS – was the winning bidder in August 2021 for the Texas General Land Office's (GLO) Jefferson County, Texas carbon storage lease, located in state waters offshore Beaumont and Port Arthur, Texas. It remains the first and only offshore lease in the U.S. dedicated to CO2 sequestration.
Jeff Branick, Jefferson County Judge, stated: "We are pleased that Chevron, Talos, and Carbonvert are progressing – and expanding – Bayou Bend in Jefferson County and the greater Golden Triangle area. This project has the potential to further enhance the economic strength of our community, and we look forward to working with the venture in their endeavour."
Preliminary estimates for the Bayou Bend CCS project site indicate that it could potentially sequester 225 to 275 million metric tons of carbon dioxide from industrial sources in the area.
Jimmy Sylvia, Chambers County Judge, highlighted: "The expansion of Bayou Bend into Chambers County presents the region with a significant opportunity to ensure the continued economic vitality of the eastern Houston Ship Channel, Mont Belvieu area and eastern Chambers County for years to come. We look forward to our partnership with the developers."