Conrad Petroleum in 'successful appraisal' of Mako gas field
Conrad Petroleum has successfully appraised the Mako gas field with the Tambak-2 well located in the Duyung PSC in the West Natuna Basin, offshore Indonesia.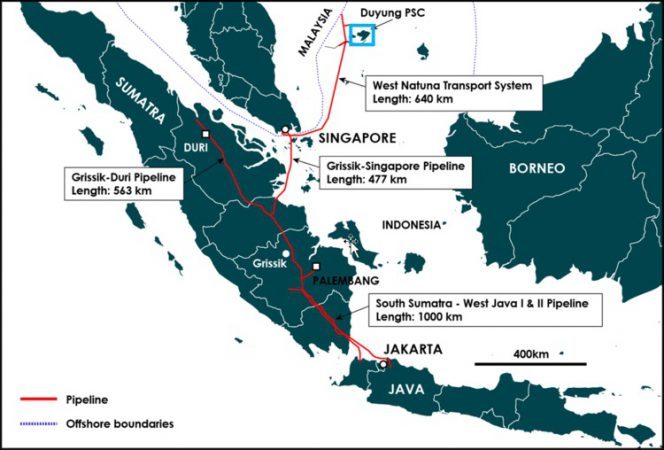 ---
The Tambak-2 well was spud on October 4 and was designed as an appraisal of the southern area of the Mako gas field. The well was drilled using the Asian Endeavour-1 jack-up rig.
Empyrean Energy, Conrad's partner in the PSC with an 8.5 percent interest, said on Monday that the Tambak-2 was drilled to a total depth of 503 meters true vertical depth subsea (TVDSS) on October 12, 2019.
"The coring program, wireline logging, and pressure surveys have now been completed and confirm the well as a successful appraisal of the Mako gas field," Empyrean stated.
According to the company, the top reservoir depth came in as expected, some three meters up-dip from the Mako South-1 well.
The company added that the well had developed upper sandstone unit, greater thickness, and overall quality than predicted with wireline logs showing excellent porosity, and permeabilities.
Lower unit present, providing overall reservoir thickness of around ten meters, relative to 7.3 meters seen in Mako South-1.
An independent review by Gaffney Cline & Associates had previously ascribed gross 2C resources of 276 Bcf (48.78 MMboe) of recoverable dry gas in the Mako field with gross 3C resources of 392 Bcf (69.3 MMboe) representing additional field upside.
The next step in the campaign is an extensive drill stem test (DST) program, which will take place in the coming days.
Empyrean CEO Tom Kelly said: "The fact that we have confirmed good quality reservoir at a 13.5km step out from the Mako South-1 discovery well is an excellent step forward for this project.
"The wireline logs confirm excellent porosity and permeability, and we look forward to the flow testing program to commence.
"This is excellent news and progress so early on in our drilling campaign and, with a further well with additional high impact exploration potential to come, we look forward to updating our shareholders of further progress."
Coro Energy, another partner in the PSC, said in a separate statement on Tuesday that the large step out from the Mako South-1 well might move 100 bcf from the 3C category to the 2C category, which could represent a very significant value addition.
James Menzies, Coro Energy CEO, stated: "Coro's first well in Indonesia has delivered a great result […].
"We believe the quality of the reservoir found will convert significant volume from the 3C to the 2C resource estimates for the field and add material value to the asset.
"Focus now switches to the next step in the campaign, we look forward to the results of the well testing program and thereafter further appraisal and exploration drilling will follow which we see as further significant value catalysts."