Contractors win FEED job for UK's power station with carbon capture
After securing the front-end engineering and design (FEED) contract, three companies – Australia's Worley, Japan's Mitsubishi Heavy Industries Group and Spain's Tecnicas Reunidas – will be pooling resources for SSE Thermal and Equinor's proposed combined cycle plant with carbon capture system located in Peterhead, Scotland, which aims to store captured CO2 in the North Sea wells.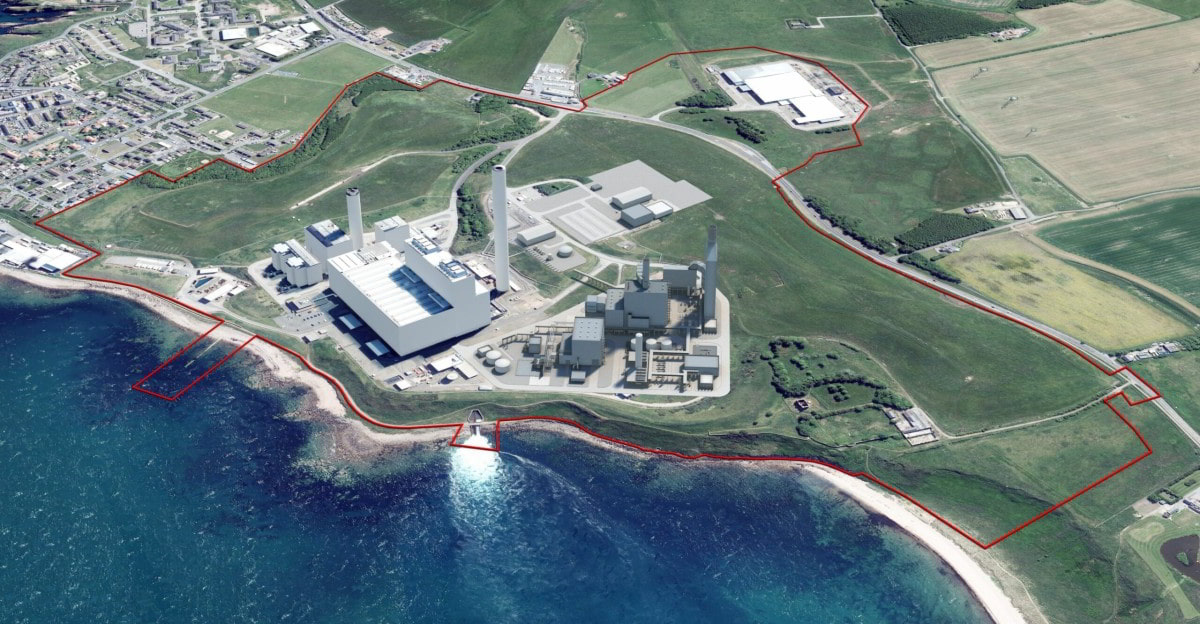 Técnicas Reunidas informed on Wednesday that SSE Thermal, a division of SSE, and Equinor had awarded a contract for the development of its new low-carbon power station located in Peterhead to a consortium of Worley, Mitsubishi Heavy Industries Engineering, Mitsubishi Power and Técnicas Reunidas.
According to the company, this project will entail the commercial application of "state-of-the-art natural gas-fired power generation technology" integrated with carbon capture, removing up to 1.5 million tonnes of CO2 emissions every year. Aside from generating up to 910 MWe of electricity, the plant is expected to provide the necessary backup to cover the intermittency of renewable energies and thus maximise their penetration. The captured carbon is expected to be stored in wells in the North Sea.
Técnicas Reunidas says that the new power station will be the "first of its kind in Scotland" and will connect to the Scottish Cluster's CO2 transport and storage infrastructure, which supports the UK's target of net-zero emissions by 2050.
Furthermore, this facility is anticipated to contribute to meeting the UK's decarbonisation targets by neutralising emissions from a combined cycle powered by natural gas, an essential fuel in the energy transition process.
In addition, the Spanish firm outlines that this is "one of the most important projects designed to promote the sustainable development of Scotland's industrial clusters." The company's engineers will participate in the project's development, working from its centre for engineering and technology in Madrid, and its teams in the UK are expected to contribute to the UK's sustainability targets.
In a separate statement on Thursday, Worley confirmed that it was awarded a development contract as part of a consortium for the Peterhead Carbon Capture Project, which could become "one of the UK's first power stations equipped with carbon capture technology." The Australian player explains that this project aims to remove approximately five per cent of the UK Government's 2030 target.
Located on the same site as the current Peterhead Power Station, the project will "gradually replace older, carbon-intensive" generation on the electricity system and back up renewable energy with flexible, low-carbon power, highlighted Worley. The firm elaborates that carbon capture units will be integrated into a power turbine with a generating capacity of up to 910 megawatts.
Bradley Andrews, President at Worley, commented: "This marks a significant milestone in our ambition to further develop the North East of Scotland as a key energy hub. It will have a huge impact on both industry and the workforce in the region, creating a pathway from conventional energy into renewables-led roles."
Worley believes that this project will not only make a significant contribution to the UK's sustainability targets but also provide a boost to local and national economies, since, it is expected that upon completion, the power station will contribute £50 million to the UK economy annually and support 560 jobs. With an assumed operational lifetime of 25 years, the power station is estimated to add a further £25 million to the local Aberdeen economy every year, says the Australian company.
Worley will project manage and provide engineering and design services to integrate the carbon capture technology with the power unit. The work will be delivered by the firm's teams in the UK.
"This project will reduce carbon emissions at scale, supporting our continued focus on investment to help decarbonise industrial clusters in the UK. It also aligns with our purpose of delivering a more sustainable world," concluded Andrews.
When it comes to Worley's most recent contracts, it is worth noting that the Australian player secured a deal with Santos earlier this week for a carbon capture and storage (CCS) project at a gas and condensate field in the Timor Sea.
This CCS project is expected to store up to 10 million tonnes of carbon dioxide per annum, equivalent to about 1.5 per cent of Australia's annual carbon emissions.