DEME's Apollo jack-up vessel completes first decom job
Marine engineering group DEME has carried out a first decommissioning jobs with its newest DP2 jack-up vessel Apollo.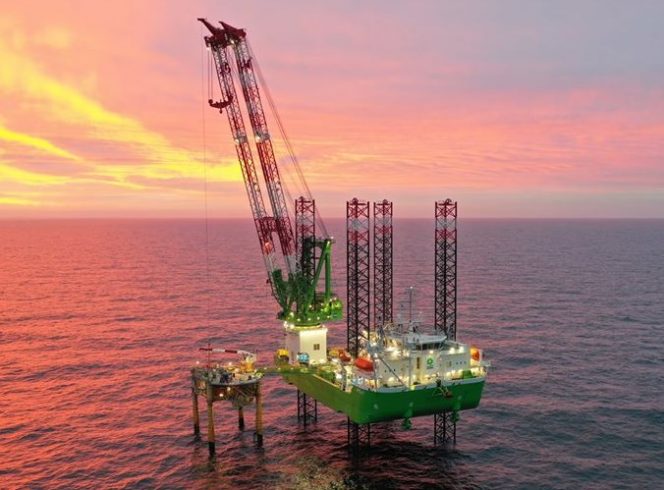 ---
DEME said via social media on Monday that the Apollo removed a North Sea platform for Petrogas following cessation of production.
The company added that the 500-tonne topside of the Halfweg gas platform, including the four foundation legs, has been removed in between stormy weather and brought to shore for recycling.
"The project is a real milestone, demonstrating the versatility of Apollo to perform a range of duties in the energy sector and our expertise in the decommissioning field," DEME stated.
Apollo is one of two vessels DEME ordered in January 2015. Namely, the company hired La Naval shipyard in Spain and Uljanik in Croatia to build multipurpose vessel Living Stone and the self-propelled jack-up vessel Apollo, respectively.
The Apollo is equipped with an 800-tonne leg-encircling crane with 106.8m legs that allow it to operate in water depths of up to 70 meters. The jack-up has accommodation for 90 persons on board, upgradable to 150.
It is also worth noting that the Apollo was designed as a green vessel with dual-fuel main engines, solar panels, and wind turbines on board, use of biodegradable grease and oil and heat recuperation, in order to operate it with the lowest possible fuel consumption while also keeping CO2, NOx, and SOx exhaust to the minimum.
The Uljanik Shipyard delivered the Apollo to DEME subsidiary, GeoSea, in mid-August 2018.
Halfweg platform
The Halfweg platform is a three-well unmanned gas production facility in the North Sea, installed in 1995.
It was designed for 'self-installation' and consists of a concrete gravity base which supports a normally unmanned process deck using four tubular steel legs in a 24-metre water depth.
Even though unused at the time, the Halfweg was found in the focus of the media on New Year's Eve 2018 when a Portuguese-flagged chemical tanker sustained damage after hitting the platform.
Owned by John T. Essberger from Germany, the 2013-built tanker Elsa Essberger was on its way from Antwerp to Malmo when it struck the platform.
Related news
List of related news articles