Donsötank books two more LNG-fuelled chemical tankers at Wuhu Shipyard
Swedish tanker shipping company Donsötank has placed an order for two newbuildings dual-fuel 22,500 dwt oil and chemical tankers with Wuhu Shipyard based in China.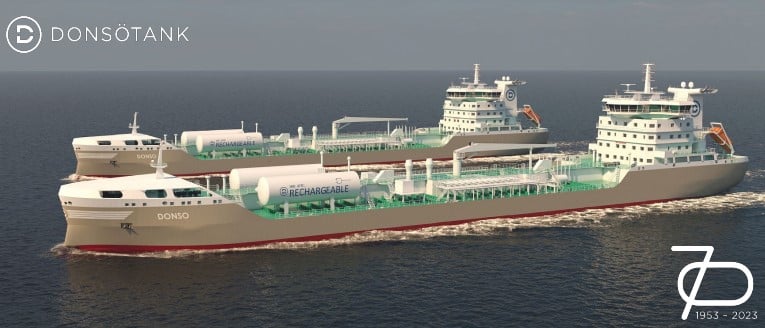 The vessels are scheduled for delivery in the second and fourth quarters of 2025.
"As we navigate the path towards the future of shipping, our commitment to adapt our fleet remains resolute. It is not only about meeting regulations but also about actively contributing to the advancement of the industry and shaping the future of shipping," the company said.
"These new vessels exemplify our vision to achieve the best possible outcome for our customers, with the least possible impact on the environment."
Donsötank said that the construction and equipment of these vessels will follow the proven blueprints of the company's vessels Prospero and Pacifico.
The two tankers were ordered back in 2018 and built by Wuhu Shipyard. The plugin hybrid electrical tankers duo was delivered in 2021.
The ships will feature dual-fuel propulsion (LNG-LBG/Diesel) provided by Wärtsilä, 500 kWh battery pack, shore power connection, SCR-Catamiser, and a waste heat recovery system. The vessels will have a cargo capacity of 27,800 cubic meters, a length overall (LOA) of 167 meters, a beam of 26.5 meters, and a draft of 9.4 meters.
The company said that the vessels' cargo tanks will be coated in a way to allow the company to load a wide range of emerging cargoes including bioproducts, biofuels, animal fats, and other upcoming commodities in the industry.