Emperor teams with APA on Judith offshore gas project
Emperor Energy and Australia's largest gas infrastructure company APA Group have entered into a binding agreement to progress with the pre-front end engineering design (pre-FEED) for the provision of midstream infrastructure and services related to potentially produced gas from the Judith offshore gas field.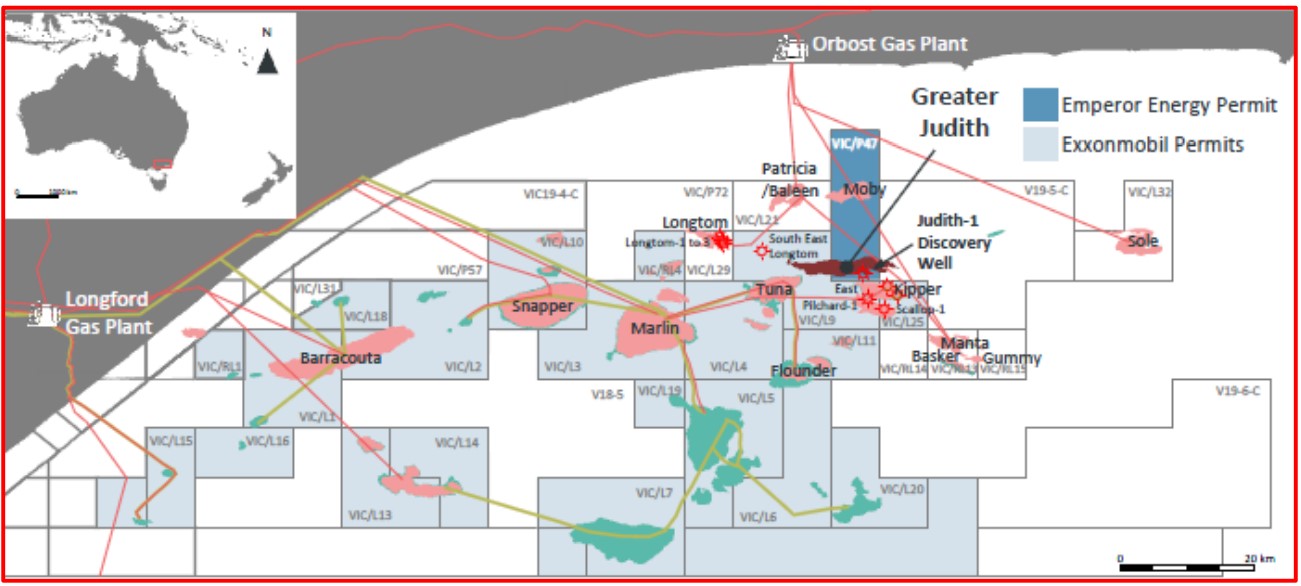 The Judith field is located in Emperor Energy's 100 per cent owned VIC/P47 permit in the offshore Gippsland Basin.
Emperor said on Tuesday that the pre-FEED study would consist of several tasks, one of them is a design for a gas processing plant which would operate adjacent to and in parallel with the existing Orbost Gas Processing Plant owned by APA.
The study will also include concept design for a 40-kilometre subsea pipeline from Judith to a shoreline crossing, a design for an export pipeline to the Eastern Gas Pipeline located to the north of the Orbost Gas Plant, and refinement of indicative project cost estimates and project scheduling.
The company added that the pre-FEED study is scheduled to begin in July 2020 requiring four months to complete. APA will carry out the work using a combination of in house and external expertise.
It is worth noting that the design basis for the pre-FEED is 80mmscf/d of sales gas across a 25-year project life.
As far as previous cooperation between the two companies on the project, Emperor and APA established a memorandum of understanding (MOU) relating to the Judith gas project in October 2019.
The pre-FEED Agreement is the first binding agreement progressing from the MOU.
Also, an independent resource statement was completed for the Judith gas field was completed on 11 July 2019.
The resource statement highlighted 2C contingent gas resource of 150 Bcf as well as P50 unrisked prospective gas resource of 1.226 Tcf.
Related news
List of related news articles