Energean's FPSO hull heads to Singapore for topside integration
A hull for the Energean-owned Energean Power FPSO sailed away from the COSCO yard in China on Thursday, April 3, 2020.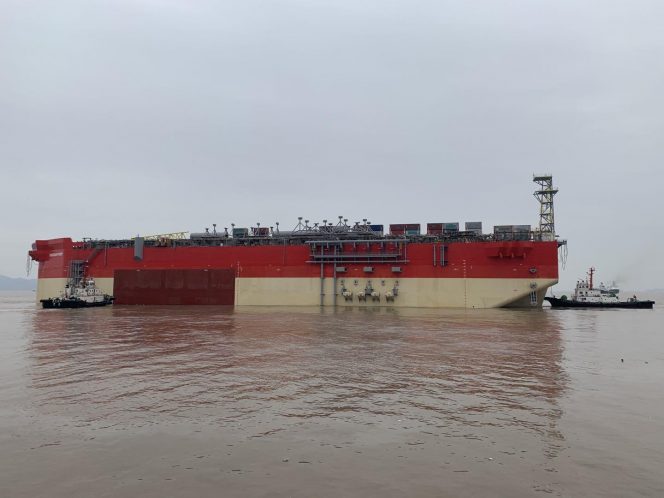 The FPSO keel-laying took place at the COSCO Yard, Zhoushan, China, in April 2019 and in October 2019 the hull was undocked and floated out from COSCO Shipyard's dry dock.
The hull was previously expected to sail away from China in late 2019. However, the sail away date was in January 2020 postponed for the end of March, which represented a delay of 3.5 months.
Energean said on Thursday that the hull will now be towed to the Sembcorp Marine's Admiralty Yard in Singapore, where the topsides will be integrated, before the completed FPSO is towed to the Karish field in Israel for installation and hook-up.
"The sail away of the hull from China represents the achievement of a key milestone in the Karish project timetable", Energean said.
Energean has also completed the drilling of the three development wells in the Karish Main field and is confident that the three development wells can produce at combined rates of 800 mmscf/d, which is sufficient to fill the capacity of the FPSO (8 BCM per year).
On another important development, the Karish gas sales pipeline has been shipped from Greece and offloaded successfully to Limassol Port, Cyprus.
The pipeline will be loaded from the Limassol port on PSVs and from them on the Karish Field dedicated pipe laying vessel Solitaire.
The gas sales pipeline of approximately 90 km will transport gas from the "Energean Power" FPSO to an onshore valve station at the Dor landfall in Israel.
First gas on the Karish project is on track for H1 2021.
Energean said in an update in March that good progress had been made on the construction of the topsides in Singapore, and Energean was working with TechnipFMC to mitigate the impact of the deferred sail away from China on Practical Completion of the project.
During 2020, all components of the subsea production system will be installed using vessels provided by TechnipFMC.
The sales gas pipeline will be installed with activities starting close to shore in territorial waters and then moving progressively offshore towards the FPSO location.