Equinor cleared to drill North Sea exploration well
Norwegian oil company Equinor has received consent from the Petroleum Safety Authority (PSA) to drill an exploration well in the North Sea.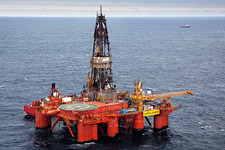 The well, named 35/10-4 S, is located in production license 630 in the North Sea where Equinor is the operator.
The PSA said on Friday that the consent to drill the well was aimed to investigate a prospect named Stålull.
The well is west of the Fram field and around 67 kilometers from the nearest land, at Utvær in Solund municipality in the county of Sogn og Fjordane.
The offshore safety regulator informed that drilling was planned to start in June 2018, with a duration of 84 days, depending on whether a discovery is made.
The well will be drilled by Deepsea Bergen, which is a semi-submersible drilling rig of the Aker H-3.2 type built at Aker Verdal in 1983. The rig is owned and operated by Odfjell Drilling and classified by DNV GL and registered in Norway.
Deepsea Bergen was issued with an Acknowledgement of Compliance (AoC) by the PSA in December 2001.