Equinor: New gas module to boost Troll field output
Norwegian oil company Equinor has informed that a new gas module has been put on stream on its Troll B platform offshore Norway. The module will help boost production from the Troll field.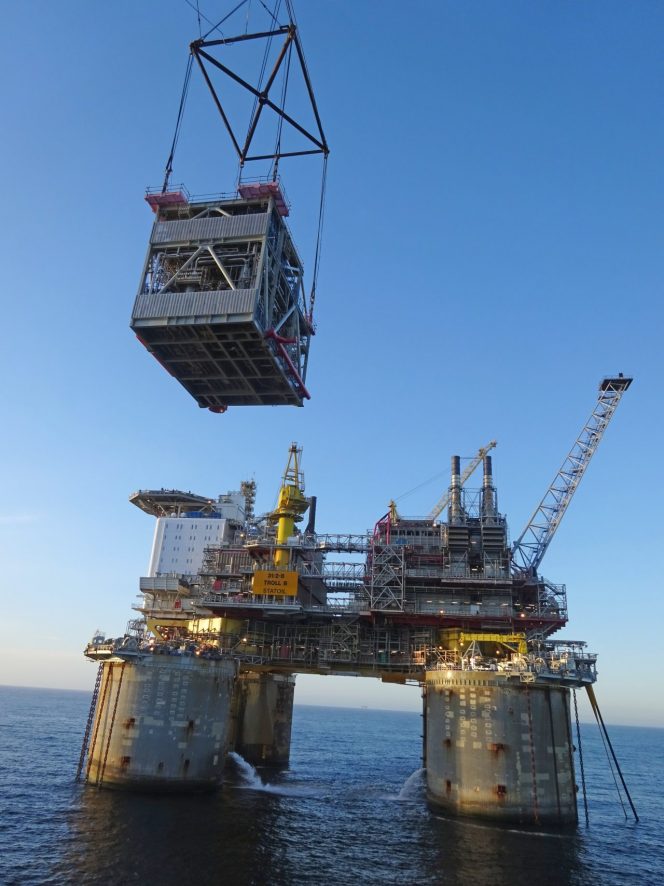 "[The gas module] is essential to maximizing the value of the remaining oil from Troll, and to maintaining high gas export from the field.
As per Equninor's explanation, oil production from Troll enters tail production due to declining reservoir pressure, and an oil column that is getting gradually thinner after decades of technologically path-breaking drainage.
The new gas module will help maximize the production of remaining oil from the reservoir. In a few years, Troll will only produce from the large remaining gas reserves. The production horizon for gas from Troll lasts beyond 2050, Equinor says.
"We have been working closely with the authorities to ensure a balanced exploitation of oil and gas resources from Troll. The expected production increase is 4.7 million barrels of oil," says Gunnar Nakken, Equinor's senior vice president for Operations West.
The production is currently restricted by the gas treatment capacity on Troll B, and the new module will increase the capacity by 25 percent, Equinor said on Tuesday.
According to the oil company, increased capacity will allow more wells to remain on stream also when the oil wells are producing simultaneously with an increasing share of gas in the tail production phase.
"Increased gas export from Troll B is essential to maintaining the annual gas export capacity from the Troll field until the Troll phase 3 project comes on stream in 2021. The gas will then be tied into the Troll A platform,"  Equinor said.
Related news
List of related news articles