Equinor's new gas supply deal with UK adds 1 bcm per year to total volume
Norway's Equinor and UK's Centrica have reached an agreement for additional gas supplies to the UK. The supply agreement will provide further energy security for the UK over the coming three winters.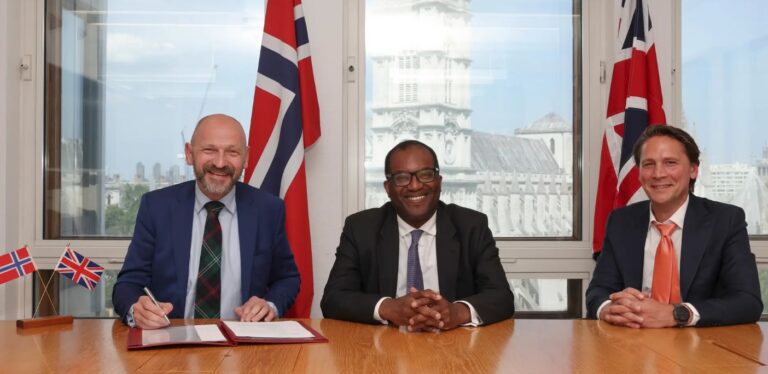 As detailed by Equinor on Thursday, the new supply agreement adds around 1 billion cubic meters (bcm) per year to Equinor's existing, bilateral contract with Centrica and brings the total volume under the contract above 10 bcm per year.
With Britain currently importing around a third of its gas requirements from Norway, the announcement underlines the strategic importance of the Norwegian relationship to UK energy security.
According to Centrica, this new gas supply agreement will see Equinor deliver to Centrica sufficient gas over the coming three winters to heat an additional 4.5 million homes.
Equinor's senior vice president Gas & Power, Helge Haugane, commented: "In a period with a challenging geopolitical and macroeconomic environment with strong demand for natural gas, we at Equinor are doing what we can to export as much gas as possible to the market. Equinor is proud to be a long-term, reliable energy partner with both Centrica and the UK, and I am very happy that through this agreement we are able to contribute to the UK securing further energy supply for the coming winters."
Earlier this year, following the beginning of Russia's invasion of Ukraine, Equinor and the country's government worked out a plan to maintain high gas exports to Europe and meet the demand amid supply concerns exacerbated by the Ukrainian crisis.
With that in mind, the country's Ministry of Petroleum and Energy approved applications for revised production permits for the Oseberg, Troll, and Heidrun fields, allowing the high gas production from the fields to be maintained through the summer months.
When it comes to the UK, every year, Equinor typically supplies 20-22 bcm of natural gas to the UK, which covers over 25 per cent of UK gas demand.
Chris O'Shea, Centrica Group Chief Executive, stated: "This agreement is good news for the country and for our customers. At a time where energy security is paramount, I'm delighted that we are able to do our bit to ease the pressure and provide some more certainty ahead of what may be a difficult winter.
"As Britain's biggest energy supplier, through British Gas, we take our responsibility to securing supplies for over 8 million domestic and business customers very seriously. This important agreement with Equinor both underpins vital domestic supplies and strengthens the strategic relationship between the UK and Norway."
UK's Business and Energy Secretary, Kwasi Kwarteng, said: "While we ramp up cheap renewables and accelerate British nuclear to boost our greater energy independence, we will still need natural gas for many decades to come.
"With Russia's criminal invasion of Ukraine, it is more important than ever that we source more of the gas we need domestically, but also from safe and reliable import partners while we transition. We cannot, and will not, turn off the taps overnight."
In related news, less than a month ago, Equinor and its Halten East area partners decided to invest about NOK 9 billion in the development of a project in the Norwegian Sea, which consists of six gas and condensate discoveries.
Recoverable reserves in Halten East are estimated at almost 16 million Sm3 of oil equivalent, or around 100 million barrels of oil equivalent, 60 per cent of which is gas piped via Kårstø to Europe.