EU's Šefčovič blasts Turkey's 'illegal drilling activities' off Cyprus
European Commission Vice-President for Energy Union Maroš Šefčovič has this week expressed support for Cyprus in light of Turkey's "illegal drilling activities," in the Mediterranean Sea.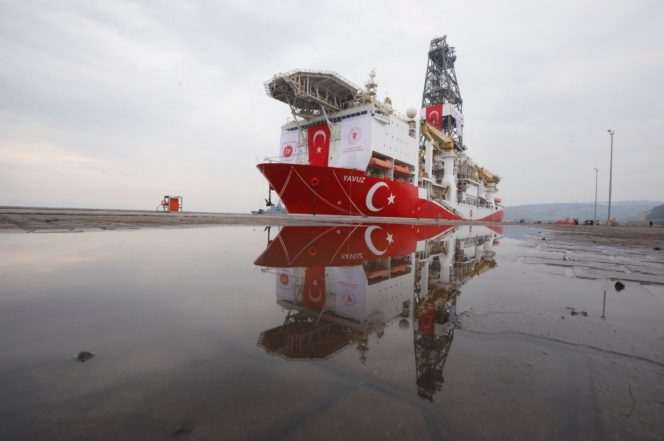 During his address on behalf of President Juncker at the Plenary Session of the European Parliament on Thursday, Šefčovič said: "I want to reaffirm our full support for Cyprus in light of Turkey's continued illegal drilling activities.  President Juncker was the first one to say already back in Sibiu that "on this issue I am Cypriot."
"I was delighted that at the European Council every Member State spoke in unison and said: "We are all Cypriots."
"The Commission is now backing up that spirit of solidarity: we are working on concrete actions we can take. I can assure the people of Cyprus that we will do what we have to do. Europe stands in full solidarity with Cyprus," Šefčovič said.
Fatih & Yavuz drillships
His comments come following Turkey's recent deployment of the Fatih drillship near Cyprus, and launch of Turkey's second drillship  Yavuz for drilling in the Mediterranean in what Cyprus claims to be its territorial waters.
According to the reports, the Yavuz is set to start drilling soon in an area granted to Turkey by the Turkish Republic Northern Cyprus, a self-declared state run by Turkish Cypriots and recognized only by Turkey.
Turkey late last year spudded its first deepwater well – the Alanya-1 – 65 kilometers south of Alanya, Turkey, using its first deep-sea drilling Fatih, which was bought in 2017.
The vessel was then moved to waters west of Cyprus to drill the FINIKE-1 well. MarineTraffic's data shows that the Fatih is currently located 72.2 kilometers off the Cyprus west coast.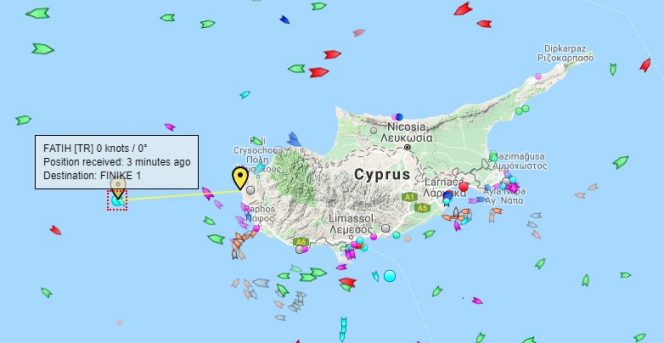 The second drillship – Yavuz – formerly known as Deepsea Metro I was bought by TPAO last year, and, according to reports, is set to start drilling in July in an area claimed by Cyprus to be its Exclusive Economic Zone.
Earlier this year, the EU, the U.S., and Egypt expressed concerns over Turkish plans to drill in Cypriot waters, calling for Turkey to show restraint. Turkey dismissed the calls, claiming its actions in the Eastern Mediterranean region were based on its legitimate rights stemming from international law.
"As we previously stressed on many occasions, having the longest coastal line in the region, we will protect our own rights and interests within our continental shelf, as well as those of the Turkish Cypriots around the Cyprus Island," Turkey's Ministry of Foreign Affairs said in May.
Then in June, following reports that the Cypriot government had signed a revenue sharing agreement with Noble Energy for the Aphrodite offshore gas field, Turkey accused Cyprus of unilateral actions with no regard to the Turkish Cypriots.
On June 7, the Turkish foreign ministry said: "The agreement is a concrete example of the Greek Cypriots' continuation of the violation of the rights of the Turkish Cypriots who have equal rights on the natural resources of the Island. It is understood that the agreement does not make any reference to the Turkish Cypriots and that the Turkish Cypriots are not given any share from the revenues. This is unacceptable for both Turkey and the TRNC."
Turkey and TRNC have said that the official Cyprus government whom they refer to as "Greek Cypriot Administration of Southern Cyprus" and "those international companies doing business with this Administration cannot ignore the fact that Turkish Cypriots are co-owners of the Island and that they have equal rights on the oil and gas resources of the Island."
Official Cyprus is working to develop offshore gas deposits found in recent years by Noble Energy, Eni, and most recently ExxonMobil.
---
Related: Exxon's Cyprus discovery 'huge' but with rocky road ahead, analysts say
---
However, Turkey and TRNC are objecting Cyprus' "unilateral action," with and Turkey last month saying it will "maintain its principled and resolute stance to protect the rights of the Turkish Cypriots, as well as its own rights in the Eastern Mediterranean, and will not hesitate to take the necessary steps for this purpose."
"In this context, as long as the Greek Cypriot side does not cease its unilateral hydrocarbon activities or fails to include the Turkish Cypriots -as an equal owner of the Island- in decision-making mechanisms and revenue sharing, Turkey will continue to protect the continental shelf rights of the Turkish Cypriots. To this end, our drilling vessels, Yavuz and Fatih, will commence drilling activities in the near future, in the areas where TRNC granted licenses to the Turkish Petroleum in 2011," Turkey said last month.
Earlier this week, the acting president of Cyprus Demetris Syllouris labeled Turkish actions as alarming, aggressive, and illegal, and a cause of serious concern.
"As you understand, these hostile actions by Turkey, apart from creating a volatile atmosphere in the wider region, have also extremely negative consequences on the prospect of resuming talks on the Cyprus problem…We do hope that Turkey will finally adopt a more realistic and constructive approach and will refrain from such actions the soonest."
Offshore Energy Today Staff
---
Spotted a typo? Have something more to add to the story? Maybe a nice photo? Contact our editorial team via email.
Also, if you're interested in showcasing your company, product or technology on Offshore Energy Today please contact us via our advertising form where you can also see our media kit.