Evergreen Marine asked to pay $676K over Ever Forward grounding
The State of Maryland has requested the Taiwanese shipping company Evergreen Marine to pay $676,200 to cover the costs for the restoration of oyster bars which were damaged following the grounding of Ever Forward.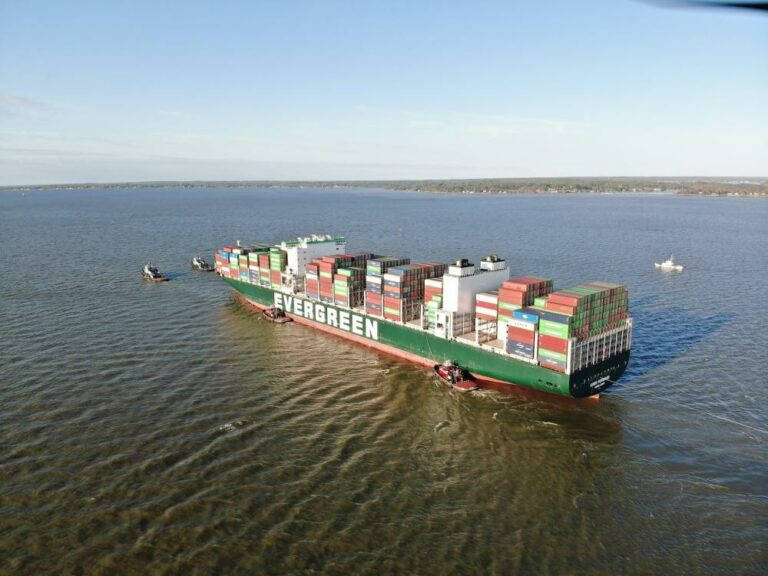 The massive 12,000 TEU container ship ran aground off Pasadena in the Chesapeake Bay after leaving the Port of Baltimore on 13 March 2022, for her journey to Norfolk, Virginia.
The operation to free and refloat the vessel lasted for over a month, and after several attempts failed the ship was finally refloated on 17 April.
An emergency wetlands license was issued after the grounding to allow for dredging to refloat the vessel. The grounding and dredging impacted about 14 acres of Chesapeake Bay bottom, including 11.5 acres within the boundary of a natural oyster bar, according to Maryland's government.
"The seeding of oyster bars will contribute to an improved aquatic habitat and provide long-term water quality benefits," said Deputy Secretary/Acting Secretary of the Environment Suzanne E. Dorsey.
"From the time that the Ever Forward was grounded to the refloating of the vessel to the issuance of this wetlands license and its special conditions, the Maryland Department of the Environment has been on the job to ensure that the Chesapeake Bay and its habitat for oysters and other aquatic life are protected."
According to the U.S. Coast Guard, the grounding was caused due to a lack of attention and situational awareness by Pilot 1 who was distracted by his phone, as well as inadequate bridge resource management and communication between all bridge team members.
________________________________________________________________________________
Offshore Energy has received a statement from Evergreen, following the publication of this article, and we hereby publish it in full:
"After the incident of Ever Forward's grounding off the Port of Baltimore, Evergreen has been closely working with concerned authorities in an effort to evaluate and mitigate the impact of the refloating operation on the surrounding area.
Earlier this week, the Maryland Board of Public Works approved an environmental remediation agreement between the State of Maryland and Evergreen that will establish a fund to provide environmental support to Chesapeake Bay and bolster the health of oyster beds in the area. Contrary to some recent press accounts, the agreement to fund this effort is not due to any sort of fine levied against Evergreen. Preservation of the environment is a cornerstone of Evergreen's core values."