ExxonMobil hires Noble Corp. drillship for Guyana drilling
Offshore drilling contractor Noble Corp. has won a six-month deal for the Noble Sam Croft drillship with ExxonMobil in Guyana.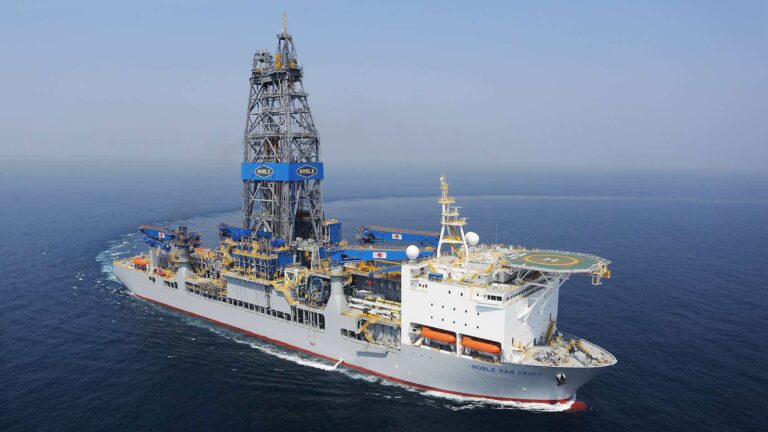 Noble said in its second-quarter results presentation on Thursday that the contract would start in the fourth quarter of 2020 after the rig wraps up its current program off Suriname.
The drilling company that last week filed for Chapter 11 bankruptcy protection posted a loss of $42 million in 2Q.
The 2014-built Noble Sam Croft is currently with Apache in Suriname where the company made "a major oil discovery" at the Kwaskwasi-1 well in Block 58.
Noble Corp added that the contract for the Noble Sam Croft drillship with ExxonMobil was awarded under a Commercial Enabling Agreement (CEA) which the two companies signed in February 2020. The agreement refers to drilling services in the Guyana-Suriname basin.
Under the CEA, four rigs were initially awarded deals to drill in the massive Stabroek block off Guyana. The block holds more than 8 billion barrels of oil and ExxonMobil made 16 discoveries there so far.
The drilling agreement between Noble Corp. and ExxonMobil covered ultra-deepwater drillships Noble Bob Douglas, Noble Tom Madden, Noble Don Taylor, and Noble Sam Croft.
Exxon later terminated the one-year deal for the Noble Sam Croft and transferred it to the Noble Don Taylor.
With this new deal, the Noble Sam Croft drillship will drill in Guyana for ExxonMobil after it completes its contract with Apache which ends in mid-November of 2020.
"With this award, all four of Noble's high-specification HHI drillships will now be contracted to ExxonMobil in Guyana, expanding our relationship with a valued client in one of the world's most exciting deepwater basins and enhancing our footprint in this emerging region", Noble Corp stated in the financial results.
It is worth noting that Noble Don Taylor started drilling of the Redtail exploration well, some 1.25 miles northwest of Yellowtail-1 in July.
The other two drillships signed under the CEA, the Noble Bob Douglas and the Noble Tom Madden, are drilling and completing Liza Phase 1 and Phase 2 development wells.