FAR claims "good interest" for Sangomar stake sale
Australian oil and gas company FAR Limited said on Thursday it has received a "good level of interest" in the sale of its 15 per cent stake in the Sangomar oil and gas development offshore Senegal.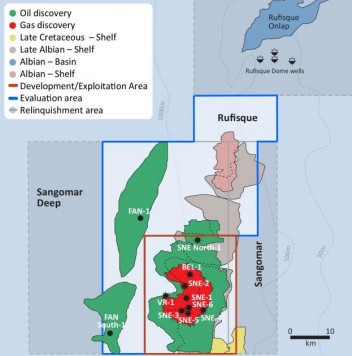 It has been a turbulent few months concerning FAR's stake in the $4.2 billion Sangomar project.
Namely, FAR was unable to secure debt to fund the more than $300 million it needs for its share of the project after Brent oil price fell by over 60 per cent since January 2020 amid the coronavirus pandemic.
The company in January announced it agreed a $300 million senior secured reserve-based lending facility but lead banks to the senior facility told FAR that they could not complete the syndication in the current environment.
This lead to the company defaulting on its project contributions in June when it stated that it would forfeit its interest without compensation if obligations were not fulfilled within six months.
Along with this, the company made staff redundancies, and all senior executives and non-executive directors accepted a 20 per cent salary or fee reduction effective 1 July 2020. These cost-cutting measures were preceded by FAR substantially reducing contractor headcount in April.
In a further effort to save cash, FAR is looking to bring in a partner for its Gambian assets before proceeding with drilling at the project in 2021.
Sale process of FAR's stake underway
Between FAR defaulting on its payments and being unable to secure the required funding for Sangomar, it started a process to sell all or part of its working interest in the project due to it being unable to finance its part of the project.
On Thursday, FAR said in its quarterly report that it would continue to cease making payments to conserve cash.
FAR managing director Cath Norman said: "As time progresses and global markets continue to be stressed, there remains uncertainty around FAR's ability to conclude a financing option. At this point in time, a sale or partial sale is a more likely outcome. FAR has run data rooms for this purpose and has had a good level of interest".
Also, processing of the high definition seismic survey over the Sangomar field and FAN discovery has been completed and interpretation of this data has started. Processing of the seismic data over the exploration area to the north of the Sangomar field is ongoing.
Project on target for 2023
It is worth noting that Woodside, the operator of the development, was undertaking a program to rescope, reschedule and reprice the Sangomar development project to reduce capital expenditure to ease the pressure on financing or the development.
The project remains on track for first oil in 2023 despite reports that Senegal was forced to delay its first oil and gas projects by up to two years due to the coronavirus.
Also, Woodside said on Wednesday that it was progressing contracting and procurement activities and working with contractors on detailed design work for the Sangomar FPSO and the start of fabrication of subsea equipment.
Woodside is also actively preparing for the 23-well development drilling campaign at Sangomar for which it has already hired Diamond Offshore-owned drillships. It stated that the campaign was targeted to start in mid-2021.
As for the participants in the Sangomar project, Cairn Energy holds 40 per cent, Woodside has 35 per cent, and Senegal's national oil company Petrosen has 10 per cent – with a right to increase to 18 per cent. FAR holds the remaining 15 per cent.