First oil flows from Tortue field offshore Gabon
First oil has started flowing from the BW Energy-operated Tortue field offshore Gabon.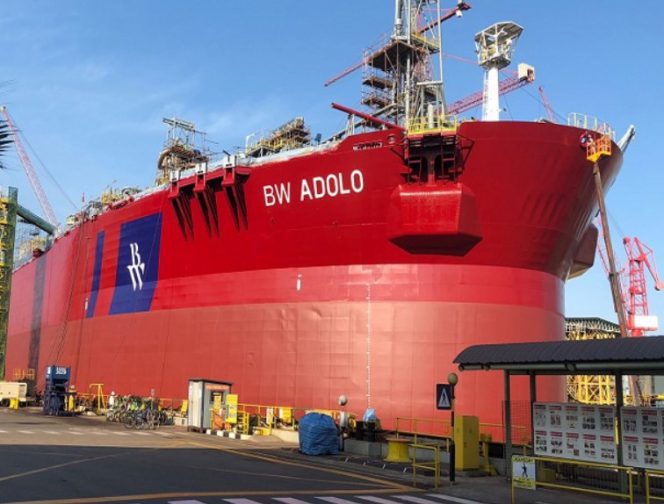 BW Offshore said on Monday that that first oil from the BW Adolo FPSO was safely achieved on September 16, 2018, 18 months after the initial investment was made in the Dussafu license offshore Gabon.
"We have achieved first oil from the Dussafu license within budget and on schedule", said Carl K. Arnet, the CEO of BW Offshore. "The execution of the Dussafu project confirms the attractiveness of our model by combining proven resources, a resourceful organization and access to production assets to achieve short time-to-oil."
The Adolo FPSO had previously worked on the Azurite field but was later selected by BW for the Tortue development. The FPSO unit was prepared for deployment at Tortue by a Keppel shipyard in Singapore and officially named FPSO BW Adolo in early April.
The BW Adolo arrived in Gabon in late July and hook up of mooring systems, and installation of risers and umbilicals were completed in September.
The FPSO is installed on the Tortue field, one of five proven discoveries in the Dussafu license. The BW Adolo is a converted VLCC with a production capacity of 40,000 barrels of oil per day. The vessel has undergone an increased life extension scope enabling an extended production profile on the back of positive reserve developments.
Arnet said the priority now is to complete start-up activities and stabilize production on BW Adolo.
He added: "We will at the same time work towards the final investment decision on Tortue Phase 2, which will unlock additional production volumes, and continue the appraisal program of the recently announced discovery at Ruche NE as well as to confirm additional resources and strengthen the commerciality of the Dussafu license," said Carl K. Arnet.
Ruche results soon
Dussafu is an Exclusive Exploitation Area ("EEA") of 850 square kilometers located in southern Gabon. The area is valid for 20 years from first oil production. It contains 5 pre-salt oil discoveries, and holds multiple additional prospects and leads. Dussafu is operated by BW Energy and Panoro Energy holds a 8.333% interest.
The development concept entails a current Phase 1 consisting of two horizontal wells tied back to the FPSO BW Adolo.
John Hamilton, Chief Executive Officer Panoro Energy said: "Achieving first oil at Tortue is a material milestone for Panoro, having been involved in the evolution of the Dussafu PSC, from oil discoveries to modern interpretation following the seismic acquisition, and now to first commercial production. We are extremely pleased for all stakeholders in this major production asset in Gabon, and the commencement of oil production at Dussafu represents a significant accomplishment for Gabon and the Dussafu project team."
Further announcements will be made in due course as to production rates and planning for Tortue Phase 2. In addition, the recent successful well at Ruche North East is currently being appraised following a side track and extensive logging. Results will be announced in the near future, Panoro said.