FPSO for Petrobras' revitalisation project reaches Brazilian waters
After making a few stops on the way, a floating, production, storage and offloading (FPSO) vessel, destined for Petrobras' revitalisation project, has arrived in Brazil.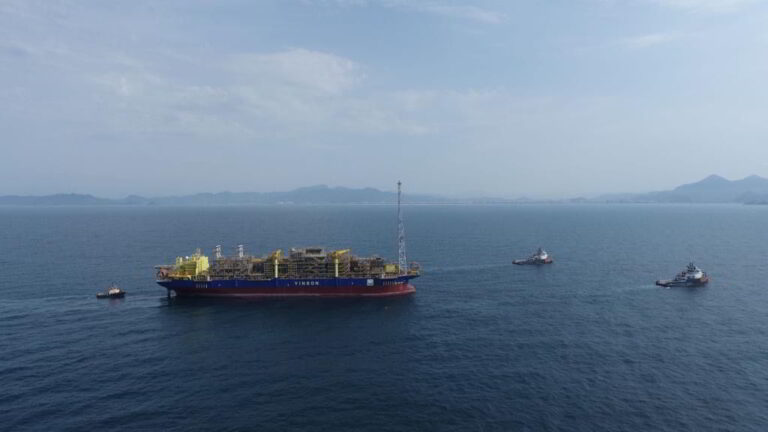 Letters of Intent for the FPSO project were awarded to Malaysia's Yinson in October 2019 by Petrobras. Several months later, the two players entered into definitive contracts and in April 2020, Sumitomo opted to participate in the project with a 25 per cent stake. Come June 2022, Yinson and Sumitomo revealed that they had officially named their newest asset, FPSO Anna Nery, during a naming ceremony held concurrently in Jiangsu, China and Kuala Lumpur, Malaysia.
The FPSO left the Cosco Qidong shipyard in China on Friday, 8 July 2022, and embarked on its journey to Brazil with stops planned in Singapore and Mauritius to get supplies and change the crew, prior to reaching Brazillian waters. At the time, Petrobras informed that the FPSO was slated to arrive in Brazil in October to undergo the final stage of commissioning and acceptance tests before it starts production at the Petrobras-operated Marlim field, which is scheduled for 2023.
In a social media post on Thursday, Yinson confirmed that the FPSO Anna Nery had arrived in Brazil. This vessel is the first of two FPSOs that are part of the Marlim and Voador revitalisation project in the Campos Basin, which is expected to expand the current production of around 30,000 bpd of oil and around 420,000 m³ of gas to more than 150,000 boepd. The second production unit, which is scheduled to work on this project, is the FPSO Anita Garibaldi. In a bid to extend the production from the field's deposits until 2048, these two FPSOs are planned to be connected to 75 wells.
With a water injection capacity of 240,000 barrels of water per day and an all-electric concept, the FPSO Anna Nery will be installed around 150 kilometres off the coast of Brazil at a water depth of 930 meters. Expected to work at the field for 25 years, this FPSO will be capable of producing 70,000 barrels of oil and 4 million cubic meters of gas per day.